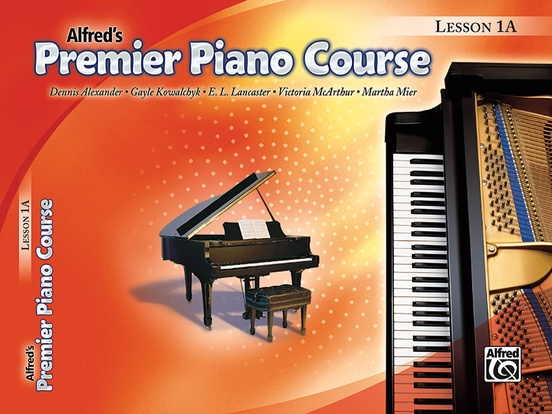 Premier Piano Course, Lesson 1A
By Dennis Alexander, Gayle Kowalchyk, E. L. Lancaster, Victoria McArthur, and Martha Mier
Piano Book
Level: 1A
Item: 00-22356
Add to Cart
Add to List
Available Digitally
Related Items
| | | |
| --- | --- | --- |
| Premier Piano Course, Lesson 1A: Piano Book & CD | $11.99 | View |
Share
---
Description
Beautifully presented and intelligently paced, the Lesson Book combines unusually attractive music and lyrics. The book features note reading, rhythm reading, sight-reading and technical workouts. While most teachers find CD recordings very useful at the lesson and for home practice, others prefer not to use the CDs. To accommodate all teachers, this version of Premier Piano Course Lesson Book 1A does not have a CD included.

The music from this book is available in the Piano Maestro app that's downloadable at http://app.appsflyer.com/id604699751?pid=web&c=alfred. Learn more About JoyTunes, the maker of Piano Maestro at http://teachers.joytunes.com/?jt&utm_source=alfred&utm_campaign=web.

To access the TNT recordings, visit: alfred.com/ppcdownloads.
---
Contents
Title
A Note to Teachers
A Note to Students (and Parents)
How to Sit at the Piano
The Secret to a Good Hand Position
Notes
Quarter Note
The Keyboard: Two Black Keys
Rests
Quarter Rest
The Keyboard: Three Black Keys
Bar Lines and Measures
Half Note
Dynamic Signs (f and p)
Whole Note
Time Signature (4/4)
Damper Pedal
The Music Alphabet
Keyboard Anchor: D
Dynamic Sign (mf)
Keyboard Anchors: G and A
Whole Rest
Step
New Time Signature (3/4)
Dotted Half Note
The Staff
Bass Clef Treble Clef
Reading Middle C
The Grand Staff
Half Rest
Bass F
Tempo
Whole Rest in 3/4
Treble G
Landmark Notes
New Note G (Bass)
New Note E (Bass)
New Landmark Note: Bass C
New Note D (Bass)
Stepping Up from Bass C
New Notes D and E (Treble)
New Note F (Treble)
Stepping Up from Middle C
New Notes B and A (Bass)
Stepping Down from Middle C
Skip
Skip Up from Middle C
Skip Up from D (Treble)
Skip Down from B (Bass)
---
Stay Updated
Want to get the latest updates and special offers from Alfred Music?