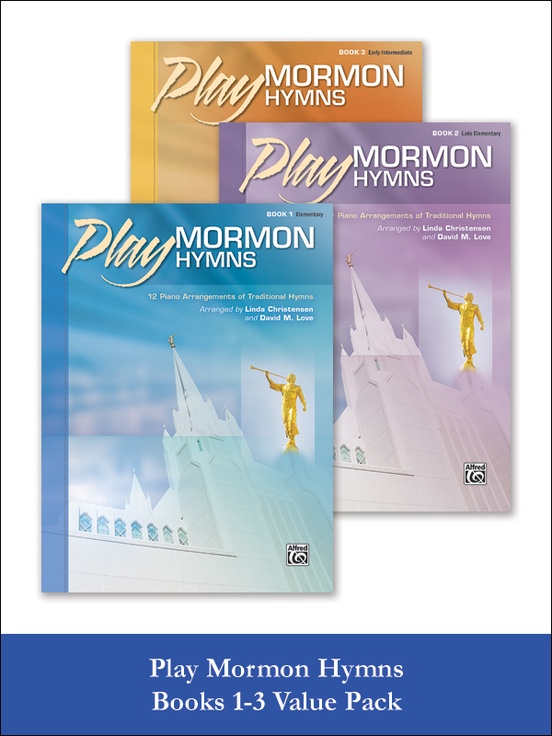 Play Mormon Hymns, Books 1-3
Piano Arrangements of Traditional Hymns
Arranged by Linda Christensen and David M. Love
Piano Book
Level: Elementary / Early Intermediate
Item: 00-106949
This item is permanently out of print
Share
---
Description
In Play Mormon Hymns, pianists young and old will find accessible arrangements of beloved LDS hymns, which are a continuous source of inspiration and an important part of worship services. The attractive solo arrangements in this book include rich-sounding accompaniments that can be played by a teacher, a parent, or an older sibling.

Book 1 Titles: Come, Follow Me * Count Your Blessings * For the Beauty of the Earth * He Is Risen! * High on the Mountain Top * How Firm a Foundation * Jesus, Once of Humble Birth * Love at Home * Nearer, My God, to Thee * Secret Prayer * There Is a Green Hill Far Away * There Is Sunshine in My Soul Today.

Book 2 Titles: Choose the Right * Come, Ye Children of the Lord * Do What Is Right * God Be with You Till We Meet Again * God of Our Fathers, Whose Almighty Hand * God Speed the Right * I Need Thee Every Hour * I'll Go Where You Want Me to Go * Israel, Israel, God Is Calling * Now Let Us Rejoice * Oh, What Songs of the Heart * Onward, Christian Soldiers.

Book 3 Titles: Abide with Me! * Battle Hymn of the Republic * Christ the Lord Is Risen Today * Come, Listen to a Prophet's Voice * Did You Think to Pray? * Have I Done Any Good? * How Great the Wisdom and the Love * I Stand All Amazed * Jesus, the Very Thought of Thee * Joseph Smith's First Prayer * Let Us Oft Speak Kind Words * More Holiness Give Me * O My Father * Praise to the Lord, the Almighty * Praise to the Man * We Thank Thee, O God, for a Prophet.
---
---
Stay Updated
Want to get the latest updates and special offers from Alfred Music?