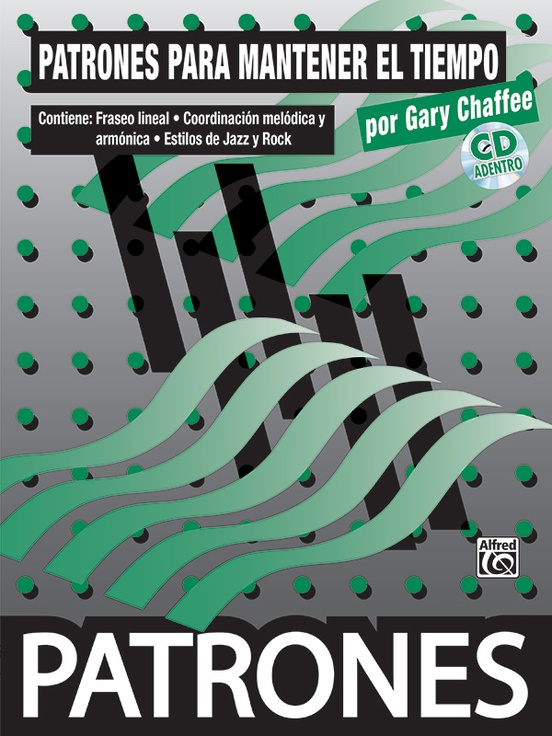 Patterns in Spanish: Patrones para Mantener el Tiempo (Time Functioning Patterns)
By Gary Chaffee, translated by Jose Manuel Mena Cuevas
Drumset Book & CD
Item: 00-28206
Add to Cart
Add to List
Share
---
Description
Patterns is one of the most comprehensive drum methods available. Covering a wide range of materials, the books can be used in any order, or in any combination with one another. They are a must for developing the kinds of skills necessary for drumset performance.

Time-Functioning Patterns includes materials dealing with rock cymbal ostinatos, jazz independence, and the new linear phrasing concept that Gary developed.
---
Contents
Title
INTRODUCCIÓN
SECCIÓN I -- OSTINATOS CON EL PLATO
Diferentes Posibilidades de ostinato en el plato
Procedimientos prácticos
Ejercicios de Fat-Back
Combinaciones de caja y bombo
Improvisación con las combinaciones de caja y bombo
Posibilidades alternativas de acentos
Ejercicios para el charles
SECCIÓN II -- INDEPENDENCIA PARA EL JAZZ
Ejercicios para bombo y caja
Ejercicios para el charles
Otras maneras de tocar Jazz
Trabajando el "Broken Time"
Independencia armónica de dos voces
Independencia armónica de tres voces (varios unísonos)
Independencia armónica de tres voces (sin unísonos)
SECCIÓN III -- FRASEO LINEAL
El uso de frases lineales para crear ritmos
Frases lineales básicas
Usando frases lineales para tocar solos de batería
Extensión de las frases lineales
Frases lineales en tresillos
Fraseo Lineal con golpes simples y dobles
---
---
Stay Updated
Want to get the latest updates and special offers from Alfred Music?