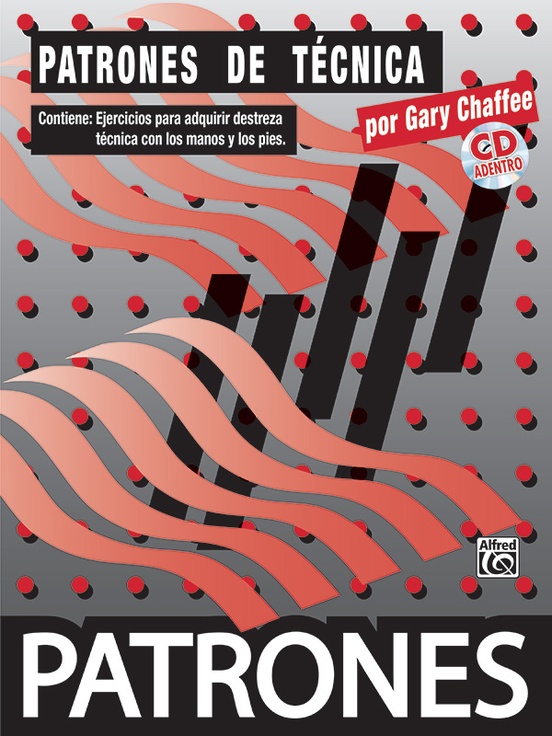 Patterns in Spanish: Patrones de Tecnica (Technique Patterns)
By Gary Chaffee, translated by Jose Manuel Mena Cuevas
Drumset Book & CD
Item: 00-28201
Add to Cart
Add to List
Share
---
Description
Patterns is one of the most comprehensive drum methods available. Covering a wide range of materials, the books can be used in any order, or in any combination with one another. They are a must for developing the kinds of skills necessary for drumset performance.

In Technique Patterns, the student is challenged with a variety of routines designed to increase technical facility in the hands and feet. Included are exercises on finger control, endurance, multiple-note playing, hand-foot combinations, and more.
---
Contents
Title
INTRODUCCIÓN
EJERCICIOS PARA EL CONTROL DE LOS DEDOS
Ejercicios tratando los dedos individualmente
Combinaciones de dedos
Pinza y mezcla de dedos
EJERCICIOS DE RESISTENCIA
Para golpes sencillos
Para golpes dobles
EJERCICIOS DE GOLPES SENCILLOS Y GOLPES DOBLES
Ejercicio rítmico básico
Ejercicios rítmicos mezclados
Ritmos ascendentes y descendentes
Ejercicios utilizando subdivisiones
EJERCICIOS DE MÚLTIPLES NOTAS
Tres notas por mano
Cuatro notas por mano
Cinco notas por mano
Seis notas por mano
Siete notas por mano
Ocho notas por mano
COMBINACIONES DE MANOS Y PIES
Ejercicios básicos de semicorcheas
Combinaciones de semicorcheas
Ejercicios usando fusas
Ejercicios de semicorcheas con mordentes
Ejercicios básicos de tresillos
Combinaciones de tresillos
Tresillos con semicorcheas a doble tiempo
Tresillos con mordentes
Mezcla de ritmos con golpes dobles
Mezcla de ritmos con golpes sencillos
STICKINGS
Stickings compuestos
Tipos de golpes
Acentos
Procedimiento práctico
Ejercicios básicos con semicorcheas
Desarrollando frases más largas
Ciclos de semicorcheas
Ejercicios básicos con tresillos
Ciclos de tresillos
---
---
Stay Updated
Want to get the latest updates and special offers from Alfred Music?