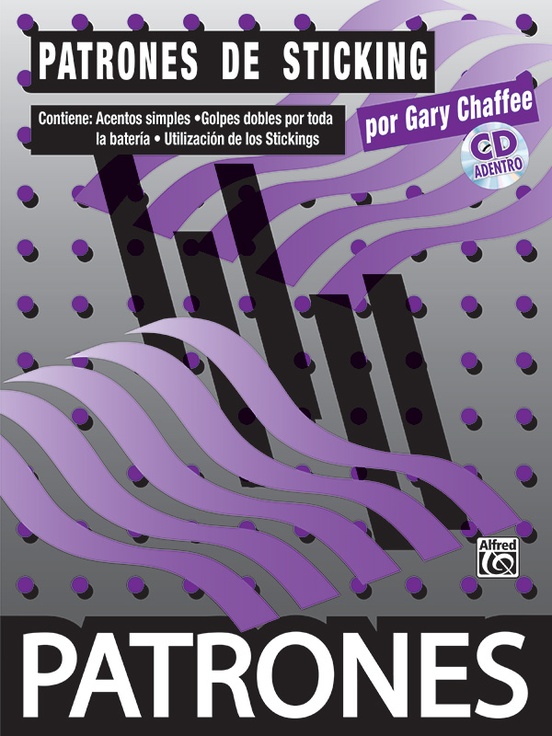 Patterns in Spanish: Patrones de Sticking (Sticking Patterns)
By Gary Chaffee, translated by Jose Manuel Mena Cuevas
Drumset Book & CD
Item: 00-28209
Add to Cart
Add to List
Share
---
Description
Patterns is one of the most comprehensive drum methods available. Covering a wide range of materials, the books can be used in any order, or in any combination with one another. They are a must for developing the kinds of skills necessary for drumset performance.

In Sticking Patterns, Gary's unique approach to the use of stickings on the set is explored. Completely different from the rudiments, Gary's system is designed specifically for drumset performance, both for creating time feels as well as for filling and soloing. Also included are sections on accented single stokes, as well as the use of double strokes on the set.
---
Contents
Title
INTRODUCCIÓN
SECCIÓN I -- POSIBILIDADES BÁSICAS DE LOS STICKINGS
CONSIDERACIONES GENERALES
PARTE 1 -- GOLPES SIMPLES ACENTUADOS
Acentos sencillos
Acentos dobles
Acentos triples
Acentos cuádruples
Estudios con acentos en los golpes simples
PARTE 2 -- GOLPES DOBLES
Estudio de golpes dobles con mezclas de ritmos
Utilizando los golpes dobles en toda la batería
PARTE 3 -- STICKINGS COMPUESTOS
Stickings del grupo A
Stickings del grupo B
Stickings del grupo C
Stickings del grupo D
Stickings del grupo E
Estudios sobre mezclas de Stickings
Moviendo un acento a través de un ritmo
Utilización de Stickings compuestos en la batería
Uso de los Stickings para rellenos y solos
Uso de los Stickings para tocar ritmos de acompañamiento
SECCIÓN II -- USOS POLI-RÍTMICOS DE LOS STICKINGS
PARTE 1 - UTILIZACIÓN DE LOS STICKINGS PARA ARTICULAR POLI-RITMOS
PARTE 2 - RITMOS CRUZADOS POR MEDIO DE ACENTOS
PARTE 3 - SUBDIVISIONES PARCIALES EN LOS POLI-RITMOS
---
---
Stay Updated
Want to get the latest updates and special offers from Alfred Music?