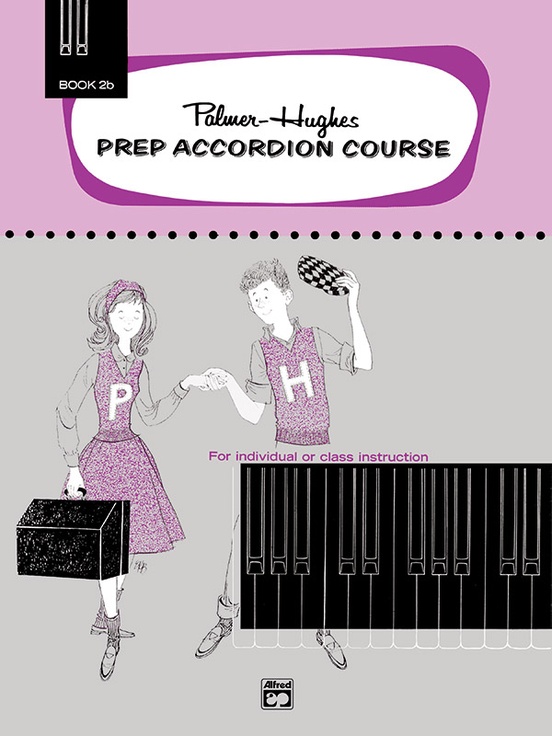 Palmer-Hughes Prep Accordion Course, Book 2B
For Individual or Class Instruction
By Willard A. Palmer and Bill Hughes
Accordion Book
Item: 00-218
Add to Cart
Add to List
Share
---
Description
The Prep Accordion Course contains all the information included in the Palmer-Hughes Accordion Course but is specifically designed for the younger student. "Turn Around Tune" is a Federation Festivals 2016-2020 selection.
---
Contents
Title
"La Spagnola"
Introducing the Glissando
"Julida Polka"
Introducing Double Notes
The Major Scale (C Major and G Major)
"Oh Where, Oh Where?"
Speed Drill No. 2
The F Major Scale
"Chiapanecas"
The Natural Sign
Introducing the Minor Chord
"Minka"
Alternating Basses with Minor Chords
"Turn Around Tune"
"Good Morning to You"
Introducing Eighth Notes
Party Song
Preparation for "Golden Slippers"
"Golden Slippers"
Introducing Dotted Quarter Notes
"America, the Beautiful"
"Country Gardens"
Speed Drill No. 3
Introducing Seventh Chords
"A Bicycle Built for Two"
"Home on the Range"
Introducing A, B and C Above the Staff
Speed Drill No. 4
"Country Fair"
"Arkansas Traveler"
"Danube Waves"
Test
---
---