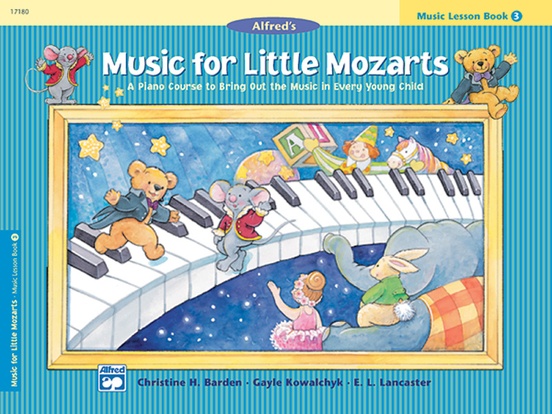 Music for Little Mozarts: Music Lesson Book 3
A Piano Course to Bring Out the Music in Every Young Child
By Christine H. Barden, Gayle Kowalchyk, and E. L. Lancaster
Piano Book
Item: 00-17180
Add to Cart
Add to List
Available Digitally
Share
---
Description
The music in Lesson Book 3 is completely written on the staff. After a review, the new concepts taught are: Staccato, legato, slurs; Melodic and harmonic 2nds and 3rds; Melodic and harmonic 4ths and 5ths; f-p.; Bass clef C D E are taught for the LH. Students then know all notes necessary to play in the C position. Playing both hands together is taught near the end of the book.

Characters introduced: Nannerl Mouse, Nina Ballerina, and Professor Haydn Hippo

The music from this book is available in the Piano Maestro app that's downloadable at http://app.appsflyer.com/id604699751?pid=web&c=alfred. Learn more About JoyTunes, the maker of Piano Maestro at http://teachers.joytunes.com/?jt&utm_source=alfred&utm_campaign=web.
---
Contents
Title
Beethoven Bear and Mozart Mouse and the Big Surprise
The Professor's Rest
The Playroom Surprise
Bass Clef C
In a Mess
You and Me
Bass Clef D
Three "D"-lightful Friends
Please Teach Us
Bass Clef E
Finger 3 on E
Steps and Skips
Animals at School
F and G in C Position
Great Big Day
Staccato
Bouncing on the Bus
School Rules
Music Class
Clara Remembers
2nds
Steps and Seconds
Talent Show!
Play Together
3rds
Thirds
A Happy Dance
Haydn's Symphony
Music Box Dance
Legato, Slur
Honey Pot
The Hungry Tummy
Finger Walk
Beethoven Bear Remembers
Melodic and Harmonic Intervals
Nannerl's Lesson
A Mouse's Turn
Beethoven Bear's Amazing Trick
Bedtime Snacks
Hands Together
Hands Together, Again
All of You
A Special Dance
4ths
Fourths
Elgar's Fourth
f--p
Please!
Nannerl's Waltz
5ths
Fifths
J. S. Bunny's Fifth
The Bowing Song
Performance Rules
Our Grand Finale
Invitation
---
---
Stay Updated
Want to get the latest updates and special offers from Alfred Music?