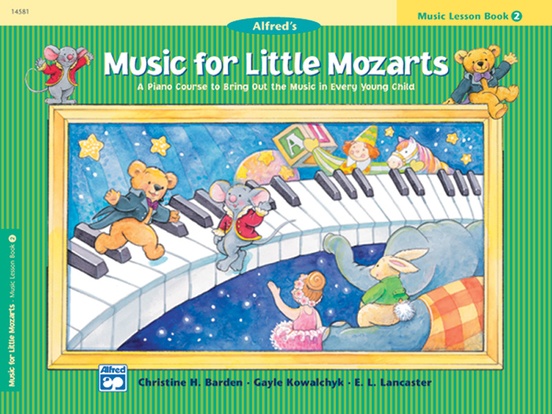 Music for Little Mozarts: Music Lesson Book 2
A Piano Course to Bring Out the Music in Every Young Child
By Christine H. Barden, Gayle Kowalchyk, and E. L. Lancaster
Piano Book
Item: 00-14581
Add to Cart
Add to List
Available Digitally
Share
---
Description
Lesson Book 2 starts as pre-reading, then moves to reading on the staff. After a review, the new concepts taught are: Dotted quarter note and 4/4 time, 4/4 time, Mezzo-forte, Staff and note reading, Steps and skips, Grand staff. New notes taught are F and G in the LH and RH, completing the Middle C position.

Characters introduced: Clara Schumann-Cat, J. S. Bunny, and Pachelbel Penguin

The music from this book is available in the Piano Maestro app that's downloadable at http://app.appsflyer.com/id604699751?pid=web&c=alfred. Learn more About JoyTunes, the maker of Piano Maestro at http://teachers.joytunes.com/?jt&utm_source=alfred&utm_campaign=web.
---
Contents
Title
Beethoven Bear and Mozart Mouse and the Piano Lesson
Music Lesson Day
Dotted Half Note
Ready to Play
A Cat
Do Not Sneeze!
Your Friend
Finding F on the Keyboard
The F Song
I Won't Sneeze!
Musical Cat
Finding G on the Keyboard
The G Song
Clara C
Two New Keys
4/4 Time Signature
Ice Cream
Music Stars!
Moderately Loud Sounds
The G Song, Again!
We Know G!
The F Song, Again!
Masterpiece for the Left Hand
3/4 Time Signature
Play 3/4 Time
Proud of You
Line Notes
Space Notes
Treble Clef
Steps
Take a Step
Stepping Fun
Skips
Our Music Friend
Bass Clef
Stepping Down
A Bunny's Wish
Skipping Fun
Waltzing on F
Happy Hoedown
Right Hand Song
Clara's Etudes
Minuet for J. S. Bunny
Circle Time
Left Hand Song
The Merry-Go-Round
The Grand Staff
For Clara (Schumann-)Cat
A Grand Plan
Just for You (Canon in C)
Invitation
---
---
Stay Updated
Want to get the latest updates and special offers from Alfred Music?