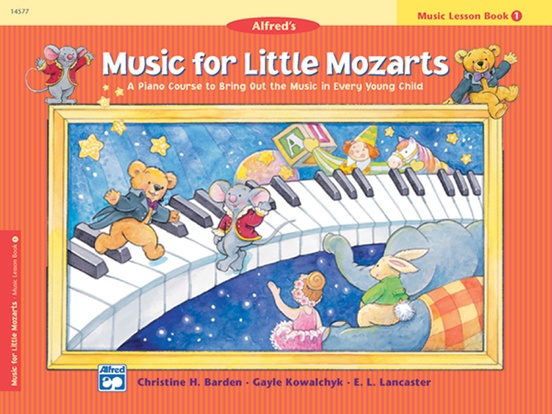 Music for Little Mozarts: Music Lesson Book 1
A Piano Course to Bring Out the Music in Every Young Child
By Christine H. Barden, Gayle Kowalchyk, and E. L. Lancaster
Piano Book
Item: 00-14577
Add to Cart
Add to List
Available Digitally
Share
---
Description
Lesson Book 1 is pre-reading. Concepts taught are: How to sit at the piano; Correct hand position; High and low; Loud and soft (forte and piano); Keyboard topography; Bar line and measure, Quarter, half, whole notes and rests; and Repeat signs. The first pieces in the book are played on the black keys. Later in the book, C D E for the RH and C B A for the LH (Middle C position) are taught with letter notes (the name of the note is written inside the note head).

Characters introduced: Mozart Mouse, Beethoven Bear, and Elgar E. Elephant.

The music from this book is available in the Piano Maestro app that's downloadable at http://app.appsflyer.com/id604699751?pid=web&c=alfred. Learn more About JoyTunes, the maker of Piano Maestro at http://teachers.joytunes.com/?jt&utm_source=alfred&utm_campaign=web.
---
Contents
Title
Beethoven Bear and Mozart Mouse and the Musical Argument
How to Sit at the Piano and Curve Your Fingers!
Low Sounds
High Sounds
Moving Up the Keyboard
Moving Down the Keyboard
Loud Sounds
Soft Sounds
Left Hand Finger Numbers
Right Hand Finger Numbers
2 Black Keys
Quarter Note
Bar Lines
Left Hand Walking
Right Hand Marching
3 Black Keys
Quarter Rest
A Bear's Song
A Mouse's Melody
E - I - E - I - O!
On MacDonald's Farm
Rockin' Pony Ride
Down We Go
Finding D on the Keyboard
The D Song
Finding C on the Keyboard
The C Song
Mozart Mouse's First Minuet
Half Note
Nap Time
Finding E on the Keyboard
The E Song
Music Friend Waltz
Half Rest
A Three-Note Symphony
Lost Teddy Bear
The C Song, Again!
Finding B on the Keyboard
The B Song
The Elephant Song
Whole Note
Bright Stars
Finding A on the Keyboard
The A Song
Rainy Day
Whole Rest
Little Dance
Off to Bed
Concert Day
Invitation
---
---
Stay Updated
Want to get the latest updates and special offers from Alfred Music?