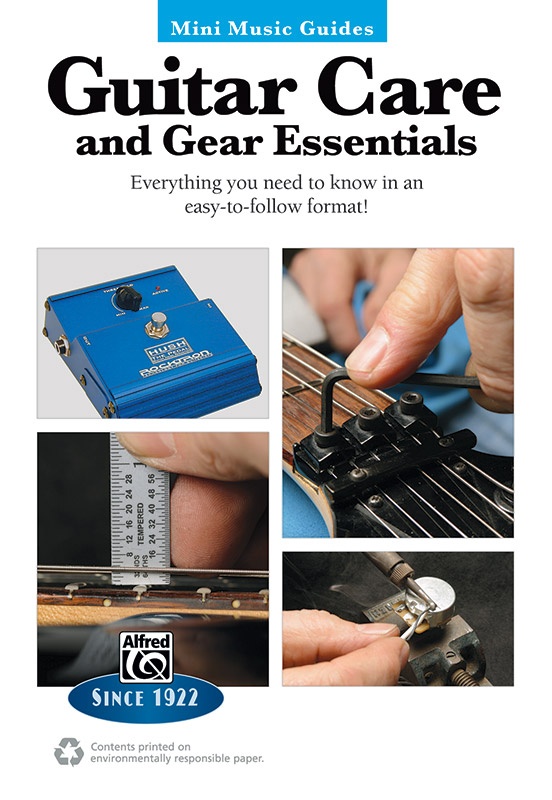 Mini Music Guides: Guitar Care and Gear Essentials
Everything You Need to Know in an Easy-to-Follow Format!
By John Carruthers
Guitar Book
Item: 00-41044
Add to Cart
Add to List
Available Digitally
Share
---
Description
Easy-to-follow instructions on maintaining your guitar and essential information about gear!
Alfred's Mini Music Guides provide essential information in a convenient size. Take these books anywhere you want to go. Packed with clear, step-by-step instructions and close-up photographs, Guitar Care and Gear Essentials is the best compact guide for guitar maintenance and gear available.

Features:
* For guitarists of all levels and styles
* How to set action and intonation, adjust the truss rod, and maintain frets
* Step-by-step instruction for proper string removal and installation on various types of guitars
* Shows how to solder and maintain electronics
* Detailed guide to setting up, maintaining, and troubleshooting Floyd Rose systems
* Comprehensive sections on amps, cabinets, ohmage and impedance, signal flow and level, noise, cabling, and more!
---
Contents
Title
About the Authors
Introduction
Part 1: Guitar Care
General Setup
Changing the Strings
Removing Old Strings
Installing New Strings
Locking Tuners
Stretching the Strings
Stringing Fender Slotted Machine Heads
Truss Rod Adjustment
Direction of Adjustment
Testing for the Proper Amount of Bow
Measuring the Amount of Bow
Adjusting the Action at the Bridge
Necessary Tools
Measuring Action Height at the Upper End of the Fingerboard
Setup Specifications
Making the Adjustments
Adjusting the Action at the Nut
Bone, Plastic, or Graphite Nuts
Measuring Action at the 1st Fret
Re-Slotting to Specifications
Important Rules
If the Slot Is Too Deep-Shimming the Nut
Mechanical Nuts
Making the Adjustments
Intonation
Basic Principles of String Length
Electronic Tuners
Reasons to Use an Electronic Tuner
Finger Pressure and Intonation
Testing and Adjusting Intonation
Acoustic Guitars
Cleaning and Polishing Your Guitar
Types of Finishes
Choosing the Correct Cleaning Solvent and Polish
Polishing Cloths
Preliminary Cleaning with Damp and Dry Cloths
Cleaning Lacquer and Synthetic Finishes with Chemical Solvents
Removing Oxides and Abrasions from Lacquered and Synthetic Finishes
Waxing and Polishing
Cleaning and Polishing the Unfinished Fingerboard
Routine Cleaning
Electronic Maintenance
Soldering
Cleaning and Lubricating Components
Your Setup
Setting Up and Adjusting Your Floyd Rose System
Introduction
History of the Modern Tremolo
Beginnings of the Floyd Rose Tremolo
Features
Understanding the Basic Principles of Operation
Floyd Rose System Parts
Stringing Your Floyd Rose Tremolo
Adjusting Your Truss Rod
Angle of the Base Plate
Setting the Base Plate Angle
Setting Action at the Bridge
About the Floyd Rose Nut
Setting Nut Height
Setting the String Retainer
Setting Intonation (String Length)
Tremolo Arm Assembly
Tools Required for Adjusting Your Floyd Rose Tremolo
Troubleshooting the Floyd Rose Tremolo
Problem: String buzzing
Problem: Excessive string breakage
Problem: Tremolo can't be adjusted to sit parallel to the face of the guitar with claw adjustment all the way in
Problem: The guitar won't stay in tune
Problem: Fine tuners won't adjust
Problem: Height adjustment screws are bottomed out, but the action is still too high
Problem: When I use my tremolo, the springs make noise
Part 2: Gear Essentials
Strings
Gauge
Types of String Windings
Roundwound
Flatwound
Half Roundwound and Quarter Roundwound
Materials
Ball End
Coated Strings
Pickups
Single-Coil Pickups
Humbucking Pickups
Active Pickups
Handwound Pickups
Electronics
Fender Stratocaster Setup
Gibson Les Paul Setup
Series and Parallel Pickup Wiring
Coil Tapping and Splitting
In and Out of Phase
Kill Switches
Tone Woods
Plywood in Electric Guitars
Wood Setup for Gibson SG Standard
Wood Setup for Paul Reed Smith Custom 24
Wood Setup for Fender Stratocaster
Wood Setup for Carvin Custom 7-String
More About Guitar-Building Materials
Fingerboard Radius
How Radius Affects Playability and Performance
Compound or Conical Fingerboard Radius
Scale Length
Conventional Scale Lengths
Frets
Fret Maintenance
Fret Type and Size
Number of Frets
Neck Profile
Tuning Pegs (Machine Heads)
The Nut
The Locking Nut
The Compensated Nut
The Bridge
The Whammy Bar
Locking Down a Trem (Blocking)
Understanding Guitar Amps
Tube Amps
Solid-State Amps
The Combo Amp
Amp Heads and Stacks
Basic Amp Features
Boutique Amps
Point-to-Point Wiring
How to Chain Amps Together
Understanding Speaker Cabinets
Cabinets
Speaker Cones
Open Back or Closed Back?
Ohmage and Impedance
Tubes
Inside a Vacuum Tube
Preamp Tubes
Power Amp Tubes
Biasing
Rectifiers and Rectifier Tubes
Signal Flow and Level
Flow
Guitar Gear Levels
More About Effects Loops
Noise
Noise Reduction
Noise Is Everywhere
Scrubbing the Noise
Other Ways to Reduce Noise in Your Rig
Physical and Virtual Effects
Cabling
---
Additional Information
| | |
| --- | --- |
| Series: | Mini Music Guides |
| Author: | John Carruthers |
| Instrument: | Guitar |
| Format: | Book |
| Page Count: | 240 |
| Item Number: | 00-41044 |
| ISBN 10: | 0-7390-9636-2 |
| ISBN 13: | 978-0-7390-9636-9 |
| UPC: | 038081460666 |
---
Stay Updated
Want to get the latest updates and special offers from Alfred Music?