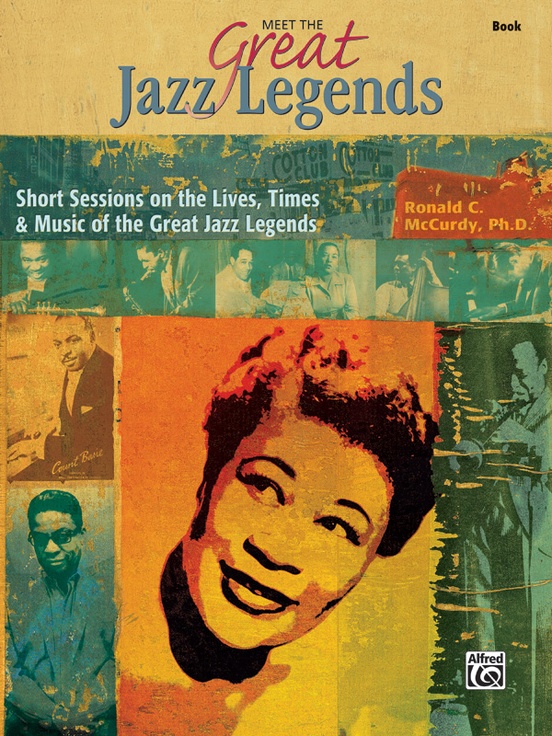 Meet the Great Jazz Legends
Short Sessions on the Lives, Times & Music of the Great Jazz Legends
By Ronald C. McCurdy
Item: 00-20815
Available Digitally
Related Items
| | | |
| --- | --- | --- |
| Meet the Great Jazz Legends: Book, CD & Reproducible Activity Sheets | $39.99 | View |
Share
---
Description
Introduce a new generation of music enthusiasts to 17 legendary jazz artists who have enriched the world with their incredible talents. Dr. McCurdy's illuminating stories about the lives, times and music of these great jazz musicians span the entire twentieth century, from early New Orleans Jazz through the Golden Age of Swing plus the avant-garde and jazz fusion eras. Includes units on Louis Armstrong, James P. Johnson, Duke Ellington, Count Basie, Benny Goodman, Ella Fitzgerald, Billie Holiday, Charlie Parker, Dizzy Gillespie, Thelonius Monk, Miles Davis, Dave Brubeck, Clifford Brown, John Coltrane, Bill Evans, Charles Mingus, and Herbie Hancock.
---
Contents
Title
UNIT 1: LOUIS ARMSTRONG
The Story of Louis Armstrong
New Orleans: The Birthplace of Jazz
Armstrong Word Search
UNIT 2: JAMES P. JOHNSON
The Story of James P. Johnson
Stride Piano: The Harlem Stride School
Johnson Puzzler
UNIT 3: DUKE ELLINGTON
The Story of Duke Ellington
The Cotton Club: A Great Spot in Harlem
Ellington Scramble
UNIT 4: COUNT BASIE
The Story of Count Basie
Kansas City Jazz Style: Riffs and Rough Livin'
Basie Crossword
UNIT 5: BENNY GOODMAN
The Story of Benny Goodman
The Swing Era: Singing, Dancing, Escaping
Goodman Crossword
UNIT 6: ELLA FITZGERALD
The Story of Ella Fitzgerald
The Apollo Theater: Pride and Promise
Fitzgerald Scramble
UNIT 7: BILLIE HOLIDAY
The Story of Billie Holiday
Jazz Ballads: Deeply Personal Interpretations
Holiday True or False
UNIT 8: CHARLIE PARKER
The Story of Charlie Parker
The Bebop Era: Pushing the Envelope
Parker Word Search
UNIT 9: DIZZY GILLESPIE
The Story of Dizzy Gillespie
Minton's Playhouse: The House of Bebop
Gillespie Scramble
UNIT 10: THELONIUS MONK
The Story of Thelonious Monk
The Civil Rights Movement: Its Effect on Music in the United States
Monk Scramble
UNIT 11: MILES DAVIS
The Story of Miles Davis
Cool Jazz: Subdued Exploration
Davis Scramble
UNIT 12: DAVE BRUBECK
The Story of Dave Brubeck
Odd and Mixed Meters: Jazz Expansion
Brubeck Word Search
UNIT 13: CLIFFORD BROWN
The Story of Clifford Brown
The Hard Bop Era: Searching in New Directions
Brown Scramble
UNIT 14: JOHN COLTRANE
The Story of John Coltrane
Modal Jazz: Expansive Expression
Coltrane Crossword
UNIT 15: BILL EVANS
The Story of Bill Evans
Kind of Blue: A Modal Jazz Classic
Evans Crossword
UNIT 16: CHARLES MINGUS
The Story of Charles Mingus
The Avant-Garde Era: Free Jazz
Mingus Scramble
UNIT 17: HERBIE HANCOCK
The Story of Herbie Hancock
Jazz Fusion: Blending Jazz and Rock
Hancock Word Search
CHARACTERISTICS OF THE JAZZ ERAS
GLOSSARY OF JAZZ TERMS
---
Additional Information
| | |
| --- | --- |
| Author: | Ronald C. McCurdy |
| Format: | Book |
| Page Count: | 72 |
| Item Number: | 00-20815 |
| ISBN 10: | 0-7390-3094-9 |
| ISBN 13: | 978-0-7390-3094-3 |
| UPC: | 038081205601 |
---
Stay Updated
Want to get the latest updates and special offers from Alfred Music?