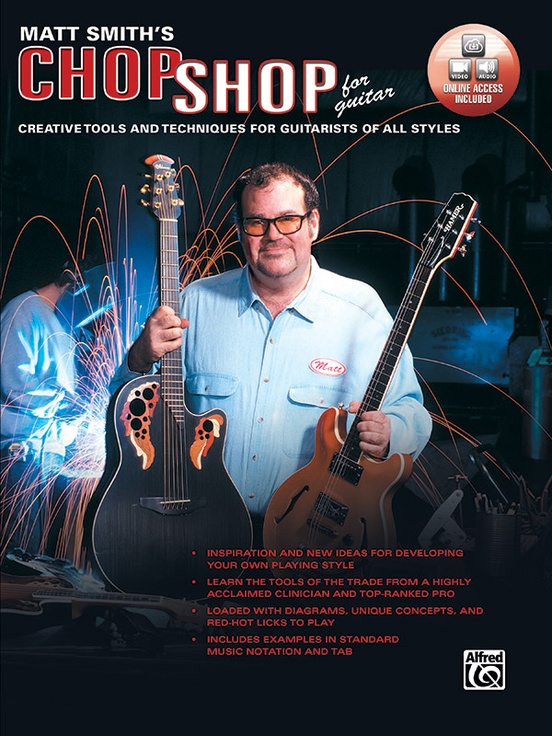 Matt Smith's Chop Shop for Guitar
Creative Tools and Techniques for Guitarists of All Styles
By Matt Smith
Guitar Book & Online Video/Audio
Item: 00-43049
Add to Cart
Add to List
Share
---
Description
Renowned studio musician, performer, recording artist, and clinician Matt Smith opens his bag of tricks and tells all in Chop Shop for Guitar. Matt demystifies topics such as chord progressions, "cool notes" in solos, harp scales, harmonics, improvisation, alternate tunings, and much more. His unique, creative approach to composition, soloing, and mastering the fretboard will inspire and motivate you to reach new levels of musicianship and self-confidence in your playing. Providing all the tools you need to improve your playing, Chop Shop for Guitar is a must-have for all guitarists. The companion video is hosted by Matt Smith and includes lessons and demonstrations of the examples in the book. Audio recordings of the examples in the book are also included.
---
Contents
Title
About the Author
Introduction
Chapter 1-Theory Made Easy
How Music Works
The Major Scale
Major Scales and Keys
Key Signatures
Natural Minor Scales
Intervals
The Number System
Interval Inversion
Chords
Seventh (7) Chords
Chord Extensions
Dominant Chords
Chord Scales-Diatonic Harmony
Chapter 2-Musicianship 101
Charts
Chapter 3-Mastering the Fretboard
Full-Fretboard Minor Pentatonic Scales
Full-Fretboard Major Pentatonic Scales
Integrating Major and Minor Pentatonic Scales
Modes of the Major Scale
Double Stops
Chapter 4-Rhythms and Grooves
Major Keys and Extensions
Minor Keys and Extensions
Some Chords You Should Know
Rhythm Tricks
Progressive Progressions
Moving One Note in a Chord
Funky Rhythm Fills
Borrowing Triads from Another Key: Minor Grooves
Blues and Funk Rhythm Fills
Chapter 5-Improvisation
The Nature of Art and Improvisation
Improvisation-Phrasing
How to Play over Non-Diatonic Chord Progressions
The Chord-Tone Approach
Combining Chord-Tone Approaches
Altered Chords and Scales
Commonly Used Altered Dominant Chords
Improvising with Altered Scales over Altered Chords
Chapter 6-The Secret of Everything
The Secret
Writing Out the Chords
Notes in a Row
Combining the Lines
Improvising Using the Coolest Notes in a Progression
Chapter 7-Altered Tunings
Open Tunings
D Tuning (Vestapol)
Fingerstyle-Travis Picking
D Tuning-Full Neck
Five for the Price of One!
Shape Shifting
The Secret Country Blues Diagram
Using the Secret Country Blues Diagram to Create Phrases
DADGAD Tuning
Celtic DADGAD
Indian DADGAD
DADGAD Double Stops
Other Tunings
Chapter 8-Slide Guitar Techniques
Slide Rules
Slide Chords in Standard Tuning
Building Licks Off of Major Slide Chords
Building Licks Off of Minor Slide Chords
Implying Chords with a Slide-Chord Superimposition
Slide and Altered Tunings: D or E Tuning
Slide and Altered Tunings: G or A Tuning
Slide in Other Tunings: D6 or E6 Tuning
Slide in Other Tunings: D Minor or E Minor Tuning
Hawaiian Slide Secrets
Chapter 9-Harp Scales and Harmonics
Harp Scales
Creative Guitar Harmonics
How to Grow
---
Additional Information
| | |
| --- | --- |
| Author: | Matt Smith |
| Instrument: | Guitar |
| Format: | Book & Online Video/Audio |
| Page Count: | 96 |
| Item Number: | 00-43049 |
| ISBN 10: | 1-4706-1760-9 |
| ISBN 13: | 978-1-4706-1760-8 |
| UPC: | 038081492100 |
---