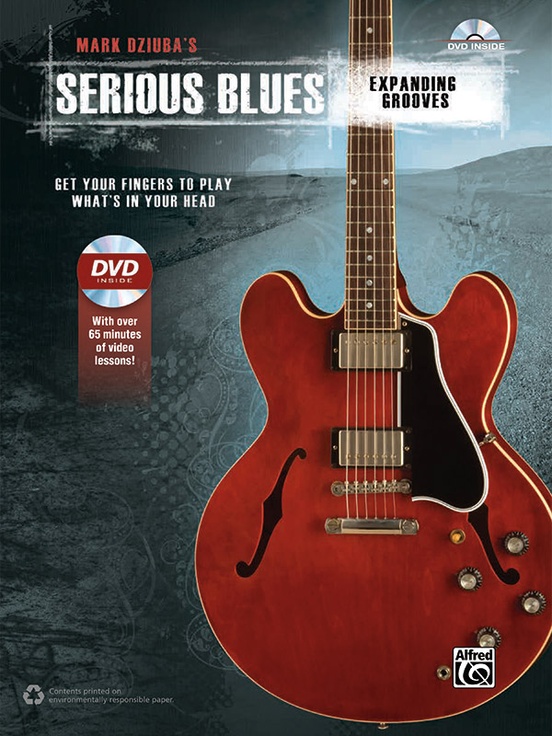 Mark Dziuba's Serious Blues: Expanding Grooves
Get Your Fingers to Play What's in Your Head
By Mark Dziuba
Guitar Book & DVD
Item: 00-42453
Add to Cart
Add to List
Share
---
Description
Mark Dziuba helps you become a great blues guitarist by expanding your groove palette. You'll learn about shuffle and straight rhythms, the 12/8 feel, triplets, blues forms, the minor blues, and various blues rhythm tricks, including chord fills, using accents and mutes, sliding into chords, and open-string drones. Additionally, Dziuba explores harmonic concepts, like chord extensions and advanced voicings, plus rhythms from music beyond the blues---the Charleston and Latin montuno. The included DVD is hosted by Dziuba and features live demonstrations of the examples in the book.

About the Author
A performer and teacher for over 30 years, Mark Dziuba directs the Jazz Studies Program at the State University of New York at New Paltz, where he serves as a tenured professor. His workshops on guitar styles and improvisation have been featured at the International Guitar Festival (Bath, England), the National Guitar Workshop (various U.S. and European locations), and the Crown of the Continent Guitar Festival (Montana). He has taught and performed with many legendary guitarists, including John Scofield, John Abercrombie, John Jorgenson, Tal Farlow, Larry Carlton, Trey Anastasio, Julian Lage, and Reeves Gabrels.
---
Contents
Title
Introduction
The Heart of the Shuffle
Strumming in 12/8
Accenting the Downbeat
Using Accents and Mutes
Eighth-Note Patterns and Variations
Putting It All Together
Minor-Key Shuffle
Sliding into Chords
A Minor Blues (First Four Bars)
Fingerstyle Shuffle
Chord Fills
Putting It All Together
The 8-Bar Blues Form
8-Bar Shuffle in E
Four to the Floor in A
In the Style of "Key to the Highway"
8-Bar Blues in A Minor
In the Style of "The Thrill Is Gone"
The Chord Progression
Chord Voicings and Open-String Drones
Advanced Chord Voicings
In the Style of "Call It Stormy Monday"
Traditional "Stormy Monday" Changes
Modern "Stormy Monday" Changes
4th-String-Root 9th Chords
Crossover Method
4th-String-Root 9th-Chord Blues
Playing Dominant 7 Sharp-9 Chords
E7 Sharp-9 Vamp
Crossing Over Minor 9 Chords
Minor Blues
Minor Blues Line
Minor Line Using D Minor
Using the Minor Line in a Blues Progression
Voicing Options
Montuno Lines
Charleston Rhythm
Quarter-Note and Eighth-Note Strums
The Charleston Rhythm
Blues in A with the Charleston Rhythm
Chord-Defining Intervals
The Charleston Blues with Chord-Defining Intervals
Upbeat Shuffle
Review the Feel
Introducing the Upbeat Rhythm
Blues in A with the Upbeat Rhythm
Additional Voicings and the Upbeat Rhythm
6th-String-Root 6th Chords
Constructing Major and Minor 6th Chords
8-Bar Blues in A
16-Bar Blues in A Minor
Improvisation Exercise
Three-String 6th and 9th Chords
6th- and 9th-Chord Relationships
8-Bar Blues in G
Additional Voicings
Cool Riff with 9th Chords
Funky 13th-Chord Lick
Appendix
Reading Chord Diagrams
Minor Pentatonic Scales
---
Additional Information
| | |
| --- | --- |
| Series: | Serious Blues |
| Author: | Mark Dziuba |
| Instrument: | Guitar |
| Format: | Book & DVD |
| Page Count: | 56 |
| Item Number: | 00-42453 |
| ISBN 10: | 1-4706-1118-X |
| ISBN 13: | 978-1-4706-1118-7 |
| UPC: | 038081474953 |
---
Stay Updated
Want to get the latest updates and special offers from Alfred Music?