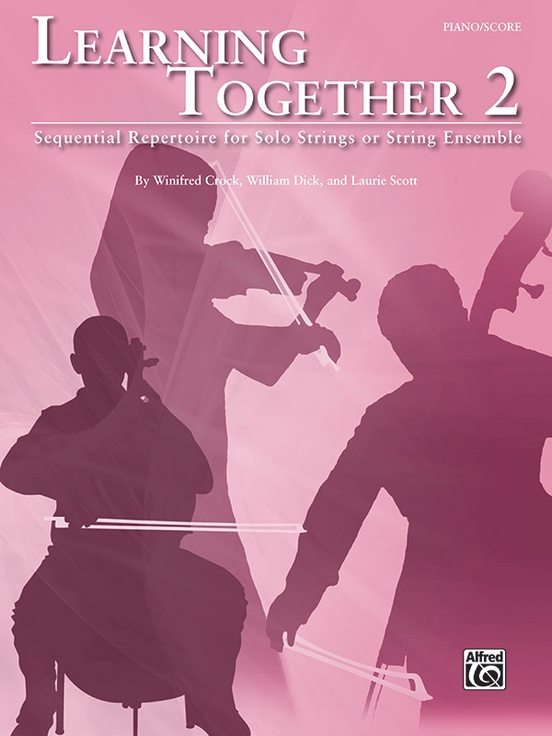 Learning Together 2
Sequential Repertoire for Solo Strings or String Ensemble
By Winifred Crock, William Dick, and Laurie Scott
Piano Acc. Score
Item: 00-43868
Add to Cart
Add to List
Related Items
| | | |
| --- | --- | --- |
| Learning Together 2: Violin Book & CD | $15.99 | View |
| Learning Together 2: Viola Book & CD | $15.99 | View |
| Learning Together 2: Cello Book & CD | $15.99 | View |
| Learning Together 2: Bass Book & CD | $15.99 | View |
Share
---
Description
Learning Together consists of sequential unison repertoire for string instruments of the orchestra and is intended for use in string classes, group ensembles, and private lesson settings. Harmony parts and bass lines complete the arrangements and are composed so that any mixed string ensemble, as well as ensembles of like instruments, can perform the pieces. Piano accompaniments are included and can be added to any of these combinations. Performance possibilities include individual solo or unison groups, class ensembles, and district or festival-sized orchestras. The Learning Together repertoire can be used to establish solo technique, introduce ensemble skills, develop aural skills, and can serve as a foundation for learning to read music. Each instrument book comes with a CD that includes solo performances, string ensemble performances, and piano accompaniment tracks of the featured repertoire.

The authors of Learning Together are award-winning teachers with over 100 years of combined recognized success. They share extensive experience as performers, conductors, clinicians, and studio and classroom teachers. This book demonstrates their commitment to providing rich musical experiences for all students in classroom and studio settings. classic arrangement along with the audio tracks. All parts may be played by acoustic or electric instruments.
---
Contents
Title
Introduction
Tuning
Oh, How Lovely
Banuwa
Above the Plain
Twinkle Waltz
Long, Long Ago
Lucy Locket
Teddy Bear
French Folk Song
French Folk Song
Two-Note Slurs
Round in Four Parts
Vive la Compagnie
Skye Boat Song
Twinkle Jig
'Liza Jane
'Liza Moves Up
Bile Them Cabbage Down
Old Joe Clark
Cripple Creek
Blow the Candle Out
Blow the Candle Out High
Wraggle Taggle Gypsy O
Frère Jacques
Hot Cross Buns
Minka
Galloping Horses
Boys in the Woods
Zum Gali Gali
Inez
Shifting and Third Position Introduction for Violin
Shifting and Third Position Introduction for Viola
Shifting and Third Position Introduction for Cello
Shifting and Third Position Introduction for Bass
Moon Over Ruined Castle
America, the Beautiful
America, the Beautiful
String Crossings & Cross Bow Twinkle Variations
Four-Note Slurs
Theme from Symphony No. 94
Hunters' Chorus from Der Freischütz
Mexican Hat Dance
Canarios
Hawaii Aloha
Chop Waltz
High Third Finger Introduction for Violin and Viola
Extension Fingerings for Cello
Fingering Chart for Bass
Higher Rocky Mountain
Old Joe Clark Moves Up the Hill
Scales
---
---
Stay Updated
Want to get the latest updates and special offers from Alfred Music?