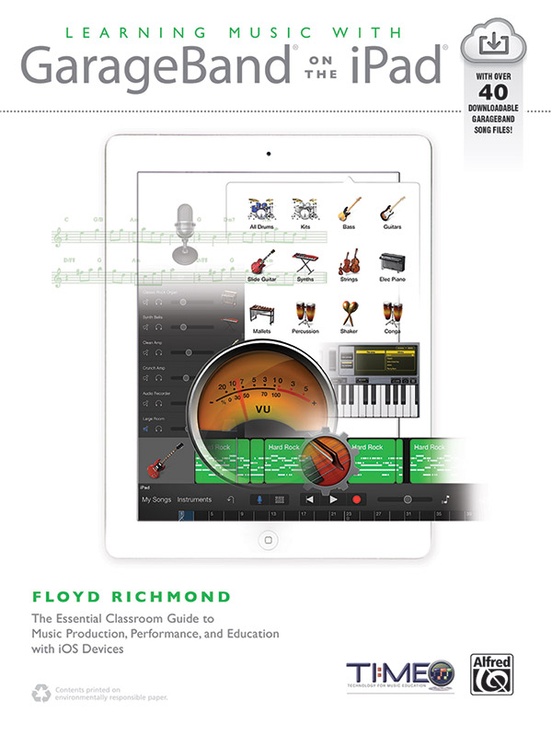 Learning Music with GarageBand on the iPad
The Essential Classroom Guide to Music Production, Performance, and Education with iOS Devices
By Floyd Richmond
Pro Audio Textbook
Item: 00-44081
Add to Cart
Add to List
Available Digitally
Share
---
Description
This essential guide to GarageBand on iPad and iOS devices is your foundation for learning music production in the classroom. Written by Dr. Floyd Richmond, noted iPad music expert and the president of TI:ME (Technology Institute for Music Educators), Learning Music with GarageBand on the iPad provides instant insight and wisdom through Dr. Richmond's many years of experience. With this book, students will be able to create music on a higher level than ever before regardless of the depth of their previous musical training. Includes over 40 GarageBand song files.

Recording
* Record digital audio
* Record MIDI and virtual instruments
* Record wherever your iOS device goes

Performing with Smart Instruments
* Perform in numerous styles for each instrument (keys, guitar, bass, percussion)
* Perform with authentic musical gestures (keyboard arpeggiator, string articulations)
* Perform chords of your choosing

Teaching and Learning
* Create iPad ensembles
* Perform solos with included accompaniments
* Create loop-based compositions
---
Contents
Title
Introduction: GarageBand for iOS Devices
Why iOS?
GarageBand for iOS and Mac
Who Uses GarageBand for iOS?
What Does GarageBand Do?
What's So Great About GarageBand?
System Specs
Installing GarageBand
Resources Accompanying This Book
Chapter 1: Quickstart 1-Playing a Demo Song, Recording a Vocal Background Track, and Replacing the Lead Vocals
The GarageBand Song List
GarageBand Track View
Duplicating a Song
Chapter 2: Quickstart 2-Creating a Song Using Only Loops
A Few Additional Notes
Editing Sections
Working with GarageBand Loops
Chapter 3: Quickstart 3-Playing and Recording GarageBand's Instruments
Chapter 4: Using the GarageBand Sampler
Using the Sampler
Playing an Existing Sample
Recording a New Sample
Chapter 5: Other GarageBand Operations
The Settings Menu
Copy and Paste
Edit Track Properties
Automatic Fade-Outs
Chapter 6: Editing MIDI
Splitting a Digital Audio or MIDI Track
Joining a MIDI Track
Looping a Digital Audio or MIDI Track
Specific MIDI Editing Techniques
Editing Multiple Notes
Quantizing Notes
Chapter 7: GarageBand Guitar Effects
Playing Live Guitar Using GarageBand Effects
Applying GarageBand Effects to Recorded Guitar Tracks
GarageBand Effects Boxes
Chapter 8: Transferring Files to and from Your Mac and iOS Device
Transferring Files from iOS to Mac
Transferring Files from Mac to iOS
iCloud
AirDrop
Other File-Sharing Options
Summary
Chapter 9: iPad Performing Ensembles
Using GarageBand's Jam Sessions Feature
Advanced Arrangements
Loading a Song into an iPad
Amplification for GarageBand Ensembles
Mixing Board and Amplification
Dedicated Devices for Rehearsing or Performing
Songs for Performance
Performance and Activity Suggestions
Music by the Decades
1940s
1950s
1960s
1970s
1980s
1990s
2000s
Cultures
Events
Just for Fun
Chapter 10: External Devices
MIDI Devices
Audio Interfaces
Chapter 11: iPad Jam Sessions
Starting a Jam Session
Joining a Jam Session
Jam Session Tips
Sharing a Jam Session
Chapter 12: Things Teachers and Group Leaders Need to Know
Projecting the iOS Device Screen
About Sound
Projecting with Apple TV
More About Sound
Other Methods for Projecting Wirelessly from Your iOS Device
Viewing Your Mac Screen on Your iOS Device
Controlling Your Mac Using Your iOS Device
Syncing an iOS Device and a Computer
Facilitating Effective Use of GarageBand for iOS
Installing Apps on iOS Devices
Capturing Screens in iOS
Printing from an iOS Device
Creating PDF files from an iOS Device
Chapter 13: Additional GarageBand Activities for the Classroom
Apple Tutorials
Chapter 14: Inter-Application Communications
Inter-Application Instruments
Inter-Application Effects
Chapter 15: Audiobus
Why Audiobus?
Using Audiobus
Chapter 16: Automations
Dynamic "Automations" in GarageBand for iOS
Automations During and After Recording MIDI
Chapter 17: Other Things You Can Do with Your iPad
Utilities
Notation
Production
Virtual and Electronic Instruments
Instructional Software
Multimedia
Built-In Software
Apple Software
Chapter 18: Unofficial File Transfer Options
Sending a GarageBand for Mac File to GarageBand for iOS
Chapter 19: Accounts You May Need
Appendix A: Features of GarageBand for Mac and GarageBand for iOS
Appendix B: Apple Help for GarageBand and Other iPad Apps
---
Additional Information
| | |
| --- | --- |
| Author: | Floyd Richmond |
| Format: | Book |
| Page Count: | 136 |
| Item Number: | 00-44081 |
| ISBN 10: | 1-4706-1968-7 |
| ISBN 13: | 978-1-4706-1968-8 |
| UPC: | 038081495675 |
---
Stay Updated
Want to get the latest updates and special offers from Alfred Music?