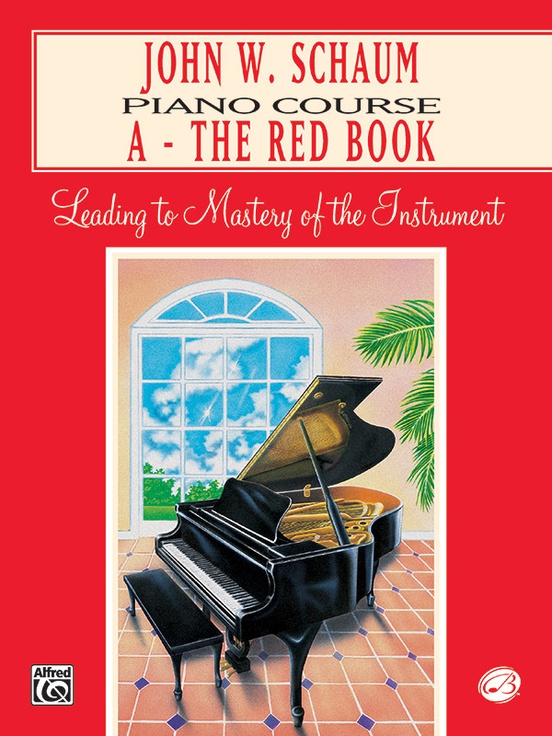 John W. Schaum Piano Course, A: The Red Book
Leading to Mastery of the Instrument
By John W. Schaum
Piano Book
Grade: 1
Item: 00-EL00166A
Add to Cart
Add to List
Available Digitally
Share
---
Description
A time-honored tradition just got better! The John W. Schaum Piano Course has been newly revised with 100 percent new engravings and typesetting, color highlighting for concept emphasis, updated song titles and lyrics, and full-color illustrations.
---
Contents
Title
Foreword
Outlining Hands (Correlating fingers with staff names)
Sight Reading Discovery
Sight Reading Drills
Five-finger Position in C Major -- The Woodchuck
Phrase Development -- Snug as a Bug in a Rug
How to Count -- Hannah from Montana
Rhythmic Development -- Crunchy Flakes
Musical Terms -- Swinging Along
Half Steps and Whole Steps (Sharps, Flats and Naturals)
Accidentals -- Tick-Tack-Toe
Five-finger Position in G Major -- A Nutty Song
Crescendo and Diminuendo -- How to Transpose -- Down in a Coal Mine
Andante and Review -- The Kangarooster
Music Appreciation -- Beethoven -- Bells Are Ringing
Arm Phrasing Touch -- Steady Eddie
Bringing Out the Melody -- The Goofy Gopher
Extended Right Hand Position -- The Dandy Lion
Left Hand Development -- Captain Silver
Piano Quiz No. 1
Transposing -- Jumping Beans
Technique -- Warm-Ups
Memorization -- The Snake Dance
Major Scale Pattern
Scale Writing
C Major Scale (Ascending) -- The Escalator
Broken Chords and the Triad -- The Sphinx
Five-finger Position in F Major -- Tune of the Tuna Fish
Extended R.H. Position in F Major -- Which Is Witch?
Contrast in Music
Reading Notes as Well as Finger Numbers -- Brahms' Lullaby
A Recital Piece
Left Hand Accompaniment Patterns -- Riding on a Mule
Five-finger Position in D Major -- Cycles
Common Time
Extended R.H. Position in D Major -- The Movies
Intervals: The Third -- At the Ice Cream Counter
New Hand Position (B-flat Major) -- The Picnic
The Pianoforte and Fortissimo -- The Life Guard
Staccato Study -- The Steam Iron
Hand Position: Key of A Major -- The Pet Shop
Repertoire -- The Rodeo
The Dotted Quarter Note in 4/4 Time -- Motorcycle Police
The Dotted Quarter Note in 3/4 Time -- Schubert's Waltz
Reversible Melody -- A Musical Trick / The Cheerleader
Changing Keys -- Birthday Greetings
Piano Quiz No. 2
Certificate of Promotion
---
---
Stay Updated
Want to get the latest updates and special offers from Alfred Music?