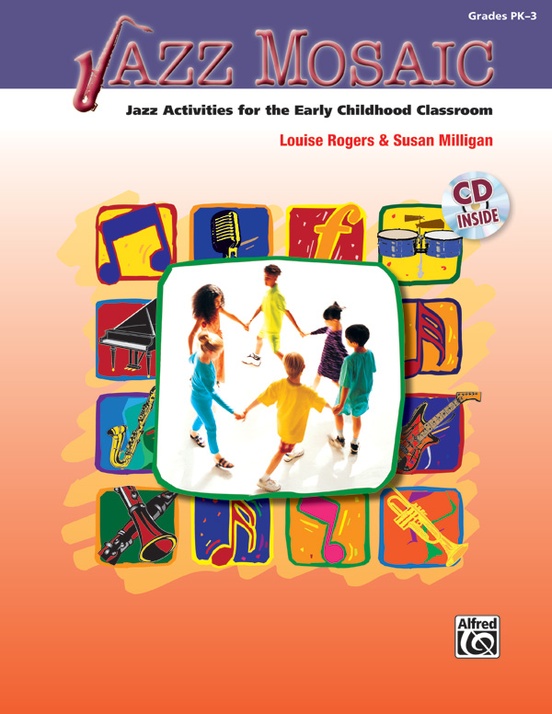 Jazz Mosaic
Jazz Activities for the Early Childhood Classroom
By Louise Rogers and Susan Milligan
Book & CD
Grade: Pre-K--2
Item: 00-40772
Add to Cart
Add to List
Share
---
Description
Jazz Mosaic brings the joy of jazz music into your classroom every day through a variety of age-appropriate, play-centered lessons that can be easily integrated into your existing curriculum. Students will learn about jazz greats, styles, and history through activities and cross-curricular connections that are creative and engaging. Easy to teach, the music lessons are appropriate for children in pre-school through third grade. The accompanying CD contains examples and vocals for echoing, learning and fun! Jazz Mosaic provides a broad range of enjoyable and educational activities from which to choose for both classroom and music teachers. Your students will discover the exciting world of jazz music and will be beboppin' and scatting with the cool cats in no time with Jazz Mosaic!
---
Contents
Title
Introduction
Elements of Jazz
How to Use This Book
CHAPTER 1: SCATTING---ELLA FITZGERALD
JAZZ GREAT---Ella Fitzgerald
Ella Fitzgerald Teaching Suggestions
The Poem
Ella Fitzgerald Sang Bop Boo Day
Adding the Scat Section
Syncopation
Talking Scats
Singing Scats
Ella Fitzgerald Sang Bop Boo Day
Ella Chant
Ella Rhythm Chant
CHAPTER 2: BEBOP---CHARLIE PARKER
JAZZ GREAT---Charles "Yardbird" Parker
Charlie Parker Teaching Suggestions
Bebop
Charlie Parker Played Bebop
Charlie Parker Played Bebop Riff
Charlie Parker Riff Accompaniment
CHAPTER 3: COOL JAZZ---MILES DAVIS
JAZZ GREAT---Miles Davis
Miles Davis Teaching Suggestions
Cool Jazz
So What
The Lyrics
CHAPTER 4: DIXIELAND---LOUIS ARMSTRONG
JAZZ GREAT---Louis "Satchmo" Armstrong
Louis Armstrong Teaching Suggestions
Dixieland
Let's Have a Parade
CHAPTER 5: SWING AND BIG BAND---DUKE ELLINGTON
JAZZ GREAT---Edward Kennedy "Duke" Ellington
Duke Ellington Teaching Suggestion
Swing and the Big Band Era
Take a Train
Billy Strayhorn
Jazzy Train Collaborative Art Project
CHAPTER 6: SWING---BENNY GOODMAN
JAZZ GREAT---Benny Goodman
Benny Goodman Teaching Suggestions
Swing and the Big Band Era
Movement and Dance to Recorded Music
Free Dance
Exercising to Recorded Music
Adding Recorded Music and Movement to Literature
Drawing and Painting to Recorded Music
Jackson Pollock
CHAPTER 7: LATIN JAZZ---TITO PUENTE
JAZZ GREAT---Tito Puente
Tito Puente Teaching Suggestions
Latin Jazz
Movement and Dance
Free Dance
Structured Dance---The Mambo
Exercising to Recorded Music
Mambo Art: Drawing and Painting to Recorded Music
Craft Project: Make Percussion Instruments
CHAPTER 8: THE BLUES---TAJ MAJAL
Taj Majal Teaching Suggestions
The Funky Bluesy ABCs
About the Blues
The Blues---Teaching Suggestions
"What Did You Have For Breakfast?"
Animal Blues
The Talking Blues
Miss My Mama Blues
CHAPTER 9: JAZZ POETRY
Children's Poet Eve Merriam
Eve Merriam Teaching Suggestions
The Poem
Using Pitched Instruments for the Question
Scat Section---Echo
Putting it All Together!
Extensions into Other Curriculum Areas
Cooking
CHAPTER 10: A JAZZ FESTIVAL IN YOUR SCHOOL OR COMMUNITY
Planning
Preparation
Before the Festival Begins
During the Festival
Ending the Festival with a Culminating Event
After the Festival
A Sample Schedule of Events from a Jazz Festival in a Preschool
APPENDIX
Division of Rhythmic Values
Measure or Bar
Tempo
Meter
Time Signatures
Jazz Terminology
Scat
A Little Scat History
Syncopation
Swing
Swing Music vs. Swing Feel
The Swing Style
Swing Dance
The Blues
Standard Blues Form with Bass Note
Listening Lists
---
Additional Information
| | |
| --- | --- |
| Author: | Louise Rogers, Susan Milligan |
| Format: | Book & CD |
| Page Count: | 52 |
| Item Number: | 00-40772 |
| ISBN 10: | 0-7390-9472-6 |
| ISBN 13: | 978-0-7390-9472-3 |
| UPC: | 038081456492 |
---
Stay Updated
Want to get the latest updates and special offers from Alfred Music?