Resources for Your School's iPad Program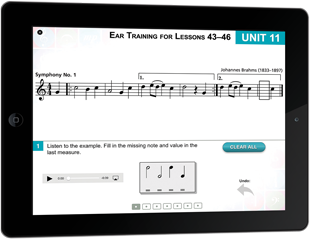 Alfred Music currently has over 1,500 titles available on iBooks® that are specifically created for use on iPad® and Mac®, and we're adding new titles every week. These are the most interactive and engaging digital textbooks that we offer. When we create a digital textbook for iBooks, we look for ways to optimize the content to best fit the device. Whenever possible, we also integrate interactive elements into the digital textbooks, including audio examples demonstrating how a piece should sound, videos of instructors explaining concepts, interactive images that engage students more than a static picture, and quizzes & activities that help reinforce concepts.
You can purchase the books individually from each device / Apple account on iBooks, or educational institutions can also purchase eBooks in volume and distribute them to students using Apple's Volume Purchase Program.
More information about the Volume Purchase Program for Education can be found here.
Need Help?
Here are some additional resources to help with the development of your program:
Stay Updated
Want to get the latest updates and special offers from Alfred Music?