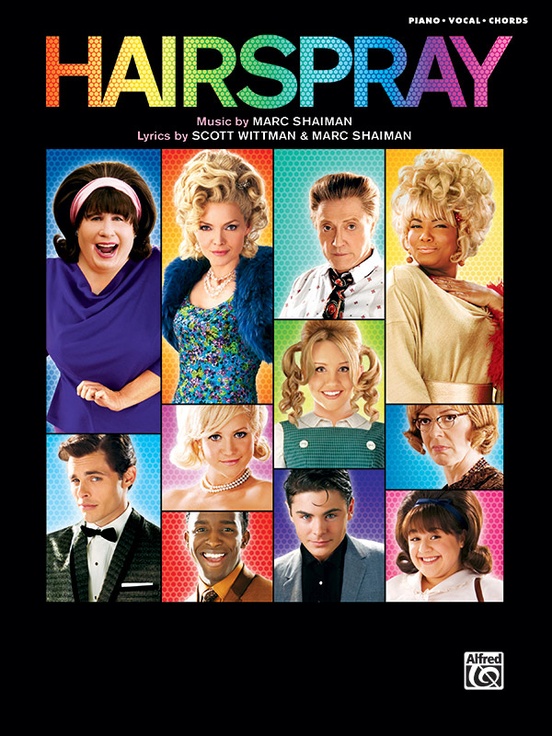 Hairspray: Soundtrack to the Motion Picture
Music by Marc Shaiman, lyrics by Scott Wittman and Marc Shaiman
Piano/Vocal/Chords Book
Item: 00-28431
Add to Cart
Add to List
Related Items
| | | | |
| --- | --- | --- | --- |
| Big, Blonde and Beautiful (Reprise) (From "Hairspray"): Piano/Vocal/Chords | | $3.99 | View |
| Come So Far (Got So Far to Go) (From "Hairspray"): Piano/Vocal/Chords | | $3.99 | View |
| Ladies' Choice (From "Hairspray"): Piano/Vocal/Chords | | $3.99 | View |
| The New Girl in Town (From "Hairspray"): Piano/Vocal/Chords | | $3.99 | View |
Share
---
Description
Hairspray blasted its way into theaters with a fresh new twist on the original 1988 classic. With stars like John Travolta, Michelle Pfeiffer, and Christopher Walken singing and dancing to these outrageous tunes, there is no doubt fans across the nation will want to try this at home. The Tony-winning musical has been wowing crowds since 2002. Now moviegoers can become a part of the action, the comedy, and most importantly the music.

Alfred presents the music to the many hits from the Hairspray soundtrack. All songs include lyrics, melody line, and chord changes with professionally arranged piano accompaniment.

Titles: Good Morning Baltimore * The Nicest Kids in Town * It Takes Two * (The Legend of) Miss Baltimore Crabs * I Can Hear the Bells * Ladies' Choice * The New Girl in Town * Welcome to the '60s * Run and Tell That * Big, Blonde, and Beautiful * Big, Blonde, and Beautiful (Reprise) * (You're) Timeless to Me * I Know Where I've Been * Without Love * (It's) Hairspray * You Can't Stop the Beat * Come So Far (Got So Far to Go) * Cooties * Mama, I'm a Big Girl Now.
---
Contents
| | |
| --- | --- |
| Good Morning Baltimore (from "Hairspray") | Marc Shaiman (composer); Scott Wittman (lyricist) |
| Hairspray (from "Hairspray") | Marc Shaiman (composer); Scott Wittman (lyricist) |
| Big, Blonde and Beautiful (from "Hairspray") | Marc Shaiman (composer); Scott Wittman (lyricist) |
| Big, Blonde and Beautiful (Reprise) (from "Hairspray") | Marc Shaiman (composer); Scott Wittman (lyricist) |
| Come So Far (Got So Far to Go) (from "Hairspray") | Marc Shaiman (composer); Scott Wittman (lyricist) |
| Cooties (from "Hairspray") | Marc Shaiman (composer); Scott Wittman (lyricist) |
| I Can Hear the Bells (from "Hairspray") | Marc Shaiman (composer); Scott Wittman (lyricist) |
| I Know Where I've Been (from "Hairspray") | Marc Shaiman (composer); Scott Wittman (lyricist) |
| It Takes Two (from "Hairspray") | Marc Shaiman (composer); Scott Wittman (lyricist) |
| Ladies' Choice (from "Hairspray") | Marc Shaiman (composer); Scott Wittman (lyricist) |
| Mama, I'm a Big Girl Now (from "Hairspray") | Marc Shaiman (composer); Scott Wittman (lyricist) |
| Miss Baltimore Crabs (from "Hairspray") | Marc Shaiman (composer); Scott Wittman (lyricist) |
| Run and Tell That (from "Hairspray") | Marc Shaiman (composer); Scott Wittman (lyricist) |
| The New Girl in Town (from "Hairspray") | Marc Shaiman (composer); Scott Wittman (lyricist) |
| The Nicest Kids in Town (from "Hairspray") | Marc Shaiman (composer); Scott Wittman (lyricist) |
| Welcome to the 60's (from "Hairspray") | Marc Shaiman (composer); Scott Wittman (lyricist) |
| Without Love (from "Hairspray") | Marc Shaiman (composer); Scott Wittman (lyricist) |
| You Can't Stop the Beat (from "Hairspray") | Marc Shaiman (composer); Scott Wittman (lyricist) |
| You're Timeless to Me (from "Hairspray") | Marc Shaiman (composer); Scott Wittman (lyricist) |
---
Additional Information
| | |
| --- | --- |
| Composed by: | Marc Shaiman |
| Instrument: | Piano/Vocal/Chords |
| Version: | Piano/Vocal/Chords |
| Format: | Book |
| Page Count: | 172 |
| Item Number: | 00-28431 |
| ISBN 10: | 0-7390-4920-8 |
| ISBN 13: | 978-0-7390-4920-4 |
| UPC: | 038081309798 |
---