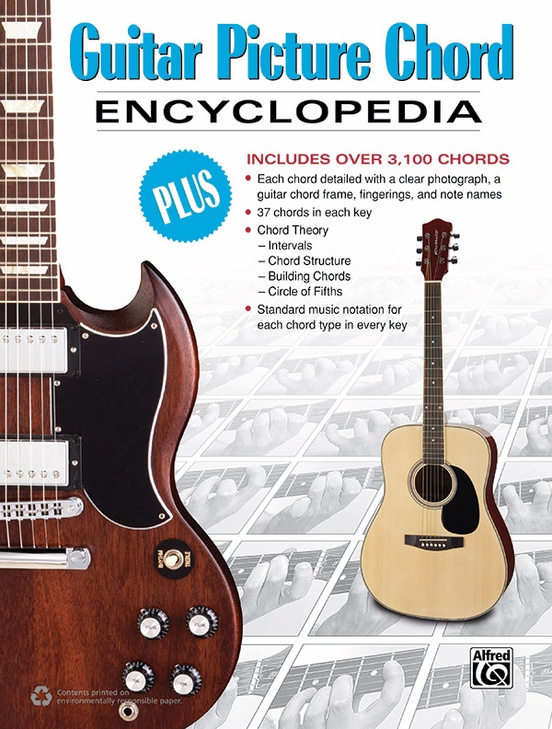 Guitar Picture Chord Encyclopedia
Includes Over 3,100 Chords
By Link Harnsberger and Nathaniel Gunod
Guitar Book
Item: 00-34487
Add to Cart
Add to List
Also Available Digitally
Share
---
Description
With every chord a guitarist could ever need, you'll never have to buy another reference book again. This 468-page, comprehensive collection of over 3,100 chords features crystal-clear photographs, chord frames, and standard music notation. Chord fingerings are shown along with note names, and chords are listed both alphabetically and chromatically for easy reference. Chord construction, intervals, inversions, altered chords, and music theory are explained in simple language to give you a complete understanding of what you are playing. This is the only chord encyclopedia you will ever need.
---
Contents
Title
Introduction
Chord Theory
Intervals
Basic Triads
Incomplete Voicings
A Note About Keys
Building Chords
The Circle of 5ths
Reading Chords
Chord Symbol Variations
Chord Frames
Chords in All 12 Keys
Major
Minor
Diminished
Augmented
Fifth
Major Suspended Fourth
Major Sixth
Minor Sixth
Major Seventh
Seventh
Minor Seventh
Minor Seventh Flat Fifth
Diminished Seventh
Seventh Suspended Fourth
Major Add Ninth
Major Ninth
Ninth
Minor Ninth
Sixth Add Ninth
Minor Sixth Add Ninth
Minor Major Seventh
Minor Ninth Major Seventh
Eleventh
Minor Eleventh
Thirteenth
Flat Fifth
Seventh Flat Fifth
Seventh Augmented Fifth
Major Seventh Flat Fifth
Seventh Flat Ninth
Seventh Sharp Ninth
Seventh Flat Ninth Augmented
Ninth Augmented Fifth
Ninth Flat Fifth
Ninth Sharp Eleventh
Thirteenth Flat Ninth
Thirteenth Flat Ninth Flat Fifth
Commonly Used Chords
Guitar Fingerboard Chart
---
Additional Information
| | |
| --- | --- |
| Author: | Link Harnsberger, Nathaniel Gunod |
| Instrument: | Guitar |
| Format: | Book |
| Page Count: | 468 |
| Item Number: | 00-34487 |
| ISBN 10: | 0-7390-9529-3 |
| ISBN 13: | 978-0-7390-9529-4 |
| UPC: | 038081457857 |
---
Stay Updated
Want to get the latest updates and special offers from Alfred Music?