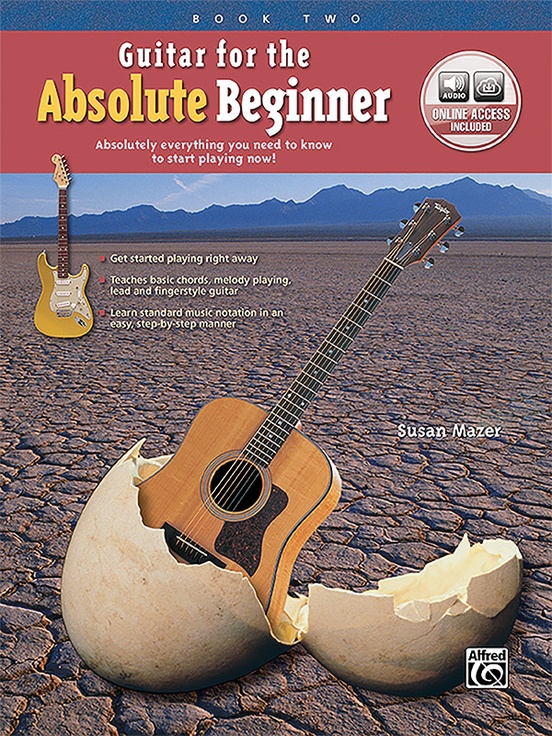 Guitar for the Absolute Beginner, Book 2
Absolutely Everything You Need to Know to Start Playing Now!
By Susan Mazer
Guitar Book & Online Audio
Level: Beginner
Item: 00-45956
Add to Cart
Add to List
Share
---
Description
Based on the instructional video of the same name, this series teaches complete novices everything they need to know to start playing right away. The music lover who has never even held a guitar will be playing easy songs immediately.

Book 2 is the perfect follow-up to Guitar for the Absolute Beginner, Book 1. This easy, friendly method covers more challenging chords and strums, the basic principles of blues and rock improvisation, classic fingerstyle patterns, and melody playing. Guitar for the Absolute Beginner, Book 2 will prepare you for continued study in whatever style of music you love most. Audio tracks that demonstrate every example and provide play-along opportunities are included and can be downloaded or streamed online.
---
Contents
Title
About the Author
Review: Reading Standard Music Notation and TAB
Standard Music Notation: Pitch
Standard Music Notation: Note and Rest Values
Time Signatures
Tablature (TAB)
Repeats
Pickup Notes and Incomplete Measures
Review: Technique
Left Hand
Right Hand
Review: Chords
Review Worksheet
Two New Chords: F and Bmin
Changes
Three New Bluesy Chords: A7, B7 and E7
True Blue
Review: The Notes on 1st, 2nd and 3rd Strings
Double Stops and Some New Signs
Beethoven's 9th
Review: The Notes on 4th, 5th and 6th Strings
Review: Accidentals
Bach's Minuet in G
Bill Bailey Won't You Please Come Home
Amazing Grace
Fingerstyle
Sunday Picnic
A New Pattern: #3
Scarborough Fair-Melody
Scarborough Fair-Fingerpick
The Natural Minor Scale
The A Natural Minor Scale
Nine Lives
Moveable Chords
Barre Chords
The E Form Barres
Root 6 Names for E Form Barres
The A Form Barres
Root 5 Names for A Form Barres
Lessons Learned
Improvising: The Moveable Minor Pentatonic Scale
The Moveable A Minor Pentatonic Scale
Dotted Quarter Notes
Twelve-Bar Blues Jam
Soloing with the Major Scale
Hammer-ons
Pull-offs
Slides
Triplets
Swinging the Eighths, or Shuffle Feel
Shuffle Solo
Understanding the Twelve-Bar Blues
The Twelve-Bar Blues in C
Blues Rhythm Pattern Review
Rhythm Pattern Blues
Power Chords
Traffic Jam
Power Trip
Commonly Used Chords
Strums and Picking Patterns
Strums in 4/4 Time on an E Chord
Strums in 3/4 Time on an E Chord
4/4 Picking Patterns on an E Chord
3/4 Picking Patterns on an E Chord
Songs Using A, D, and E Chords
Songs Using the Blues Rhythm Pattern
Songs Using Power Chords
Review Worksheet Answers
---
Additional Information
| | |
| --- | --- |
| Series: | Absolute Beginner Series |
| Author: | Susan Mazer |
| Instrument: | Guitar |
| Format: | Book & Online Audio |
| Page Count: | 36 |
| Item Number: | 00-45956 |
| ISBN 10: | 1-4706-3657-3 |
| ISBN 13: | 978-1-4706-3657-9 |
| UPC: | 038081522401 |
---
Stay Updated
Want to get the latest updates and special offers from Alfred Music?