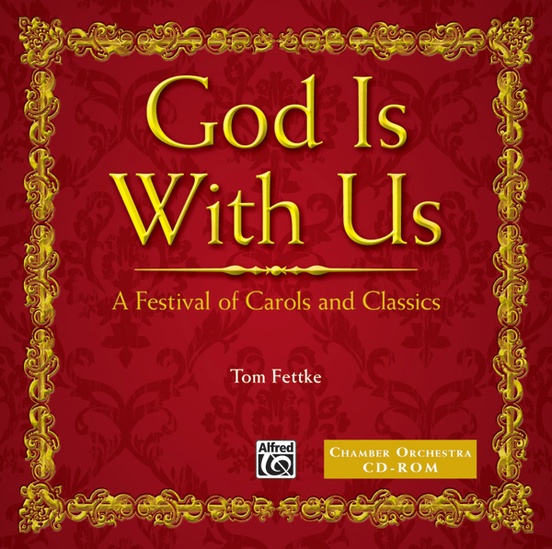 God Is with Us
A Festival of Carols and Classics
Created and arr. Tom Fettke
Choral Orchestration CD-ROM
Item: 00-36957
This item is no longer our publication
Share
---
Description
God Is With Us is a celebration of a miracle: the appearance of God on earth in the body and human soul of Jesus Christ. C.S. Lewis calls this amazing birth "A grand miracle. Every other miracle prepares for this, or exhibits this, or results from this." The Incarnation is a sacred event so thrilling, so humbling, so mystifying that we must stand breathless in wonder and awe.
God Is With Us tells the Christmas story using choir, soloists and a scripture narrative. The accompaniment may be simply piano and/or organ. If you have the resources, the magnificent full orchestration is available for purchase (there is a smaller chamber orchestration as well). As is always the case with major works, Alfred offers recorded orchestral accompaniment.
God Is With Us is traditional in style, but features innovative twists and turns. It combines exciting and moving classical music by Faure, Beethoven, Vivaldi, Tchaikovsky and Billings with some of the world's most loved Christmas Carols. It begins with the awe-filled simplicity of Gregorian Chant and concludes with a fun, festive journey through favorite carols with a Nutcracker flair. And in between, one experiences indescribably beautiful music, worthy of the celebration of such a glorious and miraculous event.
God Is With Us is not difficult. It is intentionally composed and arranged with the average mixed choir in mind and it offers a heart-warming and joyful worship experience for choirs of all sizes and skill levels. Except for an occasional optional "high" note, vocal ranges are quite reasonable. The work is about 36 minutes long and is appropriate for churches with various worship traditions. So, with boundless praise and thanks, we encourage you to join us in exclaiming: Alleluia! God Is With Us!
Full Orchestration includes: Flute 1 & 2, Oboe, B-flat Clarinet 1 & 2, F Horn 1 & 2, B-flat Trumpet 1, 2 & 3, Trombone 1, 2 & 3, Tuba, Percussion, Piano, Harp, Violin 1 & 2, Viola, Cello, and Bass.
Chamber Orchestra includes: Flute, Oboe, B-flat Clarinet, F Horn, B-flat Trumpet 1 & 2, Trombone 1 & 2, Piano, Violin 1 & 2, Viola, and Cello/Bassoon.

---
Contents
Title
The Advent of Hope
Song of Bethlehem
The Midnight Clear
Blessed Jesus
A Glorious Hallelujah
Exceeding Great Joy
Rejoice in His Coming
Lo, How a Rose E'er Blooming
Festival of Carols
---
Additional Information
| | |
| --- | --- |
| Composed by: | Tom Fettke |
| Ensemble: | Choir |
| Version: | Orchestration CD-ROM |
| Format: | CD-ROM |
| Item Number: | 00-36957 |
| UPC: | 038081406961 |
---
Stay Updated
Want to get the latest updates and special offers from Alfred Music?