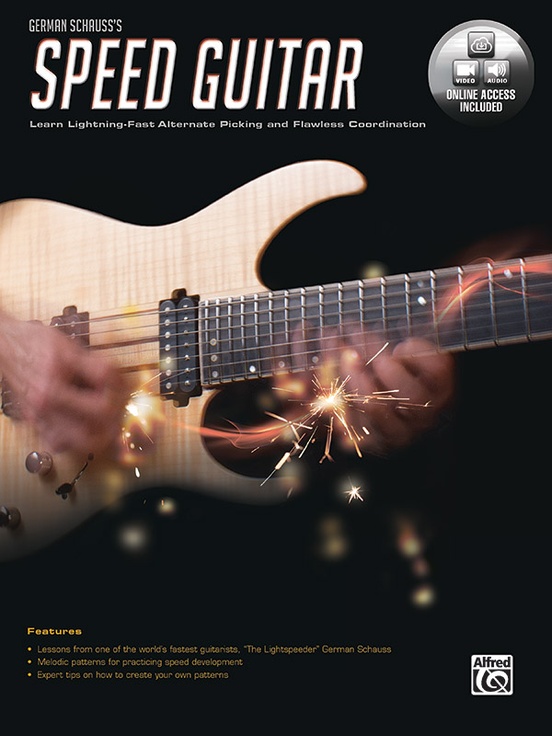 German Schauss's Speed Guitar
Learn Lightning Fast Alternate Picking and Coordination
By German Schauss
Guitar Book & Online Video/Audio
Item: 00-44775
Add to Cart
Add to List
Share
---
Description
Guitarists of all styles, from metal and rock to jazz and acoustic, often feel the need for speed! Many players become pretty fast, and a special few become speed demons. If you want a shortcut to reaching your speed potential, Speed Guitar is the book and online video and audio combo for you! German "Lightspeeder" Schauss, recognized all over the globe as one of the world's fastest guitarists, takes you through the process. Learn to warm up properly and practice alternate picking using melodic patterns across all the strings over the full fretboard of the guitar. You'll even learn how to create and vary your own patterns, and make the vital connection between your mind, picking hand, and fretting hand to enable optimal speed. If rapid-fire guitar licks, scales, and arpeggios are your goals, take this book home, go online and retrieve the video and audio, and start practicing!
---
Contents
Title
ABOUT THE AUTHOR
Acknowledgements
INTRODUCTION
WARM-UP AND COORDINATION EXERCISES
Dancing Fingers
Understanding the Examples
Basic Picking Speed
Chromatic Triplet Runs
String Skipping Warm-Ups
Four-Note-per-String Chromatic Lines
Chromatic String Skipping Runs
THE ART OF DEVELOPING PATTERNS AND SEQUENCES
Devices for Varying a Motive
Applying the Melodic Devices
Pattern Numbers
DEVELOPING PICKING SKILLS ACROSS THE FRETBOARD
The A Minor Pentatonic Scale
PATTERNS AHEAD!
Three-Note Patterns
Four-Note Patterns
Five-Note Patterns
Six-Note Patterns
Intervallic Patterns
MELODIC SINGLE- AND TWO-STRING PATTERNS
Single-String Patterns
Two-String Patterns
Creating a Roadmap on the Fretboard
MOVING ACROSS THE GUITAR WITH A THREE-NOTE-PER-STRING SCALE
Three- and Four-Note Patterns
Five- and Six-Note Patterns
INTERVALS
2nds
3rds
4ths
5ths
6ths
7ths
Octaves
Intervallic Licks in C Major
Harmonic and Melodic Minor Scale Forms
GETTING INTO THE DETAILS
The Pentatonic Scale
The Three-Note-per-String Scale
SPEED DEVELOPMENT AND ABSOLUTE PICK CONTROL
Using a Metronome
Practice
Using the Rhythm Pyramid
THE COORDINATION CHALLENGE
A Minor Pentatonic Coordination Exercises
A Major Coordination Exercises
Rhythm Pyramid Coordination Exercises
Burst or Bust
More Rhythmic Variations
GOT SPEED?
Chromatic Alternate-Picking Exercises
More Chromatic Alternate-Picking Exercises
APPLICATION TIME
Etudes for the Busy Days
Conclusion
---
Additional Information
| | |
| --- | --- |
| Author: | German Schauss |
| Instrument: | Guitar |
| Format: | Book & Online Video/Audio |
| Page Count: | 80 |
| Item Number: | 00-44775 |
| ISBN 10: | 1-4706-2981-X |
| ISBN 13: | 978-1-4706-2981-6 |
| UPC: | 038081509518 |
---
Stay Updated
Want to get the latest updates and special offers from Alfred Music?