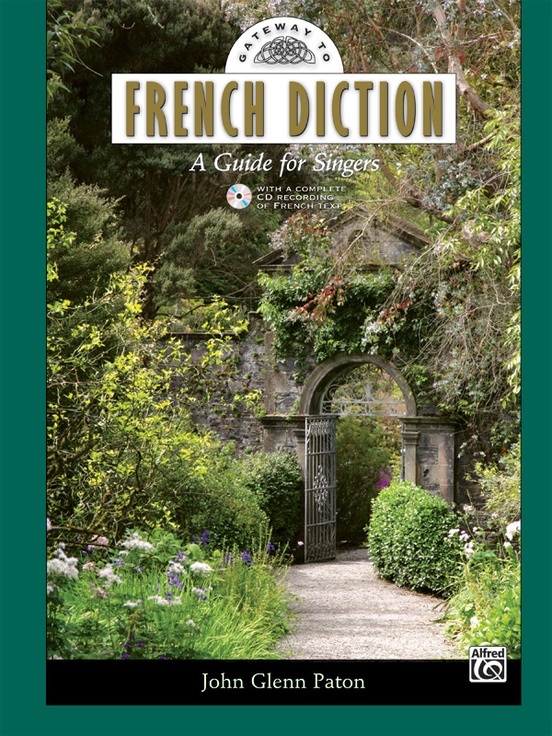 Gateway to French Diction
A Guide for Singers
Ed. John Glenn Paton
Vocal Comb Bound Book & CD
Item: 00-36535
Add to Cart
Add to List
Related Items
| | | |
| --- | --- | --- |
| Gateway to French Diction: Teacher's Supplementary Materials Book & Data CD | $39.99 | View |
Share
---
Description
As part of a series of coordinated diction manuals and anthologies, Gateway to French Diction helps students to move beyond diction to clear understanding and authentic style. Thomas Hampson says the series, "not only achieves an excellent study of the tools for proper translation and diction, it goes much deeper and more importantly to the teaching of musical and poetic expression from the inner side of the language." Every French example word or phrase is translated into English, and is also spoken perfectly on the included CD by Paris Opera Comique Diction coach and native French speaker, Dr. Agnès Terrier. The comb binding creates a lay-flat book that is perfect for study and performance.
---
Contents
Title
Diction, a Gateway to Artistic Singing; Acknowledgments
Phonetic Concepts
Diction Concepts
Phonetics
Orthography
Vowels
Diphthongs
Semivowels
Consonants
Syllables
The French Language
The Roots of Modern French
The Unity of the French Language
Characteristic Patterns and Sounds in French
The Neutral Sound
Comparing French to Other Languages
A Standard for Classical French
R in Sung French
Mute E's in Sung French
The Alphabet
Diacritics
Syllabication
Vowels
Consonants
Final Consonant Letters
Plurals Ending in S
Homonyms
Syllable Stress
Connections Between Words
Nasality
Capitalization in French Titles
Oral Vowels
Practicing French Vowels
Bright Vowels: /i e E a/
Dark Vowels: /u o O A/
Mixed Vowels: /y ø ? @/
Silent E
Vowel Harmonization
Nasal Vowels
Nasal Vowels in IPA
Spellings That Show Nasalization
Practicing Nasal Vowels
Nasal Vowels: /~A ~E ~O ?~ /
Exceptions to Nasalization
Semivowels
Semivowel: /j/
Distinguishing /i/ from /j/
Semivowel: /w/
Distinguishing /u/ from /w/
Semivowel: /?/
Distinguishing /y/ from /?/
A Semivowel at the End of a Word
A Review of French Vowels and Semivowels
Consonants
French Consonant Phonemes
Silent Consonant Letters
Soft and Hard Pronunciations
Dentalization
Lack of Aspiration
Geminated Consonants
Consonant Clusters
Nasal Consonants: /m n ?/
The Lateral Consonant /l/
The Trill Consonant /r Q/
Stop Consonants /p b t d k g/
Fricative Consonants /f v s z S Z/
How Words Link
Vowel-to-Consonant Links
Consonant-to-Consonant Links
Vowel-to-Vowel Links
Consonant-to-Vowel Links, Semivowel-to-Vowel Links
Contractions
Unwritten Elisions
Liaisons
Liaisons and Formality
Conditions of Liaison
The First Condition
The Second Condition
The Third Condition
Special Cases: Idiomatic Expressions
Special Cases: Words with R
Other Special Cases
Vowels That Change in Liaison
Breath and Liaisons
Some Controversial Liaisons
Chapter 10: Singing French Verse
French Songs: "Alouette," "French Church Bells," "Auprés de ma blonde," "Il est né, le divin enfant"
Numbers
Summary of Final Consonants
Bibliography
Index to Definitions of Terms
Index to Spellings
Complete IPA Chart
Phonemes of French
---
Additional Information
| | |
| --- | --- |
| Series: | Gateway Series |
| Instrument: | Voice |
| Format: | Comb Bound Book & CD |
| Page Count: | 128 |
| Item Number: | 00-36535 |
| ISBN 10: | 0-7390-7416-4 |
| ISBN 13: | 978-0-7390-7416-9 |
| UPC: | 038081403557 |
---
Stay Updated
Want to get the latest updates and special offers from Alfred Music?