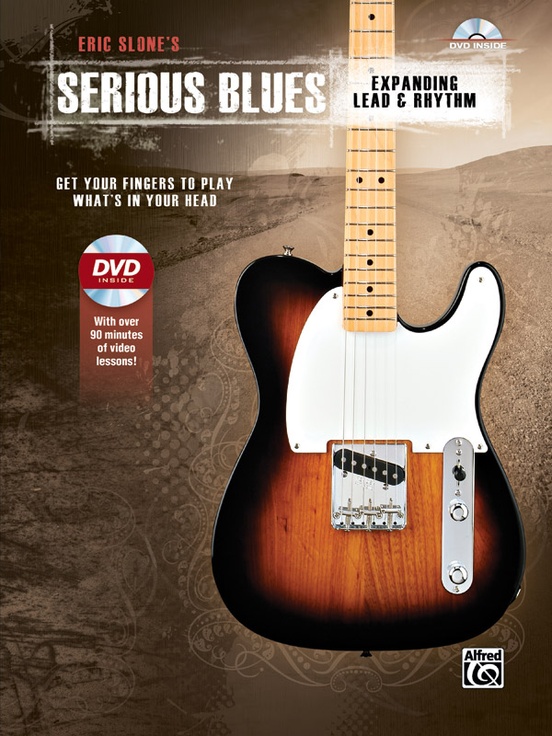 Eric Slone's Serious Blues: Expanding Lead & Rhythm
Get Your Fingers to Play What's in Your Head
By Eric Slone
Guitar Book & DVD
Item: 00-42450
Add to Cart
Add to List
Share
---
Description
Eric Slone teaches you all the essential lead and rhythm techniques to become a great blues guitarist. Learn about transposition, call-and-response, targeting chord tones, arpeggios, scales, fills between vocals, pinch harmonics, rakes, Texas power rhythm in the style of Stevie Ray Vaughan, chord progressions, and extended chords. Additionally, Slone runs through grooves in the jazz blues, funk blues, and jump blues styles. The included DVD is hosted by Slone and features live demonstrations of the examples in the book.

About the Author
Eric Slone is an experienced guitarist, teacher, author, and songwriter from Long Island, NY. He has worked with a number of professional rock and blues bands as both a rhythm and lead guitarist. Slone has opened for musicians like John Waite and Randy Jackson of Zebra and has worked with hundreds of students of varying ages, levels, and musical styles.
---
Contents
Title
Introduction
Speed Riffs and Repeating Licks
Sizzling Speed Riffs
Jazz-Blues Speed Riff
Awesome Repeating Licks
Transpose Your Licks!
Exploring These Licks Further
Targeting Chord Tones
Dmin6 Chord and Construction
Two-Octave Dmin6 Arpeggio
Dmin6 Arpeggio with D Minor Pentatonic
Adding Tension Tones
Call and Response
Minor Against Major
More Calls and Responses
Calls with the E Blues Scale
Practicing Call and Response
Fills Between Vocals
Boogie in A
Chuck Berry-Style Fills
Muted Eighth-Note Shuffle in E
Stevie Ray Vaughan-Style Fills
B. B. King-Style Fills
Pinch Harmonics
Executing Pinch Harmonics
Pick Location and Sound Production
Combining Pinch Harmonics with Solo Techniques
Rakes
Forward Rakes
Reverse Rakes
Rakes with Bends
Rake Licks
F Lydian Rake Lick
Texas Power Rhythm
The Texas Power Rhythm Introduced
The I Chord Pattern
The IV and V Chord Patterns
Putting It All Together
Dominant 7 Sharp-9
Dominant 7 Sharp-9 Chords Explained
Dominant 7 Sharp-9 Rooted on Other Strings
Using the Dominant 7 Sharp-9 Chord
Adding Tension to the V Chord
Altered Dominant Chords: 7 Flat-9 and 7 Sharp-5
Dominant 7 Flat-9 Chord Rooted on the 5th String
Dominant 7 Flat-9 Chord Rooted on the 6th String
Dominant 7 Sharp-5 Chord
Preparing Chords for a Jazz-Blues Jam
Jazz-Blues Jam
Diminished 7th Chords
The Diminished 7th Chord Explained
Inverting Diminished 7th Chords
Other Diminished 7th Chord Voicings
The Effects of Changing One Note
Diminished 7th Chord Turnaround Licks
Dominant 9th Chords
The Dominant 9th Chord Explained
Dominant 9th Chords Rooted on the 6th String
Applying the New Chords
Funk Grooves Using the Dominant 9th Chord
Adding 11ths and 13ths
Understanding 11ths and 13ths
The Dominant 11th Chord
The Dominant 13th Chord
Jump Blues Using Dominant 9th and 13th Chords
---
Additional Information
| | |
| --- | --- |
| Series: | Serious Blues |
| Author: | Eric Slone |
| Instrument: | Guitar |
| Format: | Book & DVD |
| Page Count: | 56 |
| Item Number: | 00-42450 |
| ISBN 10: | 1-4706-1117-1 |
| ISBN 13: | 978-1-4706-1117-0 |
| UPC: | 038081474946 |
---
Stay Updated
Want to get the latest updates and special offers from Alfred Music?