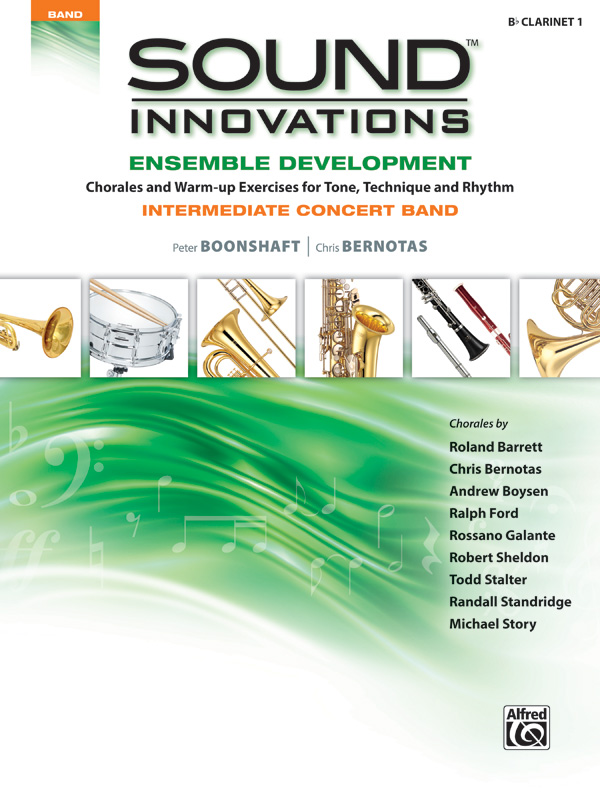 Sound Innovations Ensemble Development for Intermediate Concert Band
By Peter Boonshaft and Chris Bernotas
Challenge your students' musicality with nearly 70 chorales by Roland Barrett, Chris Bernotas, Andrew Boysen, Ralph Ford, Rossano Galante, Robert Sheldon, Todd Stalter, Randall Standridge, and Michael Story.
Help your students learn to listen critically with the assortment of 412 exercises grouped by key, and presented in a variety of intermediate difficulty levels. Where possible, several exercises in the same category are provided to allow variety, while still accomplishing the goals of that specific type of exercise.
Shop Now
Exercises Include:
Long tones
Passing the tonic
Pitch matching
Scale builders
Interval builders
Expanding intervals
Chord builders
Moving chord tones
Diatonic harmony
Rhythmic subdivision
5-Note scales
Scale canons (5-, 6-, or 8-note scales)
Scale chorales (5-, 6-, and 8-note scales)
Chorales
Sample Pages:
Check out additional resources here.