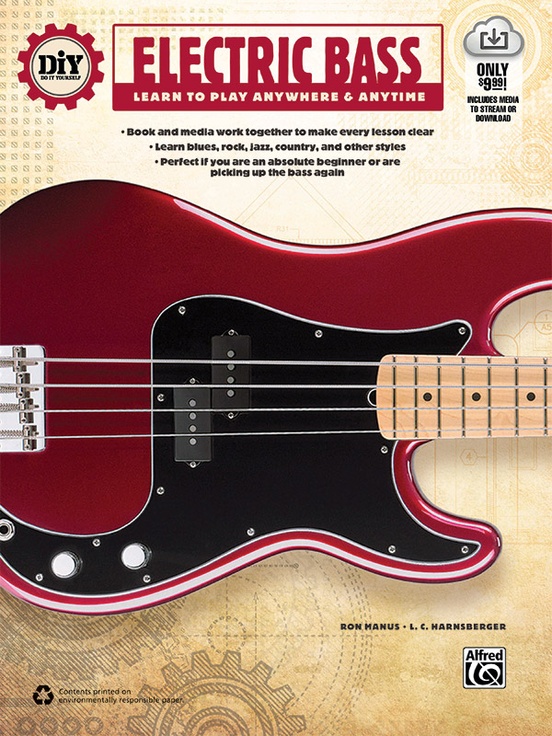 DiY (Do it Yourself) Electric Bass
Learn to Play Anywhere & Anytime
By Ron Manus and L. C. Harnsberger
Bass Guitar Book & Online Video/Audio
Item: 00-44148
Add to Cart
Add to List
Share
---
Description
With DiY Electric Bass there are no limitations to how, when, or where you learn. This clear and easy-to-follow approach is your blueprint to playing right away. No teacher is necessary since lessons are simple to follow---with corresponding video lessons and audio accompaniments. The included media is available to stream or download, so you can watch video lessons, hear examples, and play along anywhere you have a computer or mobile device.

Do it yourself---even if you have never touched a bass! No prior musical knowledge is needed. Make your dreams come true with this perfectly priced book and media package.
---
Contents
Title
The Parts of the Bass
How to Hold Your Bass
The Right Hand
Proper Hand Position
Using Your Fingers
Using a Pick
The Left Hand
Proper Hand Position
Placing a Finger on a String
Tuning Your Bass
Using the Online Media
Tuning to a Piano or Keyboard
Tuning the Bass to Itself
Pitch Pipes and Electronic Tuners
The Basics of Reading Music
The Staff
The Bass Clef
Measures (Bars)
Reading TAB
Counting Time
Four Kinds of Notes
Time Signatures
Notes on the 1st String G
Notes on the 2nd String D
Combining Notes on the G & D Strings
Notes on the 3rd String A
Up-Stems & Down-Stems
The A Natural Minor Scale
Sharps & Naturals
Notes on the 4th Fret
Notes on the 4th String E
Note Finding Review
Flats
The Key of F Major
The F Major Scale
Key Signatures
The Key of B-flat Major
The B-flat Major Scale
Eighth Notes
Rests
Licks in the Keys of F & B-flat
The Key of G Major
The 2nd Position
The G Major Scale
Good King Wenceslas
The 3rd Position
The Key of C Major
The C Major Scale
The Slide
Accented Notes
Ties & Syncopation
Syncopation in the Keys of C, G, F, & B-flat
The Dotted Quarter Note
Combining Dotted Quarter Notes, Accents, & Slides
Rock Licks with Syncopation
High C-sharp (or D-flat) & D
The Key of D Major
The D Major Scale
Joy to the World
Rock Licks in the Keys of G, C, & D
Sixteenth & Dotted Eighth-Note Rhythms
Shuffle Rhythm Bass Lines
The Key of A Major
The A Major Scale
Incomplete Measures
Licks in the Key of A
The Key of E Major
The E Major Scale
High D-sharp (or E-flat) & E
The Two-Octave E Major Scale
Licks in the Key of E
Bass Fingerboard Chart
---
---
Stay Updated
Want to get the latest updates and special offers from Alfred Music?