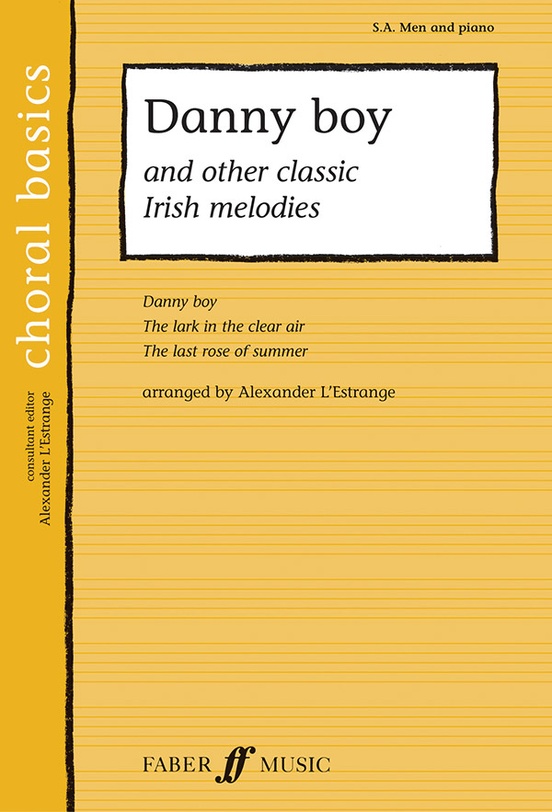 Danny Boy and Other Classic Irish Melodies
Arr. Alexander L'Estrange
SAB Choral Book
Item: 12-0571521908
Add to Cart
Add to List
Related Items
| | | |
| --- | --- | --- |
| Danny Boy and Other Classic Irish Melodies: SA Choral Book | $3.99 | View |
Share
---
Description
The Irish have long been famed for their powerful traditional melodies, and three in this volume are surely amongst the finest. 'Danny Boy' (the melody of which is also known as 'Londonderry Air') was first published, without a title, in 1855. The words most commonly associated with it were written by an Englishman who apparently never set foot in Ireland! 'The lark in the clear air' is an exquisite song celebrating the beauty of nature. The poignant words of 'The last rose of summer' match the song's mournful, drooping melody.

If you are looking for straightforward and rewarding repertoire for your beginner choir, then you need look no further than Choral Basics the perfect series for singers of all ages.

The Simple 3-part choral arrangements for soprano, alto and a combined part for men's voices make the series perfect for choirs with a dearth of males or whose male singers have unstable or changing voices. The rich array of repertoire is bound to be a hit with younger singers and the technical abilities of choirs at this level have been taken into consideration.

Straightforward and idiomatic piano accompaniments have been included and are designed to support the vocal lines, without putting pressure on staff with less developed keyboard skills. This enchanting collection of traditional Irish melodies showcases three of the finest songs to originate from the 'Emerald Isle' from the classic title song Danny Boy to the poignant The Last Rose of Summer and The Lark in Clear Air.

Choral Basics are great value for money providing a contrasted set of arrangements for the end of term concert.
---
---