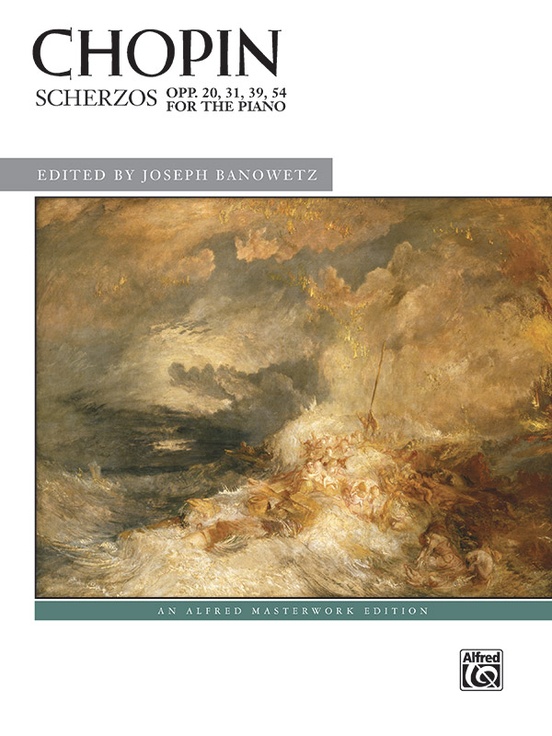 Chopin: Scherzos, Opp. 20, 31, 39, 54
By Frédéric Chopin / ed. Joseph Banowetz
Piano Book
Level: Advanced
Item: 00-45324
Add to Cart
Add to List
Share
---
Description
Frédéric Chopin's Scherzos are a staple of the piano repertoire. In them, Chopin abandons the lighthearted scherzo form of the Classical period to capture powerful emotions. Scherzo No. 1, Op. 20, was composed between 1830 and 1831, around the same time as his Études, Op. 10, and Ballad No. 1 in G Minor, Op. 23. Scherzo No. 2, Op. 31, was composed between 1835 and 1837. It may be the most famous of the set, and has a memorable opening of hushed, questioning notes followed by dramatic, loud chords. Scherzo No. 3, Op. 39, was composed in 1839 while Chopin was on a winter trip to Mallorca. It was dedicated to Chopin's pupil Adolf Gutmann. Scherzo No. 4, Op. 54, was composed in 1842. It is the only Scherzo in a major key.

This newly engraved edition has been thoroughly researched, with comparisons made between early sources, including the two existing manuscripts for Scherzos 2 and 4. Chopin's fingerings, which have been preserved from copies used by his students, have been included (marked in italics), as well as editorial fingering suggestions. Prefatory matter includes critical notes and performance suggestions, discussion of rubato, and examples of Chopin's ornamentation with suggested realizations. Detailed analysis of the form of each Scherzo is also provided.

Joseph Banowetz has been described in Fanfare Record Review (U.S.) as "a giant among keyboard artists of our time" and by Ruch Muzyczny (Warsaw) as "a virtuoso in the noblest sense of the word." He has been heard as recitalist and orchestral soloist on five continents, in over 35 countries. Banowetz has internationally released over 35 commercial recordings, two of which have received finalist Grammy nominations. Banowetz is a graduate from the Vienna Academy for Music and Dramatic Arts. Among his teachers have been Carl Friedberg (a pupil of Clara Schumann's) and György Sándor (a pupil of Béla Bartók's). Currently, Banowetz is Professor of Piano Performance at the College of Music of the University of North Texas. For more information, visit www.jmbanowetz.com.

This edition is a winner of the 2017 Music Publishers Association Paul Revere Awards For Graphic Excellence.
---
Contents
Title
Foreword
Chopin and the Scherzo
Sources
Chopin and Rubato
Editorial and Performance Considerations
Critical Notes and Interpretation Suggestions
Sources Consulted
Scherzo No. 1 (in B minor), Op. 20
Scherzo No. 2 (in B-flat minor), Op. 31
Scherzo No. 3 (in C-sharp minor), Op. 39
Scherzo No. 4 (in E major), Op. 54
---
---
Stay Updated
Want to get the latest updates and special offers from Alfred Music?