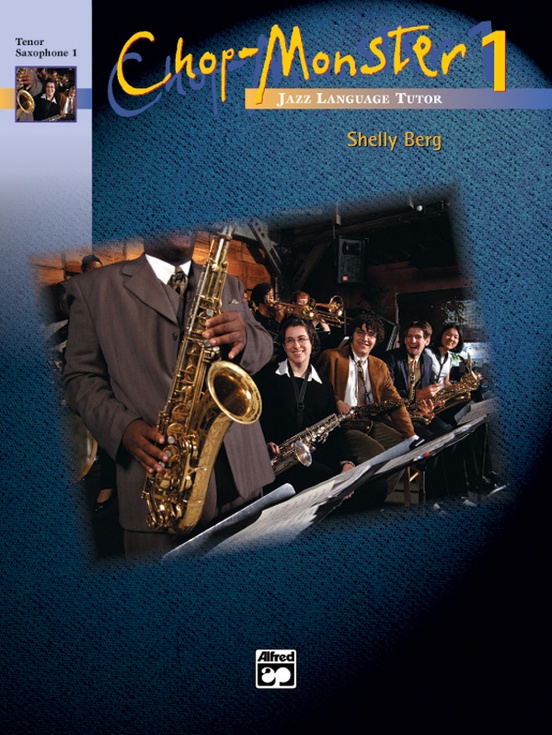 Chop-Monster, Book 1
By Shelly Berg
Trumpet 3 Book & CD
Item: 00-251558
Add to Cart
Add to List
Related Items
| | | |
| --- | --- | --- |
| Chop-Monster, Book 1: Alto Saxophone 1 Book | $7.95 | View |
| Chop-Monster, Book 1: Alto Saxophone 1 Book & CD | $14.99 | View |
| Chop-Monster, Book 1: Alto Saxophone 2 Book | $7.95 | View |
| Chop-Monster, Book 1: Alto Saxophone 2 Book & CD | $14.95 | View |
| Chop-Monster, Book 1: Tenor Saxophone 1 Book | $7.95 | View |
| Chop-Monster, Book 1: Tenor Saxophone 1 Book & CD | $14.99 | View |
| Chop-Monster, Book 1: Tenor Saxophone 2 Book | $7.95 | View |
| Chop-Monster, Book 1: Tenor Saxophone 2 Book & CD | $14.99 | View |
| Chop-Monster, Book 1: Baritone Saxophone Book | $7.95 | View |
| Chop-Monster, Book 1: Baritone Saxophone Book & CD | $14.99 | View |
| Chop-Monster, Book 1: Trumpet 1 Book | $7.95 | View |
| Chop-Monster, Book 1: Trumpet 1 Book & CD | $14.99 | View |
| Chop-Monster, Book 1: Trumpet 2 Book | $7.95 | View |
| Chop-Monster, Book 1: Trumpet 2 Book & CD | $14.99 | View |
| Chop-Monster, Book 1: Trumpet 3 Book | $7.95 | View |
| Chop-Monster, Book 1: Trumpet 4 Book | $7.95 | View |
| Chop-Monster, Book 1: Trumpet 4 Book & CD | $14.99 | View |
| Chop-Monster, Book 1: Trombone 1 Book | $7.95 | View |
| Chop-Monster, Book 1: Trombone 1 Book & CD | $14.99 | View |
| Chop-Monster, Book 1: Trombone 2 Book | $7.95 | View |
| Chop-Monster, Book 1: Trombone 2 Book & CD | $14.99 | View |
| Chop-Monster, Book 1: Trombone 3 Book | $7.95 | View |
| Chop-Monster, Book 1: Trombone 3 Book & CD | $14.99 | View |
| Chop-Monster, Book 1: Trombone 4 Book | $7.95 | View |
| Chop-Monster, Book 1: Trombone 4 Book & CD | $14.95 | View |
| Chop-Monster, Book 1: Guitar Book | $7.95 | View |
| Chop-Monster, Book 1: Guitar Book & CD | $14.99 | View |
| Chop-Monster, Book 1: Bass Book | $7.95 | View |
| Chop-Monster, Book 1: Bass Book & CD | $14.99 | View |
| Chop-Monster, Book 1: Drums/Vibes Book | $7.95 | View |
| Chop-Monster, Book 1: Drums/Vibes Book & CD | $14.99 | View |
| Chop-Monster, Book 1: Piano Acc. (Instrumental) Book | $7.95 | View |
| Chop-Monster, Book 1: Piano Acc. (Instrumental) Book & CD | $14.99 | View |
| Chop-Monster, Book 1: Flute Book | $7.95 | View |
| Chop-Monster, Book 1: Flute Book & CD | $14.99 | View |
| Chop-Monster, Book 1: French Horn Book | $7.95 | View |
| Chop-Monster, Book 1: French Horn Book & CD | $14.95 | View |
| Chop-Monster, Book 1: Tuba Book | $7.95 | View |
| Chop-Monster, Book 1: Tuba Book & CD | $14.95 | View |
| Chop-Monster, Book 1: Comb Bound Teacher's Score with CD | $29.99 | View |
| Chop-Monster, Book 1: CD | $7.00 | View |
| Chop-Monster, Book 1: 10 CDs | $70.00 | View |
Share
---
Description
Chop-Monster is a sequential jazz improvisation method by acclaimed jazz pianist and educator Shelly Berg that utilizes a "call-and-response" approach: students listen to a jazz idea, imitate it until it is internalized, and then "try it on their own." In Chop-Monster 1, students will hear and improvise to the Ima7, iimi7, and V7 chords in the key of B-flat, plus a basic blues progression. In Chop-Monster 2 students will hear and improvise to the ii-V-I progression in three keys (concert B-flat, E-flat, F).
---
Contents
Title
Unit 1: Finding Your Chops
Unit 2: Creating Melodies from Chords
Unit 3: Discovering Major Seventh Chords
Unit 4: Exploring Minor Seventh Chords
Unit 5: Playing the Chord Changes
Unit 6: Experimenting with Major Scales
Unit 7: Advancing with Minor Scales
Unit 8: Embellishing with Chromatic Notes
Unit 9: Putting It All Together
Unit 10: Coming to Terms
Unit 11: THAT'S COOL!
Unit 12: Learning Dominant Seventh Chords
Unit 13: Venturing into Dominant Seventh Scales
Unit 14: Understanding the Blues Progression I--IV--V
Unit 15: Examining the IV7 Chord and the 3rd--to--7th Interchange
Unit 16: Feeling the Bluesy 3rd
Unit 17: Mastering the Scale for the V7 Chord
Unit 18: Expanding Your Range
Unit 19: Adding More Chromatic Notes
Unit 20: Putting It All Together
Unit 21: Coming to Terms
Unit 22: THAT'S RIGHT!
About the Author
---
Additional Information
| | |
| --- | --- |
| Author: | Shelly Berg |
| Instrument: | Trumpet |
| Format: | Book & CD |
| Instrumentation: | Trumpet 3 |
| Page Count: | 40 |
| Item Number: | 00-251558 |
| ISBN 10: | 0-7390-3114-7 |
| ISBN 13: | 978-0-7390-3114-8 |
| UPC: | 038081212869 |
---