Blog Menu
Why Should Students Study Music if They Don't Intend to Become a Professional Musician?
By David R. Sears | September 11, 2019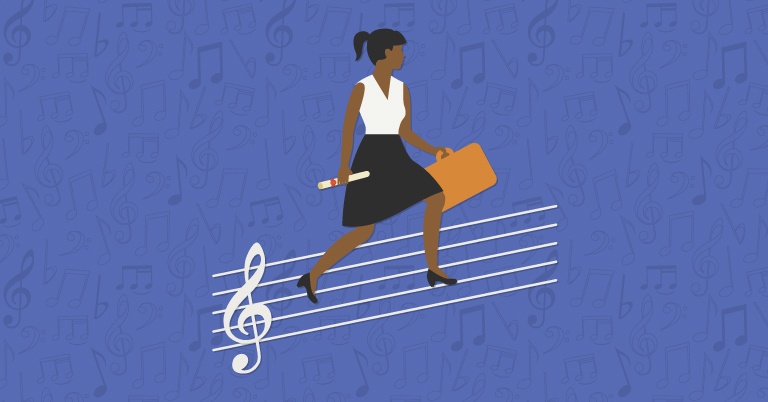 This is a question I've been asked many times. While I generally hate answering a question with a question, I'll make an exception in this case. Why take calculus if I don't want to be a mathematician or have another career that directly uses calculus? Just as there are ancillary benefits to studying calculus, the same is true with studying music, and of course, there is the intrinsic value of being involved in music and the other arts.
I've come to the following conclusions regarding both: Most students who study K–12 music do so because they like it, and they like the activities they get to do surrounding it. I would guess that a significant percentage of students who take calculus do so because it gives them a better chance to get accepted to the college or university of their choice.
While the following information—I would guess—rarely crosses the mind of a young person making a decision to study music in school, it is nonetheless important. Why is it important? I'm so glad you asked! Much of this information is taken from a presentation created for us at the GRAMMY Museum Foundation by Chris Sampson of the University of Southern California Thornton School of Music.
Those of us who are educators and programmatic decision-makers need to understand all the benefits of studying music to ensure it remains an integral part of the school community. Knowing this will allow us to demonstrate not only how effective school music programs contribute to making students career and college ready, but also how the workforce culture is already embracing elements that have been commonplace in the professional musician arena for years.
Many skills learned in music are transferable to multiple careers and endeavors. Let's take practice, for example. This is a central activity to being successful in music and can easily be connected in concrete ways with success in other professions. Career advisor Cal Newport, in his book So Good They Can't Ignore You, advocates adopting a "craftsman mindset" in order to develop a highly refined skill set that allows one to shape and control their circumstances into an accomplished and rewarding career. Any career—not just music. This concept particularly resonated with my wife and I as we tried to instill in our children that same mindset: Try to make yourself as close to indispensable as possible by being, among other things, highly skilled. Achieving that takes disciplined practice. Mr. Newport explains "deliberate practice" as the disciplined and daily activity of stretching yourself to work on things that are challenging in order to promote improvement. The drive behind this is to move past being simply "good" or operating at an "acceptable level." It should be noted that Mr. Newport was not referring to the practice of music, but to practice in multiple work disciplines.
Geoff Colvin, Senior Editor at Large for Fortune magazine said, "Doing things we know how to do well is enjoyable, and that's exactly the opposite of what deliberate practice demands… deliberate practice is above all an effort of focus and concentration. That is what makes it 'deliberate,' as distinct from the mindless playing of scales or hitting of tennis balls that most people engage in."
Deliberate practice involves going beyond what is easy and enjoyable and challenging ourselves to improve. Again, something that we musicians and music educators understand immediately through our own practice activity.
So perhaps we should update the old joke, "How do you get to Carnegie Hall?—Practice," to, "How do you get anywhere, professionally?—Deliberate Practice."
Of course, practice is not the only skill taught in music that is transferable to other careers. Teamwork, creativity, focus, interdependence, and leadership are just a few more of the skills taught in music that are transferable to other careers. In the book of lesson plans I conceived, Careers Through Music: Building Employable Skills in Your Music Class, by Chris Sampson, these six skill sets, plus nine others, are addressed to place a focus on how music education contributes to making students career- or college-ready. It also demonstrates in a tangible way to administrators and other decision-makers the importance of music education in a way they may not be fully aware of.
So, why did I write this piece? Again, I'm glad you asked.
We in music education are sometimes on an island sheltered away from the non-music people. We understand all of the elements of a music education that can be major contributors to a high quality of life, but too many outside our island community—particularly decision-makers—are not fully informed. Teaching and studying music is wonderful and it is important to understand that it has benefits beyond performing at a high level and entertaining our audiences. I hope that it has been shown here that the larger community places great value on things that are commonly taught in music education. However, we as music educators are not always getting credit for it. This results in a significant portion of what we do being unknown to those who make decisions about us and our programs. We are too often being diminished … B-D-F-Ab … frequently because we don't have enough of the right tools to make that chord at least half-diminished (B-D-F-A). Silly chordal joke aside, Careers Through Music is one tool that can help educate those decision-makers. It takes us off that island, or will at least build a bridge to the mainland.
In a society where more and more emphasis is placed on schools preparing students for the world of work, Careers Through Music helps music teachers address this and therefore makes you and your program more valuable to the school and community. All while students experience the joy of making music.
---
David R. Sears is the Executive Education Director of the GRAMMY Museum Foundation where he leads the team that creates and directs its educational philosophy and programs nationally.
View Author Page
Want More? Don't miss a beat!
We're passionate about providing music educators with teaching solutions. Sign up to get inspiration delivered to your inbox!
Stay Updated
Want to get the latest updates and special offers from Alfred Music?