Blog Menu
Tips for the Traveling Teacher: When Your Classroom Becomes a Cart
July 26, 2020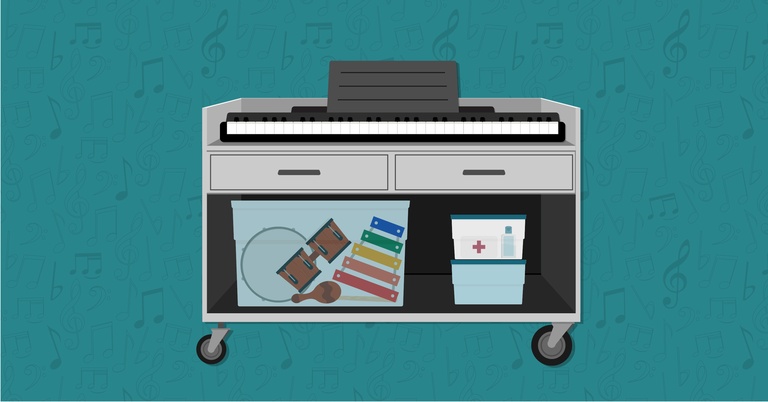 This article has been updated as of 02/07/2021.
So, you're teaching from a cart. Now what? Or maybe you've been doing this for awhile and need some ideas to "lighten your load." This "classroom" no doubt looks different than any you've ever experienced before, but with just a few considerations you can determine the tools and resources you'll need to continue teaching without missing a beat.
1. Start with a Cart.
There will be a lot of downsizing decisions that will go into putting your classroom on wheels, but some of these initial considerations can help "steer" you towards better decision-making when selecting your cart:
How many classes will you teach in a day?
Will you be traveling to various grade levels?
Will you need shelves, drawers, or other storage?
Will you need to rotate supplies throughout the day?
How heavy will it be to push around?
Additionally, walk through the route you will need to take inside or between buildings each day. Take note of any stairs you need to avoid, bumps, sharp corners, or weird angles that could be difficult to navigate. Measure doorways to be sure your cart will fit accordingly.
2. Determine what you will focus on during class time.
Given your new physical limitations, you will likely need to shift what and how you deliver in classroom music lessons. Since singing is off limits, consider relying more on rhythm exercises and instrument demos. Explore safely utilizing various percussion instruments, ukuleles, Orff instruments (sans recorders), and body percussion (snapping, clapping, and stomping). Increase emphasis on theory, music history, and music appreciation lessons. And don't shy away from games, puzzles, and coloring books (don't forget crayons, colored pencils, or markers!). For free PDF activities, check out our the Free Activities section of our blog!
3. Select the supplies, instruments, and equipment that will support music lessons.
Think organization—buckets, baskets, and bins. Try separating supplies for each class as best as you can so you can grab-and-go based on the grade level and classroom you're headed to next. If you have access to additional storage, organize one bin per grade level so that you can easily rotate on your cart based on each stop in your day.
Will you have space on top of the cart to fit a digital keyboard? If so, it can also double as a music stand! Consider velcro or clips to display and rotate through musical posters and flashcards. Make sure you have a speaker and/or CD player to play musical examples for listening exercises or music history and appreciation lessons.
Does your school have Interactive Whiteboards or the ability to project on a screen in any of the classrooms? (Check out our interactive software products!) If your students have Chromebooks, iPads, or Laptops, you may want to consider SmartMusic as a tool so that you can assign homework and students can safely practice independently at home on their instrument, get immediate feedback on their performances, and submit assignments for grading.
4. Consider these additional accessory items that might come in handy:
Puppets for younger grades
File storage and folders for collecting paper assignments
Cup holder for your coffee or water bottle
Extension cord and/or any chargers you'd need for speakers or your phone
Advil / personal first aid kit
Snacks (for you)
Stickers, badges, or rewards for student achievement or participation
Change of socks and shoes
5. Lighten Your Load and Go Digital!
When you're teaching on a cart it's all about saving space and staying organized. You can do both with digital resources! You'll be able to reduce some of the weight on your rig and no chance of leaving a book behind when you have your materials available on your laptop. There are now so many resources available at the click of a button: song collections, interactive storybooks, instrument methods, and activity books can be accessed on your personal screen or projected for group instruction.
Making music might look different these days, but you can still make a difference. Oh, and don't forget: Hand sanitizer. Extra masks. Gloves. Wipes. Wipes. And more wipes.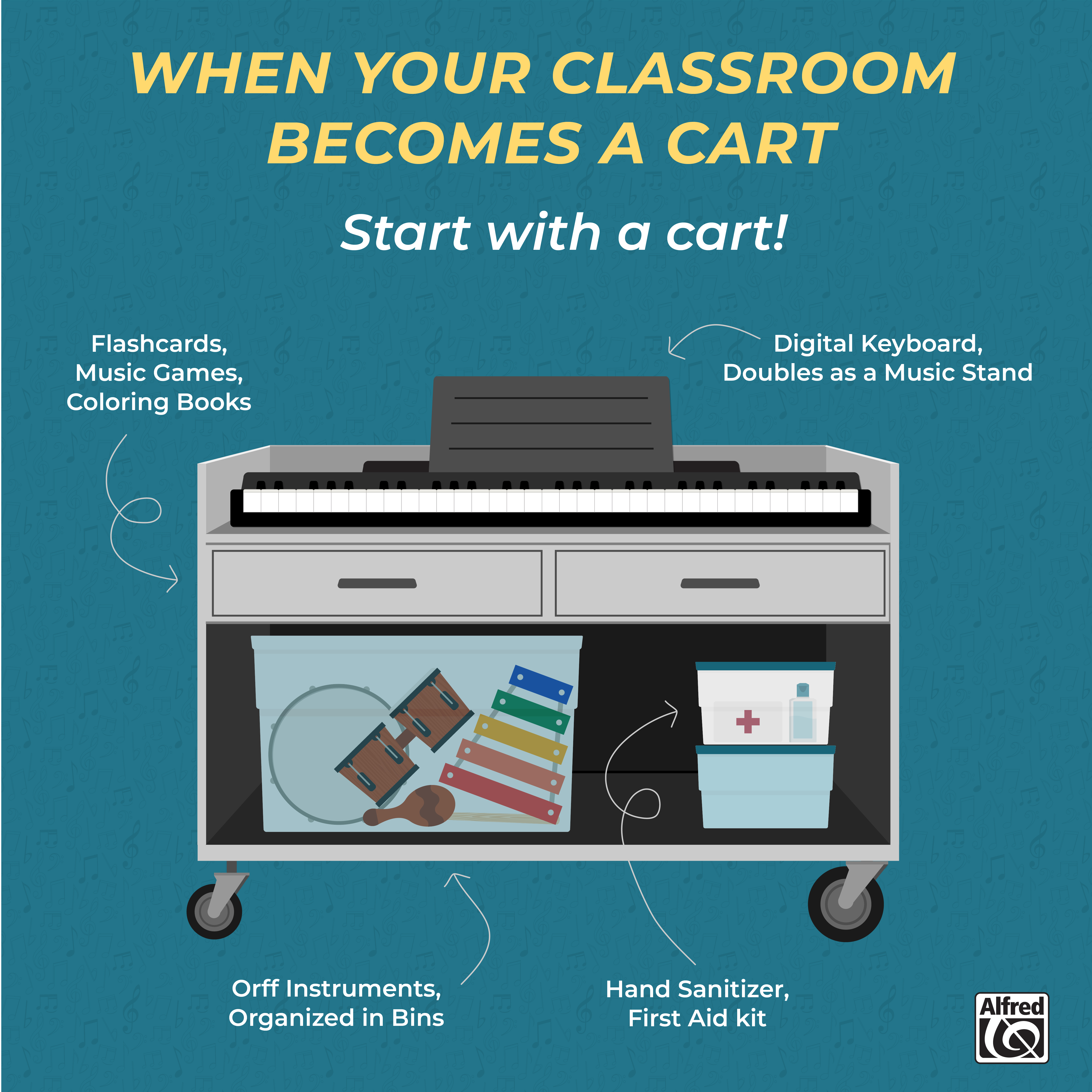 ---
Want More? Don't miss a beat!
We're passionate about providing music educators with teaching solutions. Sign up to get inspiration delivered to your inbox!