Blog Menu
Tips for Creating Your Classroom Cleaning Plan
By Krista Hart | August 15, 2020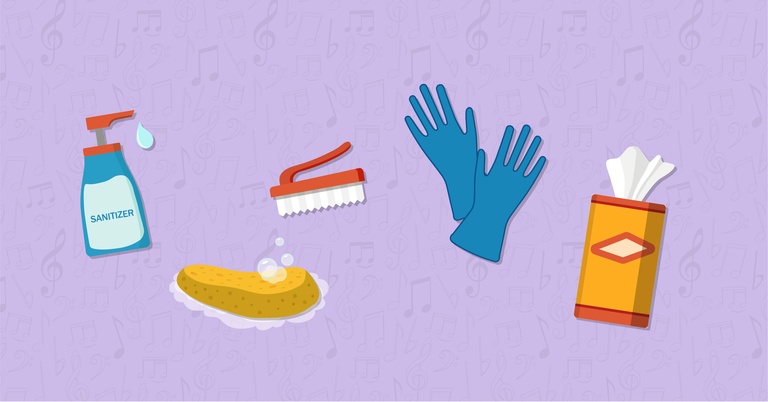 If you will be teaching in a classroom to start the school year then I know keeping your room and materials clean will be on your mind. The CDC tells us that the best way to ensure the cleanliness of our spaces is to:
Develop a plan
Implement your plan
Maintain and revise your plan
This advice may give a tiny bit of comfort because planning is one of the things teachers are great at! So if the idea of being back in the classroom makes you uneasy, try working these steps to alleviate some of the stress by controlling what you can about the situation.
Note: please follow all state, local, and CDC guidelines regarding cleaning your classroom and supplies. The following are suggestions and ideas, not official protocols. Be aware of the difference between cleaning, sanitizing, and disinfecting. Cleaning is using a soap or detergent to physically get rid of germs from a surface. It takes the germs away, but doesn't kill them. Disinfection is using a chemical to kill the germs on a surface. It's best to clean first to remove germs, then disinfect to kill anything that may be left behind. (Check the label on your disinfectant and make sure you leave it on the surface for the recommended amount of time to ensure effectiveness.) Sanitizing is the process of either cleaning and/or disinfecting a surface to bring down the number of germs to a safe level based on public health standards.
Develop a plan
How will students enter the classroom? What surfaces will be touched by multiple students? If allowed to use shared materials (books, instruments, etc.), how will you distribute them? Try to imagine the course of a class from entering the room to leaving to identify where you will run into issues with social distancing or using materials. Decide what will need to be cleaned/sanitized/disinfected after each class, multiple times a day, or at the end of the day.
Do some research on what type of cleaning products and disinfectants can be used on your instruments. For wooden instruments like ukulele or Orff instruments, read the product label to ensure it is effective on wood surfaces, and to be sure you aren't going to damage the finish.
Every classroom, and teacher will be different, and your school will undoubtedly have procedures and guidelines for you to follow as well. Here are some general tips and hacks that may be helpful:
Be clear about what guidelines and procedures your school is mandating. Has the administration allowed for adequate time between classes to clean instruments and student materials? Advocate for altering the class schedule to allow you to complete your sanitization measures.
Divide shared materials into sets and number them. This will eliminate passing things out individually and multiple hands reaching into one container. You can also cut down on cleaning time by only disinfecting the sets that were used in the class.
Move any instruments or books that you won't be using out of sight or out of reach so there are fewer items for kids to touch.
Have a mesh laundry bag on hand—gather up manipulatives or instruments that need to be cleansed and run the bag through a dishwasher. Be sure the objects are dishwasher-safe first.
Facial tissues. Glue, tape, or rubber band together a full tissue box and an empty one. Teach students to dispose of their used tissue in the empty box. Or, place the box of tissues upside down on a wire slat rack or shelf. Pull the tissue from below the shelf and you won't have to touch the box.
Disinfecting wipes. These will undoubtedly be a staple in any classroom. Avoid having to repeatedly touch the outside of the container by hanging the container upside down on a wall or cabinet.
Create a hands-free hand sanitizer station using a hi-hat cymbal stand.
Remove or reduce any fabric-covered items since they are not as easy to sanitize.
With all the cleaning supplies being used you might start to get a chemical or vinegar smell in the room. Try placing a few drops of your favorite essential oil on a cotton ball and tape it to the back of a fan for a room refresh.
Use a plastic tabletop container with drawers to organize your personal protective items like clean masks, used masks, and hand sanitizer.
Implement Your Plan
You have your plan—now put it to work!
Create a checklist of your procedures for you to reference throughout the day.
Be sure to have all your necessary materials ready to go before the first class.
Write your own catchy saying to remind students what to do. Teach it to the kids, write it on the chalkboard, or create a colorful poster.
Write a simple song (or change the lyrics to a familiar one) to encourage good student habits.
Maintain and Revise Your Plan
It doesn't always go as you planned, does it? Of course not. You are trained to adapt on the spot, and to review where things went wrong so that you can improve.
You may need to alternate lesson plans so that you don't have back to back classes using a set of materials.
Adapt activities to work for small groups.
Do you have enough cleaning supplies for the week?
Was there enough time to clean all surfaces between classes?
This fall will be challenging, and perhaps a bit scary for everyone. You will be performing a nearly impossible task in many ways. If your school asks you to be in the classroom and you are able to, THANK YOU for doing it. Thank you for providing the chance for musical expression in a time when students need it more than ever.
---
Krista Hart is a former music educator with a passion for choral music. She taught middle school music and spent nearly a decade assisting directors in choosing literature at Senseney Music. She is the author of the books Music-Go-Round, A Music Teacher's Gratitude Journal, and The Mindful Music Classroom.
View Author Page
Want More? Don't miss a beat!
We're passionate about providing music educators with teaching solutions. Sign up to get inspiration delivered to your inbox!
Stay Updated
Want to get the latest updates and special offers from Alfred Music?