Blog Menu
Strategizing Success: Four Tips for First-Year Music Teachers
By Bob Phillips | July 27, 2018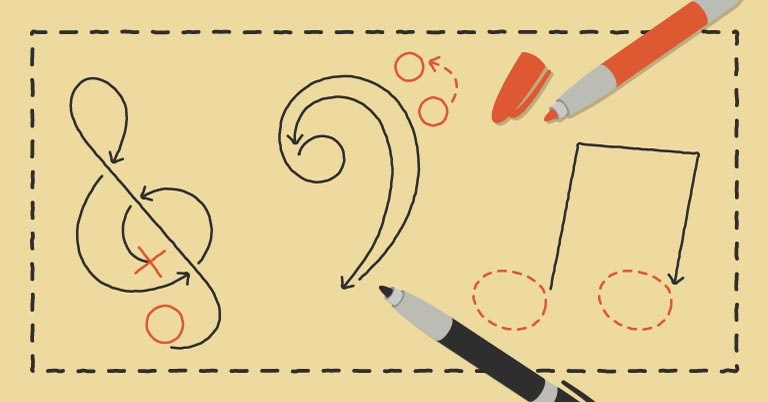 Starting a new teaching job is an incredibly exciting and challenging moment in a young teacher's career. In the midst of all the start-up chaos, here are four tips that might be helpful to new teachers.
1. Take the time to plan.
Taking time to plan will actually save hours each week and is an investment in your professional development. Make sure to use a planning tool of some kind. There are many paper or electronic plan sheets available for weekly and long term planning. Create lesson plans for each class and save them for future use. At the end of each week review what you did and evaluate your students' progress so you can better prepare for the following week. In addition, plan out each concert period and your entire year. Be sure to check your school schedule for important test dates, grading periods, and anything that you are responsible for or could affect your time on task with students. There are never as many days in the school calendar as it appears. Mark all such activities into your long-term plan sheet so you don't get caught by surprise.
2. Ask for help and seek out mentors.
If you are not assigned a mentor teacher find someone in the music department that can answer your questions. A mentor teacher can help you with student/parent issues, school climate issues, community relations, and anything that is unique to your school. If you are having an issue with a student or parent always ask a mentor teacher or administrator for advice. If your mentor teacher does not teach in your content area, find someone in or out of the district that can help you with specific band, orchestra, or choir questions you may have. Another great source for help is professional organizations such as your state Music Education Association, and national organizations such as ASTA, NAfME, ACDA, and others.
3. Choose repertoire for a reason.
Choosing music is a key part of a successful music classroom. Your music should always be aligned with your curriculum. Be sure all the skills you are teaching are being supported by the repertoire students are working on. As an example, if you are working on certain rhythmic skills, such as dotted-quarter notes, then some of your repertoire should include dotted-quarters. Planning repertoire for each concert as well as the entire year is an important part of curriculum mapping. Publishers release educationally appropriate music each year for ensembles at all levels. Another great resource for discovering appropriate repertoire is state festival lists.
4. Create an atmosphere of excitement.
Make your classroom exciting by using music to motivate. Teach your students to love music, not just respect it. Expose them to a variety of styles and genres and to play/sing with passion. If you are excited about the music, they will be too. Play great recordings/videos and engage the students in the music making process as much as you can. Instead of being the "sage on the stage" make sure you are teaching them to make musical decisions every day. Teach technique in order to give students the skills necessary to create expressive and passionate performances and then challenge them to do so. Technique is a means to an end. Students want to be successful.
---
Bob Phillips is renowned both as an educator and an innovator in string education. With over twenty-seven years experience in a public school classroom, and as a teacher trainer, Bob brings a wealth of knowledge and a sense of humor to his presentations. 
View Author Page
Want More? Don't miss a beat!
We're passionate about providing music educators with teaching solutions. Sign up to get inspiration delivered to your inbox!
Stay Updated
Want to get the latest updates and special offers from Alfred Music?