Blog Menu
Millennial Music Teachers: 4 Traits They Bring to the Table
By Holly Kessis | May 28, 2019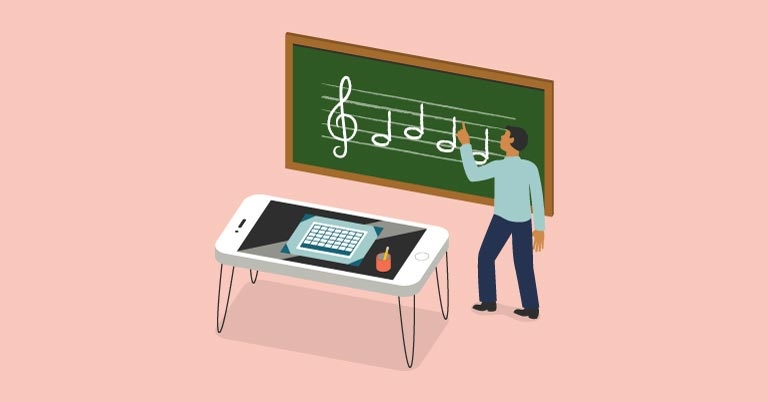 I am a millennial music teacher. Also known as a member of Generation Y, the term "millennial" applies to anyone born between 1981 and 1996. We grew up alongside the internet, experienced turn-of-the-century cultural upheaval as tweens and teenagers, and recently became young professionals making our way in the working world.
Members of my generation have changed the social and economic landscape with major contributions to the creation, innovation, and growth of companies you might use every day like Facebook, Airbnb, Spotify, and Groupon. However, my generation is also stereotyped as lazy, entitled, distracted, and even immoral. Yikes!
Instead of addressing those labels, I'd much rather discuss the positive attributes of the millennial generation—what we bring to the table, especially as music teachers. How can we apply some of these positive millennial traits to our teaching? How might our teaching style differ from other generations' styles, and how can we help others understand and even adapt some of our approaches?
In this day and age, there are important aspects of the millennial music teacher that all music teachers can successfully adapt to help run their programs. The following are a few attributes of millennial music teachers that all music teachers may consider channelling to progress in their professional lives and better relate to students of younger generations.
1. Tech Prowess
Millennials grew up during the dawn of the age of the internet. In fact, we were one of the first groups to be defined as "digital natives," a term popularized by educational researcher Marc Prensky in reference to a young generation of "native speakers" of the digital language of computers, videos, video games, and social media. My tech-savvy father even allowed me to have a computer in my room in elementary school.
The digital tools we use have totally changed the way we access information, make purchases, consume entertainment, and make up our social networks. When harnessed for music teaching, we can benefit from new technology to become:
Increasingly productive and efficient with organization, scheduling, and administrative tasks via shared calendars, Google sheets, and payment-sharing apps like Venmo, PayPal, or Apple Pay.
Timely in responses to students and parents via email, text messages, or direct messages on social media platforms.
More readily in-touch with fellow music teachers via social media, webinars, blogs, and membership groups.
Connected to students and practice progress with platforms like SmartMusic.
"Children raised in a digital, media-saturated world require a media-rich learning environment."—Marc Prensky, Digital Natives, Digital Immigrants
2. Social Media Marketing
Another thing that millennials are great at: social media marketing. For better or worse, if members of our generation want to fit in socially, we must make our presence—our brand—known online. This can be very similar to what music teachers face, especially since dedicating one's life to music is a very personal endeavor. Successful musicians, schools, and music teachers use social media to brand themselves, their personality, their programs, and their values as a professional to appeal to potential clients.
Here are a few ways to harness the inner tech-savvy, millennial marketer in you:
Create a page or profile for your studio, program, or school and regularly share content that showcases what you have to offer. Try to tell a story with your posts, rather than "sell" your services.
Post photos of your students working hard on their pieces in your studio (with parental consent, of course).
Start a Facebook or Instagram Livestream for your next recital.
Create playlists of performances on YouTube that students can subscribe to and watch and emulate at home.
3. Celebrating Individuality
In the world of music teaching, speaking up, standing out, and asking "why" is important—many of us are "independent" music teachers, after all! Especially when consumers have so many options to choose from for their musical studies, setting yourself apart as a confident, trailblazing teacher makes a huge difference in an often challenging profession. Channeling these qualities even allows you to be more relatable to those slightly rebellious students who want to know precisely why they have to be learning that A-flat Major scale, or what the purpose of participating in a local judged performance is.
Whereas the Silent Generation was often told to be "seen and not heard," millennials have been taught to speak up and value their own unique voice. As music teachers, we have such a special and unique opportunity to allow students to express their true selves through music, and to be guides in their exploration, discovery, and celebration of their own, unique individualities.
Here are a few ideas for promoting individuality within your studio:
Encourage students to ask questions such as "Why am I learning this?"—celebrate curiosity and nurture the unique characteristics and traits of each individual student.
In addition to assigning scales, exercises, and standard repertoire, etc., allow students to select some of their own pieces to study—something that reflects their own personality, interest, and taste. This might be a song from their favorite artist or band, or their favorite movie or TV show.
Consider an assignment where students research and study their musical role models of the past and present, incorporating a brief presentation before recital performances.
4. Work-Life Harmony
For many millennials, the traditional idea of working nonstop for 40+ years while keeping an eye on retirement as "the prize" isn't entirely motivating. Having "tech prowess" and social media skills means leading a heavily connected life, and keeping work and life completely separate is less and less realistic, these days. Especially as entrepreneurs, private music teachers feel the need to keep up with the constant stream of emails, social media notifications, and texts from parents and students—at all hours.
"This [millennial] generation experiences a paradoxical world that is both expanded and shrunk. Technology has blurred borders all within an accessible connected generation. The lines between work and life are ill-defined in a literal 24/7 world."—Millennial Generation Research Review, U.S. Chamber of Commerce Foundation
In surveying music teachers online, I found that nearly 88% of them rated the importance of achieving a balance between their work and their personal lives at a 7 (or above) out of 10. So, what's the solution?
Redefining work-life balance.
Whereas striking a "balance" between work and life implies setting rigid boundaries (which can certainly be healthy!), many millennials have leaned more towards a mindset of striving for fluidity, freedom, and flexibility in all aspects of life. As music teachers who love what we do, we are already motivated by passion, and we know our work is incredibly meaningful. This allows us to easily embrace that natural integration of personal and professional goals. At the end of the day, whether it's balancing or integrating, every teacher has the power to structure work and life in whatever way feels best for them (remember, celebrate your individuality!).
Personally, I have found that having my work and personal lives co-exist together in harmony—instead of totally separating them—is what has made me more consistently good at my job and has allowed my personal relationships to flourish. I've met so many inspiring individuals through my job, and allowing these two facets of my life to integrate has also allowed me to relate to my students more since I work in a school district where high-achievers are being pulled in a million different directions.
Here are a few tips for creating better harmony between work and life:
Give yourself opportunities to completely "shut off," and not feel obligated to reply to every email or text message that comes your way. This could be part of a regular routine, or simply on an as-needed basis.
If you have co-workers, reach out and spend time together outside of work. Strengthening those connections makes your workplace environment much more pleasant.
Ask for regular feedback from parents and students—being a great teacher is closely tied to our personal growth in many ways. Asking for feedback allows us opportunities to do more of what works well, and to reframe our approach to what might not, and apply to both professional and personal contexts.
Consider the flexibility of teaching remotely, utilizing technology such as Skype, WhatsApp, or Facetime. These lessons could focus more on theory or practicing written notation to avoid potential audio issues.
The Millennial Music Teacher Mindset
The history of music teaches us to respect, learn from, and appreciate our elders—the great musicians from whom we have inherited our art. At the same time, to be a successful teacher we must all constantly strive to learn, grow, and change in ways other professions might not call for. Millennials are good at change! No matter our age, let's continue to support and learn from each other as music professionals, and we can relish in the fact that we all share a common goal of seeing our students succeed.
---
Holly Kessis is a pianist and teacher in the Dallas/Fort Worth area. She maintains a budding studio of 35 piano students at the Centre for Musical Minds in Frisco, Texas, where she also leads performance classes, beginner music camps, and group enrichment courses. 
View Author Page
Want More? Don't miss a beat!
We're passionate about providing music educators with teaching solutions. Sign up to get inspiration delivered to your inbox!
Stay Updated
Want to get the latest updates and special offers from Alfred Music?