Blog Menu
Maximizing Your Method While Teaching Remotely
April 17, 2020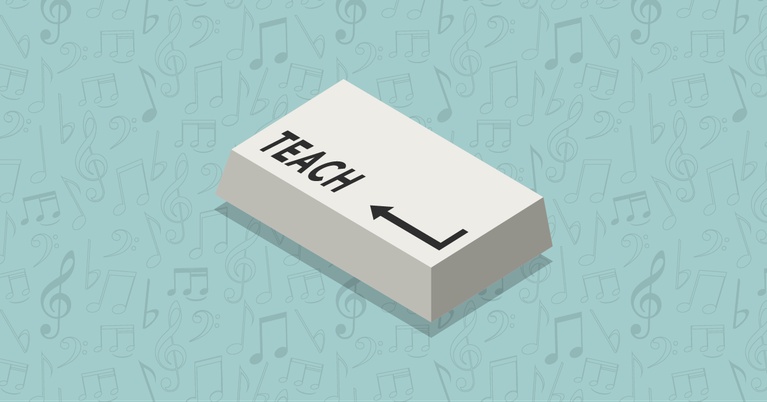 Maneuvering a new online classroom setting right now may have its challenges, but your chosen method books shouldn't be one of them. Whether or not you're a current user, Sound Innovations is a resource that can help you as you're finding your footing in this new world of remote teaching.
Here are three ways that Sound Innovations can help right now:
1. SmartMusic
SmartMusic and Sound Innovations can work together to transform your students' practice from passive repetition to active learning. Not only is Book 1 free in SmartMusic for anyone, anytime, but SmartMusic is giving you and your students free educational access to their entire library through June 30, 2020, which includes ALL of Sound Innovations.
With a free SmartMusic account and Sound Innovations, you can:
Provide students with play-along accompaniments on their Chromebook, iPad, or computer.
Give students instant, visual assessment of their pitch and rhythm.
Create customized assignments to track progress and hear student recordings. See—down to the second—how much time students spent practicing.
You can actually listen to their recordings in order to assess and advise them on their musicality—it's the next best thing to being with them in person.
2. SI Online
Perfect for remote teaching, SI Online is a completely free resource where you can access all of the streaming MasterClass videos and accompaniment tracks for Sound Innovations, as well as supplemental worksheets. No login is required—simply go to SIOnline.alfred.com and enter the product number. Enter the score product number to gain access to all student books and access PDFs in batches.
Now you can provide your students with direct links to their assigned exercises, allowing them to bypass the Activate Product screen. Simply navigate to the exercise you want to assign, then use the blue "Share" button on the upper right to copy the link to share with your students.
With SI Online, students can access:
Streaming Audio Tracks

Students can practice the free play-along accompaniment tracks and melody examples from anywhere with internet access.
The tracks can be slowed down and looped for working on more difficult passages.
The variety of accompaniment styles will help keep students engaged.

Streaming MasterClass Videos

Sound Innovations MasterClass videos go alongside the entire method book from beginning to end, so there's always a video your students can watch to help them assemble their instrument, learn to imitate intonation and tone, as well as to learn instrument-specific techniques.
Videos can be slowed down, sped up, or looped for effective practice

Enrichment Pages

Students can access free worksheets, with topics including theory, music history, scale and technique exercises, rhythm pages, and more.

Supplemental Repertoire

A vast library of new repertoire, including alternate tunes, duets, and ensembles, to encourage repetition and concept reinforcement for Book 1.
Perfect for adding more variety into their practice repertoire, you can assign these extra tunes anytime.
3. eBooks
Your students can access their books from anywhere! Most Sound Innovations eBooks are available on eBooks for iPads®, ChromebooksTM, PCs, and Macs®. In the chance that you're missing a book or your student left it at school, visit alfred.com/SIeBooks to see which are available as e-Books.
Our iBooks® Textbooks feature integrated interactive elements in the digital books, including audio examples demonstrating how a piece should sound, and MasterClass videos explaining concepts. The Multi-Touch book is directly correlated to the physical book—all page correlations with the physical book are displayed at the bottom of each page on the digital book, so you can easily teach an ensemble that has both eBooks and traditional books.
Regardless of how you choose to use it in your current situation, Sound Innovations is here to help enhance your remote learning plan and will most certainly see you through to the day when you're back teaching in the classroom with your students.
Quick links
---
Want More? Don't miss a beat!
We're passionate about providing music educators with teaching solutions. Sign up to get inspiration delivered to your inbox!