Blog Menu
Making the Most of Online Teaching: 6 Ways to Connect With and Retain Students
By Daniel Glass | November 18, 2020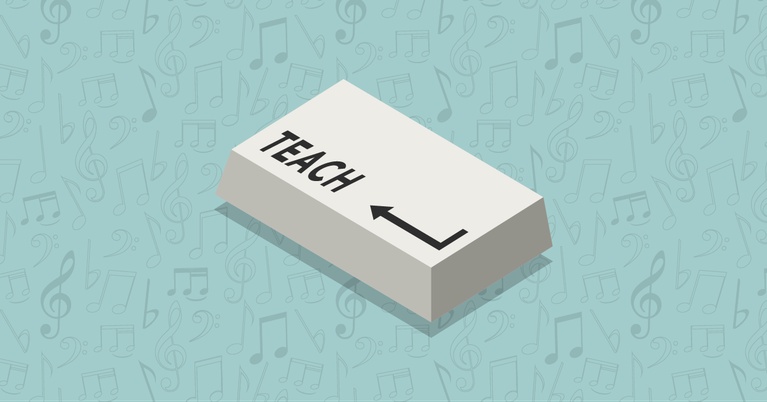 To say that the coronavirus pandemic of 2020 has disrupted the way that musicians pursue their livelihoods just might be the biggest understatement of all time. Literally overnight, lockdowns and social distancing mandates led to the disappearance of all our gig work, and forced almost all forms of music education online.
The last seven months have seen drum educators scrambling to navigate this shift, with any number of webinars and Zoom meetings dedicated to setting up an online teaching practice. And while it seems that a lot of the focus relates to mechanics: creating the best set-up, attracting new students, etc, much less discussion has been focused on the questions that arise after the gear is set up and student/teacher are sitting across the screen from one another. Does the online "barrier" lead to a more "depersonalized" relationship between teacher and student? Are new skill sets required to keep our students engaged? And most importantly, how can we motivate those students to keep coming back over the long term?
Obviously, there are no easy answers, but as an educator who has run a successful online teaching practice for nearly a decade, I thought I would share a few key strategies that have worked for me. First, a bit of back story.
How I got into remote teaching
Back in 2010, I moved from Los Angeles to New York City, and quickly realized that working with students in the living room of my one-bedroom apartment was not going to be ideal (my wife found the situation even less appealing). I was still on the road a fair amount at that time, and would occasionally give one-off lessons to drummers who came to clinics or shows. For those who wanted to continue, I began experimenting with a new online telecommunication platform called Skype. To my surprise, I found that content could be taught just as effectively, but using this platform offered a whole new way for me to expand my teaching base. I began promoting Skype lessons on my website and social media, and was soon seeing 50-60 students each month, hailing from five continents. Many have now been with me for multiple years, and even if we've never met in person, I've found that a meaningful teacher/student bond can successfully emerge.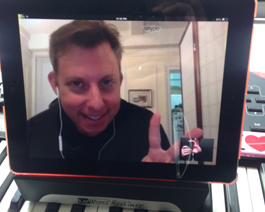 If you've found yourself struggling to connect more deeply with your online students, consider the following:
1. You're not just a teacher. You are empowering someone's life.
If you believe that the role of a teacher is to be a dispassionate "guru" that dispenses a one-way flow of information to adoring disciples, your teaching career probably won't last long. Hint: It's not about how wonderful you are, it's about forming a partnership.
When a student hires me as a one-on-one coach, I realize they've chosen me from of a big list of highly qualified competitors. That's pretty humbling. They're entrusting me with their musical future, and I take that responsibility extremely seriously.
Rather than assuming that a student wants to follow my agenda, I make it my business to learn the nature of their agenda. I start by asking a lot of questions to find out what they want from the learning experience. I find out what music they love, and which drummers are their favorites. I want them to feel like they're a part of the process, and that we're doing this as a team. Once I know their agenda, I have a pathway to bring them along to mine.
The way I look at it, a teacher's primary goal should be to develop a friendship with their students, regardless of age, outlook or playing ability. In my definition, "friendship" doesn't necessarily mean hanging out beyond the lesson environment, talking shop, or revealing our innermost secrets. What it does mean is that I'm willing to "get my hands dirty" by being involved with my students' lives and their dreams. It means that I genuinely care that they absorb the concepts I'm teaching. And it means that at every lesson, I'm willing to put in the same amount of work I expect from them in the form of practice. Leading by example sets a powerful tone, and it will give your students a powerful motivation to practice.
Being "friends" with my students also means that I occasionally step into the role of therapist, confronting them about sticky personal issues that may be negatively impacting their drumming (lack of self-confidence is a big one). Crossing into this realm can be a bit uncomfortable, but it lets them know that I care about their wellbeing. The end result is a deeper level of trust, and the likelihood of a longer-term relationship.
2. You don't need a lot of gear.
Many online teachers employ a high-tech setup that utilizes multiple cameras, microphones and mixing gear. While such a set up can help certain aspects of a lesson run more smoothly, it has little bearing on the overall success of the educational process. In the decade I've been teaching online, my "lo-fi" set-up has remained unchanged. It consists of: a laptop, a set of Aquarian "Super Pads," and a few Sabian "Quiet Tone" cymbals. The spatial and volume constraints of my NYC apartment simply don't allow for anything more elaborate. What keeps my students coming back is not the bells and whistles, but the quality of the content I provide, and the way I keep them motivated to learn and practice.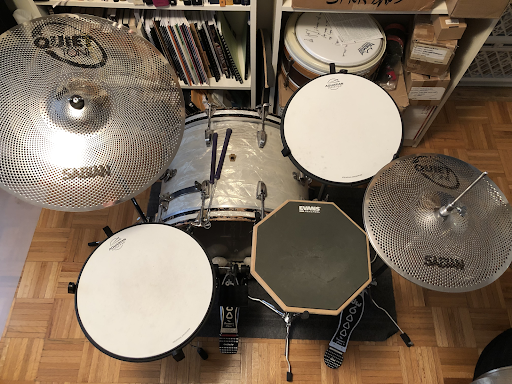 3. Change the way you observe and evaluate.
Online teaching comes with several built-in drawbacks. Depending on a student's set up, it may be difficult to see or hear clearly what's being played. A poor internet connection can sometimes exacerbate such difficulties. Additionally, platforms like Skype and Zoom have latency issues, meaning it's impossible to play along with a student as you would if you were in the same room.
To overcome these drawbacks, alter the way that you observe and evaluate. For starters, focus on the visual. Learn to look at motions rather than listening to sounds. The consistency with which a student moves equates directly to the consistency of the sound he or she is producing. For example, if a student strikes the hi hat the same way every time, then you know the sound coming out will also be consistent, (even if you can't hear it clearly).
If you're working with a click, make sure both you and the student have one on hand. This allows either party to demonstrate using their own click, eliminating the latency issue.
4. Offer context, not just patterns.
It's not enough to show a student how to play a groove or rudiment, he or she needs to understand why it's important. If not, then what's the point of say, learning a paradiddle, when single strokes could do the job just fine.
Providing context offers you the opportunity to connect the abstract world of technique with the "real world" of music. Here are a few examples:
"The Ocean" (and numerous other songs by Led Zeppelin) offers a great way to open up a conversation about mixed meters.
"Roadhouse Blues" by the Doors provides a great example of a medium tempo shuffle.
"Peggy Sue" by Buddy Holly uses a drum part that is based completely in paradiddles.
Employing musical examples to teach technical concepts also offers you the opportunity to share your passion for music, another organic way to bond with your students. I'm always full of animated enthusiasm when describing the bands, the songs, the albums, the concerts that have inspired me over the years. Think of someone explaining an amazing TV series they just saw, or an amazing restaurant where they recently dined.
5. Treat each lesson as a performance.
When I teach, I feel the same adrenaline rush that I get every Monday working at the legendary Birdland jazz club in NYC. It's a high pressure setting that usually includes a who's who of celebrities and musical luminaries in the audience. "Phoning it in" is not an option, and over time I've trained myself to be "in the moment," and play each Monday like it's my last. When I'm teaching, my goal is to walk that same tightrope, where the end result could either be a standing ovation or a humiliating, career-ending defeat. Students can feel that intensity of purpose, and it pulls them in.
If I don't feel that a student is following me, I'm not afraid to improvise – to shake things up by creating new ideas on the spot. I also encourage my students to evaluate themselves, asking questions like, "How did that exercise feel to you?" "Were you comfortable?" "How do you think you can play it better next time?" Encouraging self-reflection is often the best way to cement your point.
6. Offer added value.
Every drum teacher in the world is now online, so competition has increased considerably. As such, I try to set myself apart by offering extras that will make studying with me a unique experience. I start by building in a bit of extra time with each lesson that allows us a few minutes to catch up and get comfortable. This gives my students the feeling that they're not "on the clock," and it means I don't have to abruptly end the lesson if we're not finished covering that day's topic.
I also send my students a unique reminder email after each lesson that includes short video clips of the material being discussed as well as individualized notes. Putting together these reminders adds to the overall time I spend on each lesson, but they are a powerful practice tool and keep my students focused and engaged.
If needed, I can incorporate any number of multimedia elements into the lesson, including an iPod with a massive song catalog, Powerpoint presentations, YouTube links, and written transcriptions. I also teach from a wide variety of materials and don't limit myself stylistically. People know me as a jazz and swing drummer, but I've happily taught everything from hip hop to double bass. Having to explain a wide variety of material forces me to learn new techniques, and will ultimately expand my employability once we all (finally) get back to gigging!
---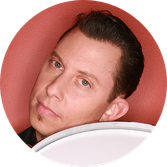 Daniel Glass is an award-winning drummer, author, historian and educator. Daniel has published five books, 3 DVDs and dozens of articles dedicated to sharing the amazing story of our American musical heritage, including From Ragtime to Rock: An Introduction to 100 Years of American Popular Music.
View Author Page
Want More? Don't miss a beat!
We're passionate about providing music educators with teaching solutions. Sign up to get inspiration delivered to your inbox!
Stay Updated
Want to get the latest updates and special offers from Alfred Music?