Blog Menu
Interview with New Suzuki Recordings 4-6 Pianist Kuang-Hao Huang
By Kuang-Hao Huang | May 21, 2022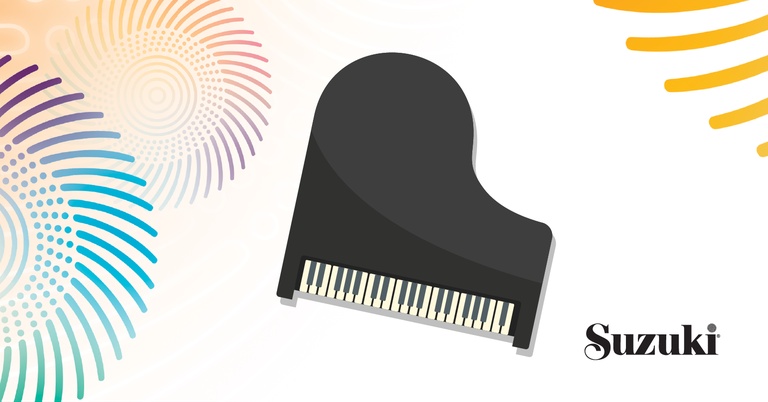 Alfred Music, in cooperation with the International Suzuki Association, is pleased to announce the release of new recordings for the Suzuki Violin School Volumes 4-6. Two extraordinary artists, world-renowned violinist Augustine Hadelich, and pianist Kuang-Hao Huang, have collaborated to make a stunning new version of this repertoire. Teachers, students and families will be fascinated to read below how the artists viewed this project, both from the musical interpretive standpoint, and from the logistics of the recording studio. We know you will enjoy their personal thoughts on this massive undertaking. 
Interview questions and editing were conducted by Allen Lieb, CEO of the International Suzuki Association.
Tell us a bit about your previous experience in the Suzuki Method. Did any of that experience come into play when making these recordings? 
Most of my Suzuki method experience came from working with my daughter and her first violin teacher.  Although she stopped her Suzuki training before Book 4, I was VERY well-acquainted with how integral these recordings are to the students' (and parents') learning process.
How did that experience play a role in your approach to this recording project? Did it impact your performance values differently than other recordings?  
I feel I prepare for all of my recordings with the same attention, care, and dedication, but there is no doubt that I was keenly aware that I would have a much, much larger audience for this recording!
What was your reaction on being invited to make the Suzuki recordings, especially by Augustin? Tell us about your previous collaborations with Augustin. How familiar are you with his approach to working in the studio? 
I have had the privilege to work with Augustin on several occasions over the past few years, and each time it has been an adventure, whether it was the venue (like NPR's Tiny Desk) or the repertoire.  And with the two of us living in different cities, we've never had the luxury of plentiful rehearsals, which has made these experiences even more exciting!  However, I think we share similar musical sensibilities, and this makes putting pieces together very easy.  When he asked me to take on this project, I was confident that the process would be smooth even though we had never recorded together before.  Being asked by him to do this was totally unexpected and very flattering, and I will be forever grateful to him for giving me this opportunity.
What were the biggest challenges you felt in the actual recording of the repertoire.
For me, the biggest challenge was having Augustin play in a separate recording booth.  Under normal circumstances, I can read his body language, hear his breathing, feel the vibrations coming from his instrument, and get a sense of how our sounds blend.  For this recording, I had to listen to him through headphones, which gave me far less feedback.  Wearing headphones also meant that I couldn't hear my own sound very well.  I honestly don't know how Augustin was able to manage playing with headphones.  At least I could easily get the cord out of the way, and the cups didn't physically interfere with how I played my instrument.
What is different about a recording project from actual performance? How does that reflect in your playing during the sessions?
For recordings, it is common to struggle with the feeling that you need to be absolutely precise and accurate, which can lead you to play too conservatively.  Precision and accuracy are certainly desirable in a live performance, but it is definitely not the priority.  Augustin made it very clear from the beginning of the sessions that he wanted us to play with the freedom of a live performance, and that we would take full advantage of the editing process if necessary.
How were the particular demands of this recording project different from ones you have done in the past? How was the necessity of being in two different rooms for the recording a challenge for your performance?
In addition to what I said earlier about the difficulties of not being in the same room, our ability to rehearse in advance of the recording sessions was also inhibited by Covid.
What are you listening for when you hear the playbacks in real time in the studio?
Many things: sound, character, clarity of texture, ensemble— and I'm always listening for things to improve for the next take.
The editing process can be very daunting. What are some of the factors in that process that are especially important to you?
For this project, I served mostly as an extra ear to catch note or editing errors in the piano.  The three A's (Allen, Augustin and Antonio, the sound engineer) did most of the heavy lifting.  I know that "too many cooks in the kitchen" can be problematic, and the result can quickly devolve into a pastiche of differing demands that don't necessarily work well together.  As a result, I generally put my trust in the producer and make demands only when I hear something that I can't live with. I am very pleased with how this recording has turned out considering all the factors that needed to be balanced.
Any thoughts on the reality that these recordings will now be in households around the world on repeated listening as you have done in the past with your own children? Do they have any reaction to the fact that you are now the pianist on the Suzuki recordings? 
I hope that these recordings will not only inspire future generations of students to play the violin (and maybe the piano, too!), but also create and nurture lovers of classical music for years to come. My daughter said she is excited that so many kids will have the opportunity to play with the world's best accompanist, but I think she's a little biased!
---
Commended for his "perceptive pianism" (Audiophile) and "playing that is sensitive and wonderfully warm" (American Record Guide), Chicagoan Kuang-Hao Huang is a highly sought-after collaborative pianist whose performances have taken him throughout North America, Europe, and Asia.
View Author Page
Want More? Don't miss a beat!
We're passionate about providing music educators with teaching solutions. Sign up to get inspiration delivered to your inbox!
Stay Updated
Want to get the latest updates and special offers from Alfred Music?