Blog Menu
How to Make Piano Practice More Social for Students
January 8, 2018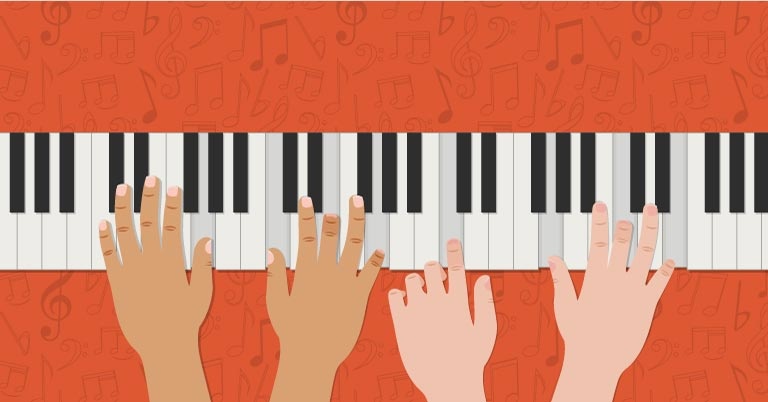 By E. L. Lancaster and Gayle Kowalchyk
Playing the piano can be a lonely activity. Students typically have a private lesson each week and then must practice by themselves at home until the next lesson. This poses a potential risk in competing with other activities a student may be involved in, such as sports, when it comes to keeping students motivated and engaged. One solution? Piano duets. 
Duets as a Social Outlet
We once interviewed a transfer student whose mother asked, "Is there any way you can take piano lessons without having to practice?" A closer look at the student's after-school schedule revealed the real nature of the mother's question: Her daughter was involved in dancing, cheerleading, and competitive diving. Every time she had to "practice" these sports, she was with a group of her friends. Piano practice was simply going to be "no fun" because she would have to practice by herself. Therefore, could she just skip the "practicing" part of the whole deal? In situations like this, piano duets can be a real "pupil saver" and "lesson saver."
Benefits of Assigning Duets
In addition to developing musicianship and ensemble performance skills, duets also increase our students' sight-reading abilities, musical understanding, rhythmic awareness, and listening skills. And perhaps, most importantly, they provide a social outlet for students.
The music written for piano duet (one piano, four hands) is extremely diverse and ranges in difficulty from beginner to concert artist. It includes music written for pedagogical purposes, music for social occasions (especially popular in the 19th century when pianos outnumbered bathtubs in homes), concert pieces, and transcriptions. The first known keyboard duets were written well before the piano was invented!
Incorporating Duets into Lesson Curriculum
A long-standing tradition in our studio was that February was Ensemble Month. Each year, after the winter holiday break, we assigned every student a duet. This created a "kick start" to the New Year. During the months of January and February, students received three private lessons and one group lesson each month. The private lessons were used to hone their individual duet parts, and the group lessons provided the opportunity for the duet partners to rehearse together. Finally, at the end of February, a duet performance class was held where the students could show off their ensemble and musical skills with one another.
Bringing ensemble playing into the lesson is as easy as opening up the first level of the method book. Today's educational composers understand the benefits of ensemble playing and often incorporate teacher duets into the lesson book at the beginning levels. From the very first lesson, Premier Piano Course provides an optional teacher duet for every piece in the Lesson Book. In addition to creating a steady rhythmic background, the teacher duets supply harmony and a variety of music styles so that the student's ear is developed from the beginning as well.
As students progress, however, they can experience the joy of playing duets with their peers. Finding easy-level duets that with equally difficult primo and secondo parts can be hard. Keeping this in mind, we asked eight of America's favorite supplementary composers to write easy duets that begin at the 1B level in Premier Piano Course. Each level contains music by Dennis Alexander, Melody Bober, Tom Gerou, Carol Matz, Martha Mier, Wynn-Anne Rossi, Mike Springer, and Robert Vandall. You can imagine that with this variety of composers, there is a wide range of styles in each volume as well. From lyrical ballades to jazzy, toe-tapping pieces, these books have it all and are now available through Level 6.
Example 1: "Switcheroo Boogie"
"Switcheroo Boogie" by Melody Bober from Premier Piano Course: Duets 1B is a fun boogie-woogie piece. Not only will audiences enjoy its infectious style, but they will be delighted to see that the players actually trade places as they are playing the duet! Preparing the "switcheroo" carefully is critical to its execution and the success of the performance.
In measure 21 of both parts, the performers begin to move. At this measure, the primo player stands up and circles behind the bench. As the primo player is doing this, the secondo player is moving up the bench while playing measures 21-24. Each player must be in his/her new place by measure 25! It is helpful to mark this measure with a red arrow so that their eyes can find the new starting place easily. Also, choosing an appropriate tempo is crucial to executing this part of the piece. While it is marked "Lively," a tempo that is too fast will make it difficult for the primo player to get up and around the bench in time to be seated for measure 25.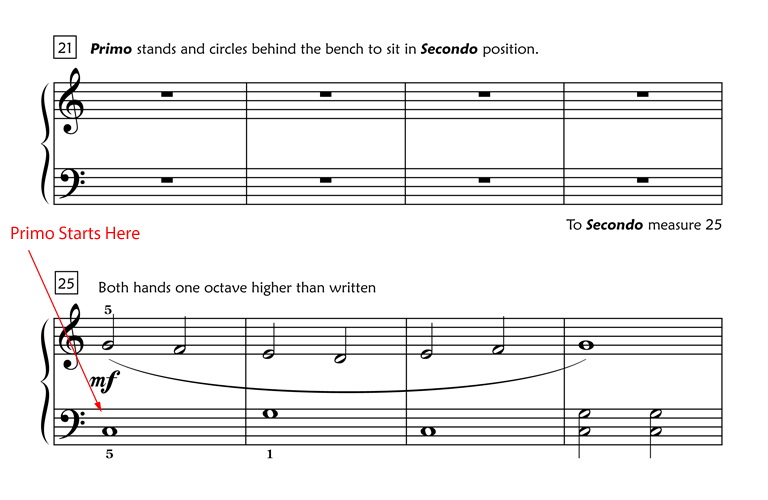 It is also helpful to mark on the score who is responsible for turning the page. During the performance, it is easy to be excited and forget this important detail. We sometimes even mark "No turn" on a part just to remind one performer to let the other person turn the page. In this piece, it is easier for the secondo player to turn the pages. When the secondo is thoroughly comfortable with the part, it may be possible to play the RH Middle C in measures 29 and 31 with the LH thumb, giving the player more time to turn the page with the right hand.
Example 2: "Reach for the Stars"
Many musical skills such as balance and shaping phrases can be reinforced when playing duets. A helpful rehearsal technique is to have students play only when the melody is in their part. This becomes a great listening activity as well. The lyrical "Reach for the Stars" by Dennis Alexander in Premier Piano Course: Duets 2A is a perfect piece for working on this concept. First, students must determine exactly what the melody is. Next, they go through the score and mark each melodic entrance with an "M." Finally, they play the piece together, but only the sections marked with an "M." This allows them to see and hear where and when they have the melody. (Click the image below to view the full sample.)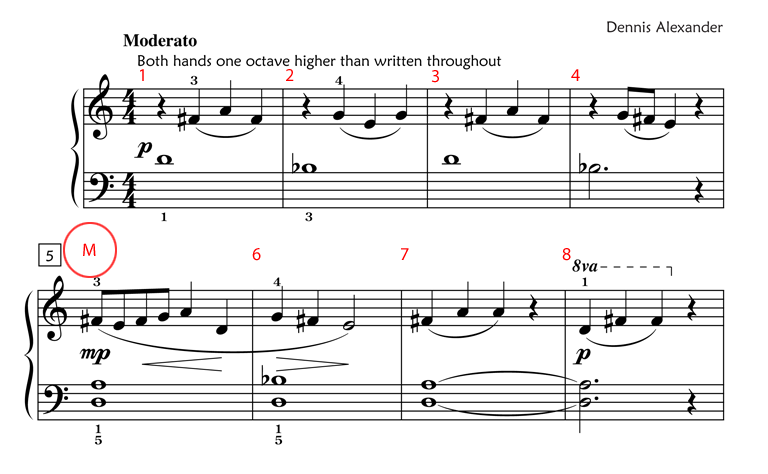 Another helpful rehearsal technique is to number all of the measures. Typically, measure numbers appear at the first measure of each line. Filling in the remaining measures saves time in the rehearsal by helping students pinpoint exactly which measure needs their attention.
Duets can be used as supplementary material for any method or course of study. In addition, they make excellent repertoire selections for group lessons, ensemble classes, recitals, or "monster" concerts. Students will be motivated by music-making with their friends while developing skills in ensemble performance.
---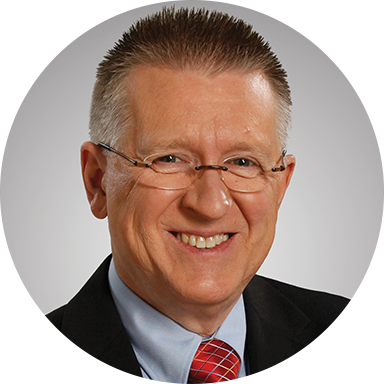 Dr. E. L. Lancaster is Executive Editor, Piano for Alfred Music and an adjunct piano faculty member at California State University, Northridge. He has presented workshops for teachers throughout the United States and internationally. He is the author or co-author of over 400 publications for students of all ages.
View Author Page
Dr. Gayle Kowalchyk is a member of the keyboard faculty at California State University, Northridge, where she teaches class piano, piano, and piano pedagogy. Her passion for piano teaching and music education has inspired her to write educational piano materials for students of all ages. She is the co-author of over 300 publications for piano.
View Author Page
---
Want More? Don't miss a beat!
We're passionate about providing music educators with teaching solutions. Sign up to get inspiration delivered to your inbox!
Stay Updated
Want to get the latest updates and special offers from Alfred Music?