Blog Menu
How Music Education Makes Students College and Career Ready
By David R. Sears | October 7, 2019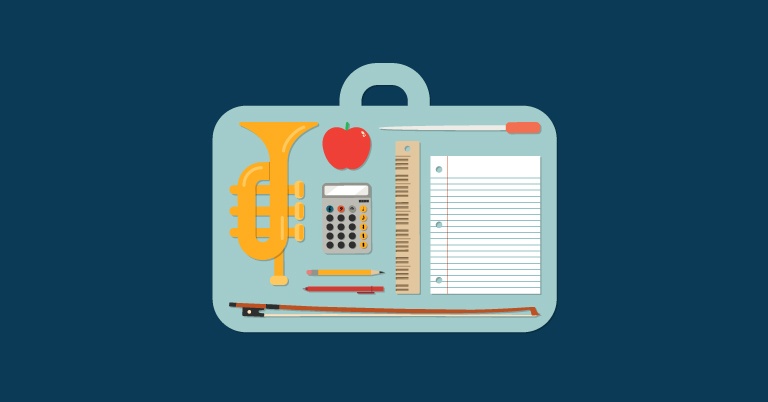 Being career or college ready is a primary goal most school districts have for their graduating students. We think it is important for the music education community to be able to demonstrate more effectively how it contributes to achieving that goal.
Most of us believe a music education helps to prepare students for any career. However, that concept is too often communicated in ways that we as music educators understand but are partially, if not completely, lost on those outside that community. Frequently, it is non-music people who make critical decisions on funding and other forms of support for music education programs in their schools. In these cases, it is imperative to communicate all the benefits of a school music education in a manner that will most likely make them solid supporters.
What would your principal, school board member, or district superintendent say if asked, "Why is a quality music program important to have on your campus?"
What if they answered by saying:
"There are skills learned—in ensemble classes particularly—that are beneficial in all careers in and out of music. These workforce development skills include problem-solving, focus, networking, interdependence, teamwork, and more. These workforce development skill sets are vital for our students to have in order to be college or career ready."
That's a really good answer! He or she believes your music program is a key component in preparing students to be successful in college or their career.
But, what if the follow-up question is: "Do your teachers have any tangible evidence of your claims in the form of test scores or assignments specifically in those areas?"
In too many cases that answer will be "No." There is now a resource available that will allow music teachers to say "Yes" to that exact question.
Careers Through Music: Building Employable Skills in Your Music Class is a resource of 15 lessons designed to enhance a teacher's music program and seamlessly integrate into existing teaching and rehearsal schedules. Each lesson presents an activity built around a skill that is not only relevant to music studies, but also to the general working environment in other careers. The goal is to create a direct connection to the long-term, transferable value of music education. Careers Through Music provides further added value and specific learning outcomes that a teacher can reference while advocating for his or her music program to administrators and other decision-makers. Click the image below for a full sample from the book on Problem Solving!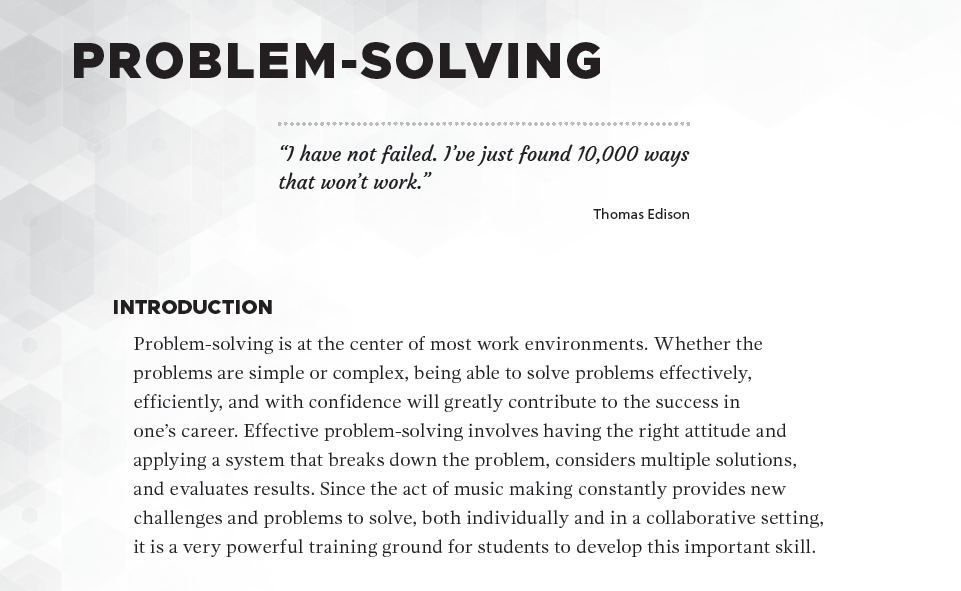 A great deal of energy was placed into developing the content of the lessons and the book's overall format. After all, the content is only worthwhile if it is provided in a way that can be effectively delivered. So what else is "cool" about this book?
Each lesson is designed to take 8-10 minutes to deliver, minimizing interruption of important rehearsal time or other music lessons. Teachers may be flexible, however, and present the lessons in the way that best meets their classroom needs and schedule.
There is no need to purchase a classroom set of books. To save money, we've given each educator the license to purchase one book and photo-copy the lessons for their classes.
The purchase of the book provides access to videos to enhance instruction. They feature successful entrepreneurs, business professionals, educators, and musicians discussing how music education contributed to their overall career success.
Lessons can be done in sequence or in any order and serves the teacher's needs at the time.
The lessons are modular so teachers can distribute different lessons to different students depending up their current activities and needs (e.g, Leadership lesson to section leaders, Interdependency lesson to class officers, Teamwork lesson to section players, etc.).
Careers Through Music provides tangible evidence that these skills are being taught and that your music program is contributing to making students career or college ready. It is a powerful addition to a teacher's advocacy efforts with school and district officials.
---
David R. Sears is the Executive Education Director of the GRAMMY Museum Foundation where he leads the team that creates and directs its educational philosophy and programs nationally.
View Author Page
Want More? Don't miss a beat!
We're passionate about providing music educators with teaching solutions. Sign up to get inspiration delivered to your inbox!
Stay Updated
Want to get the latest updates and special offers from Alfred Music?