Blog Menu
How Insights from the Science of Expertise Can Improve Practice Methods
By Ian Temple | April 11, 2018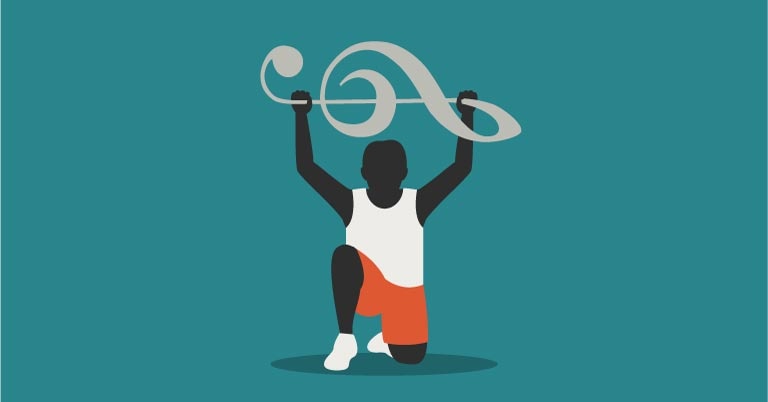 One of the key challenges faced by teachers everywhere is getting their students to practice. I can still remember back when I was a student strategizing before a lesson or class how I might successfully fake having practiced. It almost never worked, but I still did it anyway because like so many students, I was always behind.
Why is practicing so painful? Well, for many of the same reasons it's hard to keep up our gym routines, or learn a new language, or stick to that diet we've been trying—lack of time, lack of discipline, too many distractions, etc. These challenges aren't going away, but one thing we can do to help as educators is to simply make sure that the practice time students are getting is being used most effectively.
Last year, I read two really fantastic books. The first one is called Peak: Secrets from the New Science of Expertise by Dr. Anders Ericsson, and the second Make It Stick: The Science of Successful Learning by a trio of researchers (Peter Brown, Henry Roedinger, and Mark McDaniel). I found both books and their related studies to have some very useful insights that can guide educators in helping their students lay out more successful practice routines.
Here are some of the key ideas that we've taken away from those books and other similar research in the way we train educators and design curriculum at our online music learning site Soundfly. We hope you find them helpful!
1. Make Practice Goals Really Specific
Dr. Ericsson discusses the idea of "purposeful practice"—making sure that your practice time is being used to achieve a specific goal rather than simply mindless repetition. The mistake many people make is either making these goals too broad (e.g. "Learn a Mozart Sonata") or too ambiguous (e.g. "Practice this piece").
Instead, we should be helping students develop very specific, achievable practice goals. A few examples might include: "Play the A section of this piece three times with your right hand without a mistake" or "Play the pentatonic scale up the entire neck of the guitar at 100 bpm three times without a mistake." The key is breaking your student's larger goals down into smaller sub-goals that can be achieved in a smaller amount of time and that are focused on a student's specific strengths and weaknesses.
2. Use a Gradual Escalation in Difficulty
With very specific goals, it's also easier to craft an effective ladder of goals that matches a student's improving abilities. Many of you may have heard of the researcher Mihaly Csikszentmihalyi, a Hungarian psychologist most famous for developing the concept of flow. Flow is used by game designers and refers to the rewarding moment when a task's difficulty perfectly matches a student's growing ability to achieve it.
At Soundfly, we rely on this concept whenever we design a curriculum. The first week's activity or challenge should be highly constrained in a way that's achievable, encouraging, and fun. The second week's a little bit more difficult, adjusted to the student's strengths and weaknesses. The third even trickier, and so on. Flow is associated with increased motivation, so students can see their progress and don't feel frustrated or bored by what they're doing.
3. Push Students to the Edge of Their Comfort Zone
This is a corollary of the note above, but it's one of the concepts from Peak that most resonated. Make It Stick expresses a similar idea that effortful learning tends to last longer. The idea here is that many of us reach a level of expertise where we're pretty good at something and then kind of level out. In order to keep growing, we need practice routines that challenge us in new ways all the time.
Dr. Ericsson uses the example of a pianist who simply stops improving because they only play the same or similar pieces for a number of years. They aren't laying out deliberate practice goals that push them to the edge of their comfort zone, so their improvement stalls out and maybe even starts to slide backwards a bit.
4. Use Variation to Support Retention
One way to ensure that your students are doing effortful practice is to avoid mindless repetition of scales in one clustered block. It's how so many of us learned but it's just not as effective in the long-term as more varied, mixed up, spaced out approaches that require focus and effort.
This is one of the central ideas of Make It Stick and it has really resonated with us. One example they use is that a baseball player who simply practices hitting 100 curveballs in a row won't be as good at hitting curveballs in the long run as a player who practices hitting 100 different varied pitches including a curveball. The second approach is more similar to how you might encounter pitches in a game and doesn't allow your brain to go on autopilot.
5. Help Your Students Self-Critique
Every educator I've ever met recognizes the importance of feedback, but one of the challenges is that we're often only able to give feedback in a very delayed manner or on tests. We're simply not with our students the majority of the time they're practicing.
One thing we train our Soundfly Mentors to do is help students critique themselves, so that they're better equipped to give themselves feedback in real-time. Learning how to focus their practice efforts on the particular areas where they're having trouble can make a big difference in using their practice time effectively. And being able to do so all the time, rather than only when you're in the room with them, is a gift that they can keep using to reflect and adjust their practice approaches for the rest of their lives.
6. Don't Take This Advice Too Far
As with so many research-based conclusions, we always face a danger of taking these sorts of conclusions to extremes — a tendency perhaps most notably demonstrated in Malcolm Gladwell's book Outliers and the ongoing debates around Dr. Ericsson's "10,000 hour rule" from a previous book of his.
My friend Scott Barry Kaufman has a wonderful article in Scientific American where he talks about all the many things that can go into achieving expertise, including simply enjoying what you're doing. I think it's a really powerful reminder that, yes, these practice tips can help, but at the end of the day our job as educators is simply to help students find things that they love doing and then do them to the best of their abilities.
I personally hit my stride as a pianist when I learned to improvise. I loved it. It felt like pure freedom. I'd sit down and play for two hours straight some days, just letting my fingers run across the keys. I might not have been using purposeful practice methods all the time, but I was having a blast — and that allowed me to keep pushing forward and finding those purposeful practice moments in the future when I had specific goals to meet.
When it comes to learning, practice is here to stay. We might as well help our students get the most out of it. How can you use some of these insights in your own work with your students? Reach out to us over at Soundfly at the email support@soundfly.com and let us know! We'd love to hear from you.
Want to learn more about Soundfly? Visit them on Facebook, Twitter, and YouTube.
---
Ian Temple is a composer, pianist, and entrepreneur. As a musician, he has recorded and produced multiple albums with his original projects, toured internationally with his experimental trio Sontag Shogun, and scored works for film and video, including the award-winning short film Rosa: These Storms. As the founder and CEO of the music mentoring platform Soundfly, Ian is passionate about developing new and better ways to unlock the artist and artistic potential within everyone.
View Author Page
Want More? Don't miss a beat!
We're passionate about providing music educators with teaching solutions. Sign up to get inspiration delivered to your inbox!
Stay Updated
Want to get the latest updates and special offers from Alfred Music?