Blog Menu
Helping Piano Students Analyze and Practice Standard Repertoire
By Jane Magrath | December 1, 2017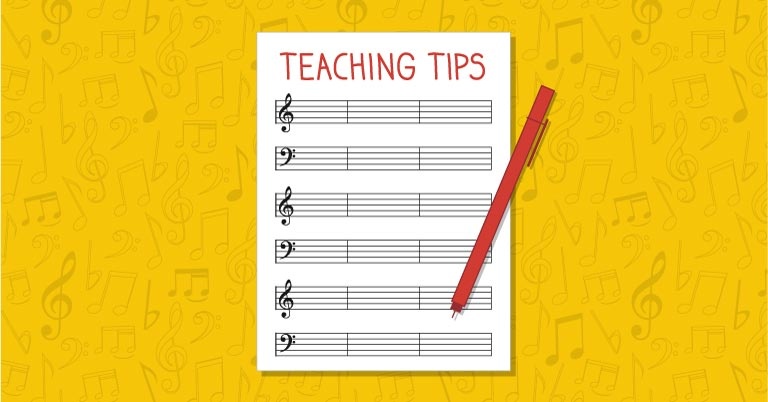 What is your goal for students when assigning a new piece? For me, it is to engage him or her by establishing an understanding on how to practice it before they go home. I might ask the following: "Let's look at your new piece, and see what we can do to make it easier for you to learn." That will get the attention of many students! Part of this is to leave the student with a slightly analyzed score that will, in part, indicate how he should practice during the week. This article will provide ideas for creating an analyzed score with your students, using three pieces from the Masterwork Classics series.
Below are short teaching dialogues and ideas to leave a student with, along with a sample marked score for the student. Remember, these are only suggestions and you are invited to amplify them or omit something as needed!
Example 1: Identifying Phrases using "Dance, Op. 108, No. 2," by Ludvig Schytte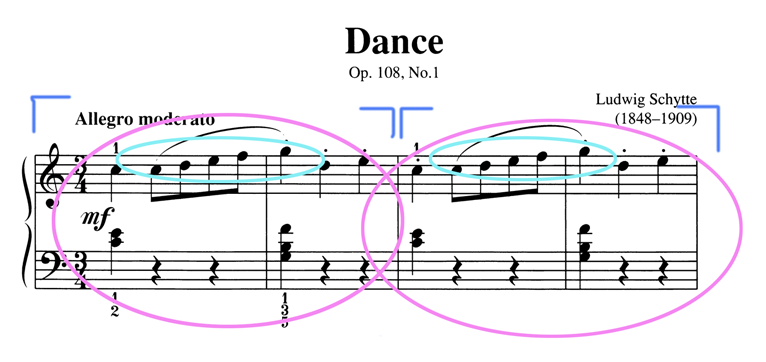 Play the piece for the student or listen to the examples from the CD recording that comes with Masterwork Classics.
Ask, "How many measures are in each phrase? Let's mark them with blue brackets." (Note: Sometimes I tell them here that phrases are groups of notes that belong together.)
"Would you circle in pink the first two-measure phrase, both clefs?" "Now circle it every time it appears in the piece… Goodness, once you learn it, you will know 8 measures of the piece!"
"Would you circle the C five-note pattern in measure 1-2?" "Now, would you circle, again in the light blue, every five note pattern in this piece?" "Did you find a total of 5 five-note patterns?" "Play them in order with the right hand throughout."
"Let's see if we can learn the first two measures of this piece before you go home." Then you help the student learn just the first two measures, hands together, in the lesson—success!
Example 2: Rhythms and Articulation in "March, Op. 140, No. 2," by Cornelius Gurlitt
In Masterwork Classics, Level 3, approximately mid-way through the book, one encounters Gurlitt's "March," a piece where a student starts to coordinate more complex rhythmic figures and play chords. "March" is the first piece from Gurlitt's well-known Album for the Young, Op. 140. Expect to hear excellent character pieces that represent the best of Gurlitt in his pieces in Op. 140.
As a teacher, I ask myself, "Based on past experience, what is the student performer most likely to have trouble with while learning this piece?" From my experience, it probably will be counting and playing the opening march motive with its dotted rhythm. (Note: I am a fan of sub-dividing the counts for all measures in a piece using the smallest note value presented in the piece.) Here, it would be to count "1-e-&-a, 2-e-&-a," and so on, or the teacher can use a similar division. Next, I know that many students can miss the articulation in the four-note descending motive in measure 2. A lesson teaching scheme and dialogue with a student before taking it home could be as follows: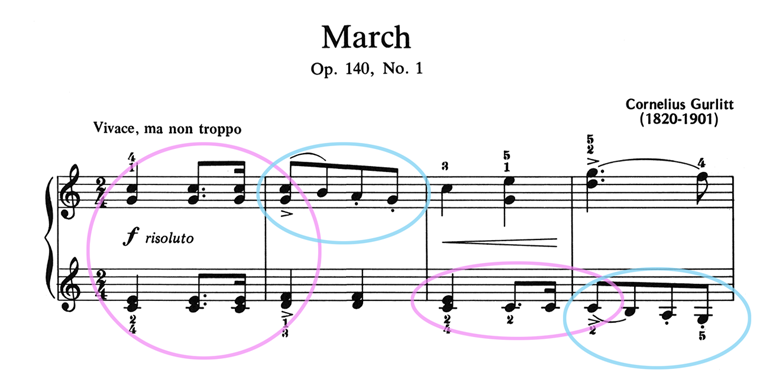 Play the piece for the student or listen to the examples from the recording that comes with Masterwork Classics.
"Would you circle it in pink the first time the march rhythm comes up—measure 1 going to measure 2?" "Now let's find some more places it happens—would you circle them in pink?"
"Circle in blue the next motive—the slurred and staccato 4-note group going down in measure 2." "Now, let's practice the blue-circled measures, being sure to get the right articulation." "Let's find other places this blue motive comes in and circle them in blue. (Note: This articulation may be hard for some, so drilling it in the lesson is important.)
"I think you're ready to put these two ideas together in your practice for next week." It is easy to look at the music now and how the circled measures help hold the piece together. Two main ideas to learn!
Example 3: Identifying Rhythmic Patterns in "Hornpipe," by Henry Purcell
In "Hornpipe," by Purcell, in Masterwork Classics, Level 4, let's look at a way to approach an elementary Baroque piece. We know that in Baroque music one effect or mood usually appears throughout the entire piece, except perhaps at a cadence where the music comes to a rest or a resolution. That is the case with "Hornpipe," and the cadences show us easily the 3 sections below.The sample score is below in Example 3, and a dialogue with a student could be as follows: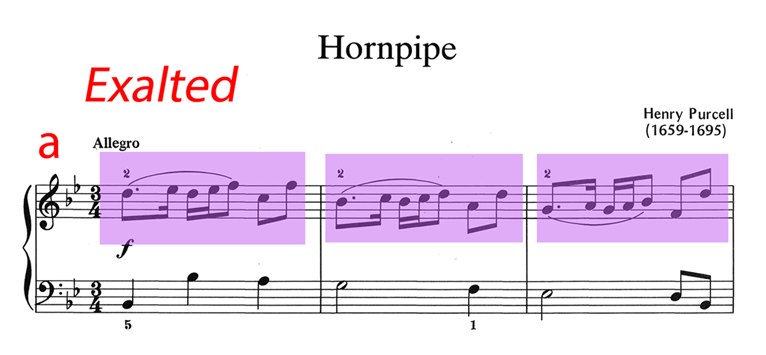 Play the piece for the student or listen to the examples from the recording that comes with the book.
"What would you say the mood, emotion, or effect in this piece is?" I've labeled it as 'exalted' and have written it at the top of your score. The word 'dignified' could also work.
"Tap the rhythm of the first measure. I've boxed it in purple. Can you find any other measures in the piece that have the same rhythm, and if so, would you make them in purple boxes?"
"Goodness, every measure in this piece, except three measures have that same rhythmic pattern in the right hand?"
"What happens in the 3 measures that don't use that rhythm? To me, it seems that the music comes to a rest. In fact, there are measures only 3 times that don't use that rhythm, three cadences—resting points—in this piece."
"Mark the three sections in your piece as your big practice sections. They are the sections you'll want to practice before putting the entire piece together."
---
Masterwork Classics is a progressive, leveled repertoire series designed to motivate students while allowing them to progress evenly and smoothly from the easiest classics toward early advanced literature. These pieces are from the standard classical literature and will appeal to teachers and students.
The selections in Masterwork Classics, Levels 1-2, 3, and 4 form the core repertoire for an elementary student transitioning from a method to classics. Several teaching ideas for pieces in this article will demonstrate some of the technical and musical considerations from several of the repertoire pieces, as they progress in skill level required. It is akin to a piano method that uses the elementary through early advanced classical pieces by master composers paced evenly and progressively to help a student move through Levels 1-2 up to Level 10 smoothly.
If you would like additional practice suggestions for your students, see the Practice and Performance Guides—accompanying volumes presented as teacher and student practice guides (ideal for adults and older elementary students). Notice, too, the historical performance notes in Practice and Performance provided for the pieces in each of the four periods. These separate teacher and student guides provide detailed practice steps for each piece in Masterwork Classics. Enjoy this music!
---
Jane Magrath is well known as an author, clinician, and pianist. Dr. Magrath's work in the area of the standard classical teaching literature has been central to the revival of interest in this music throughout the country. She currently has more than 50 volumes published with Alfred Music, and her music editions are used widely throughout the U.S. and abroad.
View Author Page
Want More? Don't miss a beat!
We're passionate about providing music educators with teaching solutions. Sign up to get inspiration delivered to your inbox!
Stay Updated
Want to get the latest updates and special offers from Alfred Music?