Blog Menu
Hamilton Hacks: Simplifying the Choral Medley for Your Singers
By Lisa DeSpain | February 6, 2018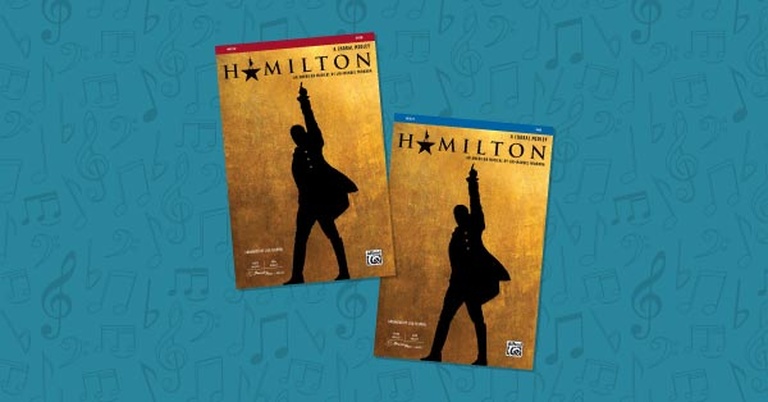 As an arranger, I love the puzzle of taking an amazing Broadway show like Hamilton and translating it into a musical experience that instills a passion for the arts in your performers, helps them grow in ways they never thought possible, and frankly, is a joy for you, the director, to teach.
When I was asked to create the Hamilton medley, the only answer was, "YES!" But what a challenge! As I combed through the immense amount of amazing music, I felt a great responsibility to craft an arrangement that would reach as many voices as possible, from the highly-trained choral singer to the first-timer; from adult and college choirs all the way to young performers. The task felt daunting, but I thought about your students/singers at every step of the way.
If you think you can't perform Hamilton: A Choral Medley with your choirs—think again. Within this arrangement I crafted a series of alterations—ways to simplify—that I call "Hamilton Hacks." Using these hacks, you can tailor Hamilton: A Choral Medley to fit your group! So without further ado, I present to you my "Hamilton Hacks!"
"Alexander Hamilton"
"My Shot"
If the multiple ensemble sections challenge your vocalists or you don't have enough singers to split into groups, thin it out.
For example, in measures 36–40 you could have the group rap "When are these colonies going to rise up?" and leave out the "Whoa, whoa, whoa!" You could also take out the Solo 5 "Rise up!" if it's too complex.

In measures 52–57 you'll see the same idea. The small group singing "Whoa, whoa, whoa!" is optional.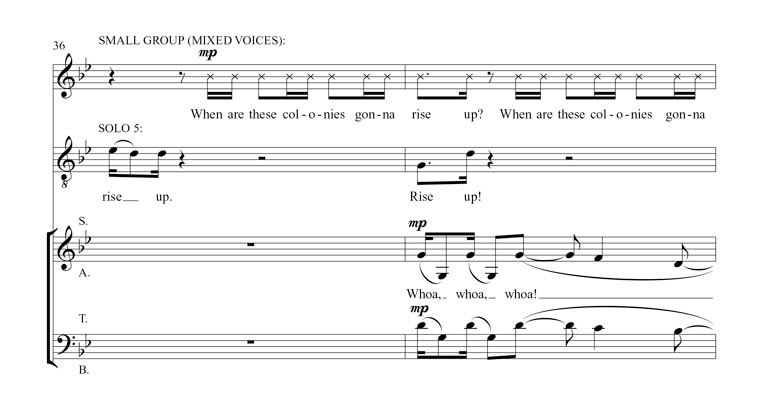 "The Schuyler Sisters"
In measure 74, if singing in harmony is a problem, forget it—sing in unison! With the collective voices, that high F sharp will sound great. If you want, double the line with altos/tenors down the octave.

Measures 87–88 will also hold up if sung in unison rather than three-part harmony.

If the riff at the end—in measure 94—is beyond your women's voices (and it was with my beginning college singers) skip that measure and go directly to measure 95. Sing (m. 93) "in the greatest city, in the greatest city, in the (m. 95) greatest city in the world!" D chord, and done!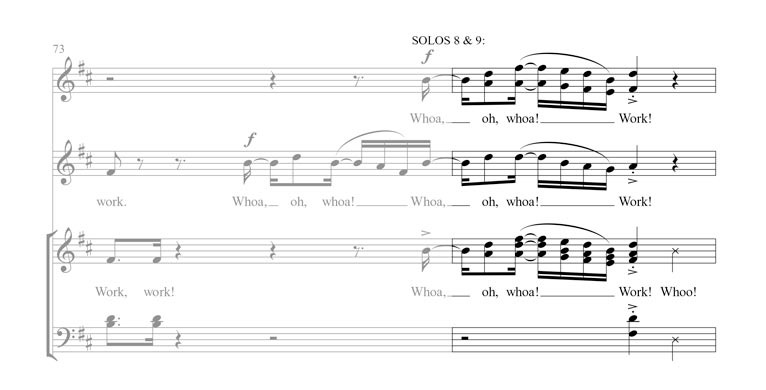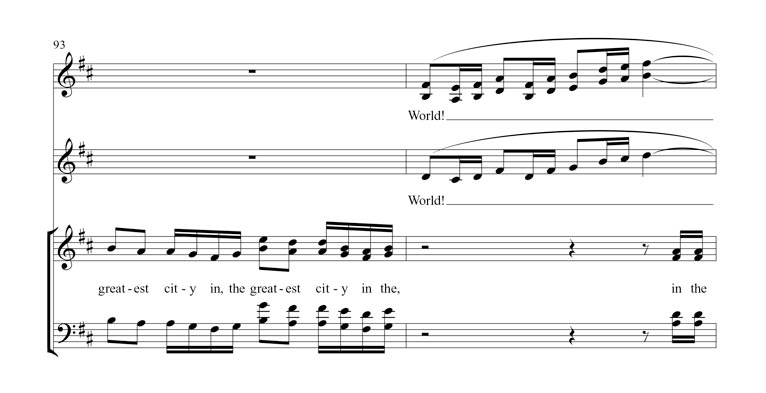 "The Room Where It Happens"
Does your choir needs to catch their breath at this point in the performance? Add another spoken word soloist in measure 114, "When you got skin in the game, you stay in the game. But you don't get a win unless you play in the game." Bring the choir back in on "Oh, you get love …" You could even extend this break through the end of measure 117. 

Measures 118–119. My beginning students struggled with this counterpoint. Instead, put everyone on the small group line, and eliminate the counterpoint in the main staff.

If your tenor soloist is struggling with the high A in measure 124, change that last phrase "In the room" to the notes C–D–E. Another option, alto soloist! It's a nice belt range for her.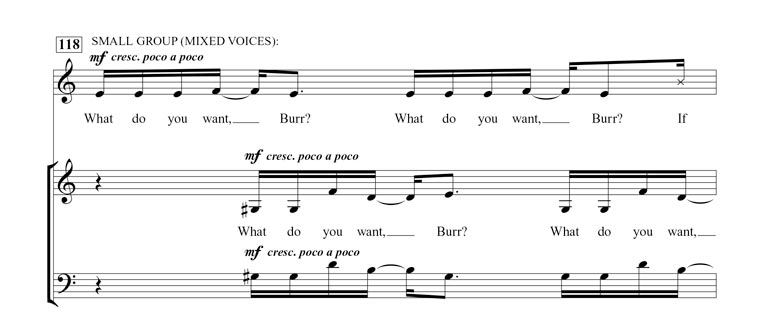 Stamina Issues or Rehearsal Time Crunch?
One of the biggest challenges of crafting Hamilton: A Choral Medley was what to leave out. I decided to give you as much of the music as I could, yet craft the arrangement in a way that sections could be taken out without hurting the flow of the arrangement. If you don't have enough rehearsal time or your young singers don't have the stamina, shorten and/or simplify the arrangement.
For Middle School choirs, these two hacks are especially valuable:
Take out "The Room Where It Happens." Jump right from "The Schuyler Sisters" into "Helpless." Or skip "Helpless." Go directly from "The Room Where It Happens" into "The Battle of Yorktown."

Sing unison! If you're running out of rehearsal time or students are struggling with harmony parts, sing the melody in unison. Lin-Manuel's writing is so strong, if you present only the melody, it's still awesome! Only you, the director, will know about the missing harmony.
Finally, some pointers on how to teach spoken word/rap.
How to Conquer the Spoken Word/Rap
Using measures 157–164 as an example, here's how I coached the rap with my students.
First, I had the soloist identify which syllables he/she spoke on the downbeat, then mark the syllable with an accent (or circle the syllable).
"I i-ma-gine DEATH"

"This is where it GETS me:"

"IF this is the end of me,"

"WEAP-on in my hand,"
Then I had the soloist identify the syllable on next strong beat (3), and again, mark that syllable.
"it feels more like a MEM-o-ry."

"the EN-e-my a-head of me."

"at LEAST I have a friend in me,"

"a com-MAND, and my men with me."
If there is a rest on the downbeat, so that the rap starts on a syncopated upbeat, I had the performer clap or stomp on the downbeat. (Try it! It works!)
(Stomp) "Then I re-mem-ber my E-LI-za's ex-pect-ing me."

(Stomp) "Not on-ly that; my E-LI-za's ex-pect-ing."

(Stomp) "We got-ta go, got-ta GET the job done,"
After all the strong beats/syllables were identified, we put a metronome on under tempo (q = 58). The soloist would practice landing those syllables on those strong beats. None of the other words or rhythms mattered at that point. Even if they muttered a few words ("blah, blah, blah, DEATH so much it feels, blah, blah, a MEM-o-ry…" ) it was fine! The secret to performing spoken word, if you know where the big beats are, the rest of the phrase generally takes care of itself.
This practice approach ingrained the feel of the phrase into their mouths, bodies, and brains. And if somehow they got off the rap rhythm, their bodies knew instinctively how to turn the phrase around and get back on track.
Regarding diction in spoken word, stay tuned to Alfred Music for my next article on diction exercises in a follow-up post!
Thank you sincerely to all who have sung Hamilton: A Choral Medley! I thrill seeing your YouTube video posts and watching your students performing my arrangements with such passion! It always makes my day and gives my art meaning! If you use one of my hacks, please let me know if it was successful—or not—in the comments below. I love learning and am always seeking to stretch my craft to make better arrangements for your singers.
And for those of you who thought it not possible to perform Hamilton: A Choral Medley with your ensemble, I hope these ideas have inspired you to give it a try. Happy Hacking!
Have you tried spoken word with your choir(s)? What "hacks" have you used to help your singers be successful? Share your experiences with us in the comments below!
---
Lisa DeSpain is a jazz composer for opera and musical theatre. Her operatic works include That Hell-Bound Train and No Ladies In the Lady's Book. Her musical theatre works include Storyville and Like I Care!, a middle school musical. Lisa is a Professor of Music at LaGuardia Community College.
View Author Page
Want More? Don't miss a beat!
We're passionate about providing music educators with teaching solutions. Sign up to get inspiration delivered to your inbox!
Stay Updated
Want to get the latest updates and special offers from Alfred Music?