Blog Menu
Getting Creative with Online Recitals
By Dawn Ivers | April 6, 2020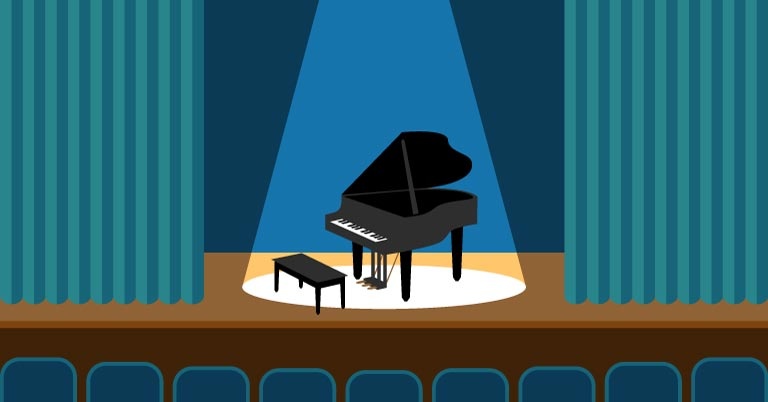 Music teachers are one of the most adaptable groups of people I know. Over the last number of months, there has been an explosion of creativity, innovation, and resourcefulness from private studio owners and school music teachers who worked hard to transition their music instruction online.
As we head into recital season, we might be thinking the performances will need to be cancelled, but do they really have to? With all we have learned about transitioning our teaching online, I bet we could harness that same creativity to move these programs from traditional venues to virtual performance spaces.
The most important thing to keep in mind when planning and advertising any recital is how that performance will benefit your students. And since no two teachers or groups of students are exactly alike, there is no single 'right way' to host a recital.
In considering an online performance, you will want to weigh what you know of your students, your own expertise with technology, and the context of the performance to pinpoint the best online recital option. Here are a few possibilities to help get the ideas flowing:
Option 1: Pre-Recorded Video Recital
A couple of years ago I moved my studio from Southern California to Central Kansas. I kept several of my students by transitioning them to online lessons as well as taking on new students in my new town. When it came time for that first recital after the move, I wanted to celebrate with the entire studio together, which meant I needed to find a way to include all of my students in the performance—regardless of where they lived. I also knew that I had a lot of very young students for whom it would be their first piano performance, and who didn't have much, if any, online lesson experience. The solution I chose at that time was a pre-recorded video recital.
How it works:
Collect videos of each student introducing themselves and playing their performance piece.
Edit those collected videos in a single video file and upload to your website, YouTube, or other social media channels.
Share the viewing link and encourage your students and their families and friends to applaud each other's performances in the comment section.
Considerations:
If you're having parents take the videos at home and send them to you, consider providing some quick guidelines about video orientation (landscape/portrait), camera angle, lighting, etc.
Video editing is often not for the faint of heart—especially when compiling files of potentially different sizes and formats. You'll need to know your way around your video editing software, or give yourself plenty of time to learn as you go.
On the plus side, this option is incredibly easy for your audience to both watch and share because just about everybody knows how to click a link or hit play on an internet video these days.
Option 2: Live Video Recital
When setting my studio calendar at the beginning of the 2019-2020 school year, I scheduled a "Piano Performance Party" for late March 2020 as a way to give students a less formal opportunity to practice performing with their peers before the actual recital day. As we all know, by the time late March rolled around, having 15 or more students hanging out at the studio was no longer advisable from a public health perspective thanks to COVID-19. Undaunted, we decided to take the party online with an informal live video recital instead.
How it works:
Invite your students to join a video conference (like Zoom) at your scheduled recital time.
To prevent performance pieces being interrupted by accidental noise, mute all attendees except for the student who is performing.
Students, families, and friends can all attend and cheer each other on in real time.
Considerations:
Connection speeds can play a big role in individual viewing experience, as well as audio and video quality. Encourage students to hardwire their device to their internet router for the performance.
Also consider recording the meeting to share later in case anyone has connection issues during the show.
If you are concerned about privacy, share the meeting link by email with your students, and encourage them to invite friends and family directly, instead of on social media.
On the plus side, real-time social interaction in a time of social distancing is incredibly valuable, and in that sense this will feel most like an in-person recital.
Option 3: Social Media Recital
As I plan my own studio recital, while wanting to continue being mindful of social distancing guidelines, I've also found myself really empathizing with how much change and strain my studio families have been experiencing in the past months. So many of us are taking this season one day at a time. For my student group, this seems to be the perfect time for something simple and effective that does not require a lot of extra preparation. With that in mind, I have opted for a social media recital.
How it works:
Create an event on your music school's Facebook Page, or in your closed studio group if you have one. Invite your students.
On the day, each student records and uploads a video of their performance piece to the event page. They can also send it in for you to upload.
Students can scroll through the feed, and cheer each other on by leaving encouraging comments on their peers' videos.
Considerations:
Public vs. Private: If choosing a public event page, even those among your students or their families who do not have Facebook accounts would still be able to view the performances. On the other hand, if choosing a closed studio group, only those in the group would be able to view the recital feed. Both are good, it just depends on the privacy needs of your students.
On the plus side, this is a low-stress, day-of event for teachers, parents, and students.
Some Final Thoughts
Online recitals actually have a few unique perks that can make them a great option in any season. If we can zero in on those, they can feel less like a second choice and more like an intentional decision.
First, family and friends from all over the world can tune in and cheer on these young musicians. This is extra validating for music students as the network of people who will be directly encouraging them in their musical journey will grow.
Second, students who experience performance anxiety may find it easier to perform in front of a camera, especially if they know they can shoot the video a few times until they get a take they are proud of before sending it in.
And finally, in this particular season, this is a lovely way to bring some live music to those who may be homebound in this strange time of social distancing.
Music teachers really are an inspiring bunch—there are so many ways that creativity is shining through right now. Keep doing what you're doing.
Are you hosting a recital online this year? We'd love to hear about it in the comments!
---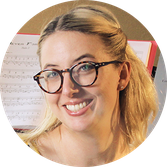 Dawn Ivers is a piano teacher who has been using creative methods to engage with piano students since 2006.  She runs a thriving, hybrid studio that offers lessons in-person as well as online for her students all over the US. A California native who moved to Central Kansas in 2018, Dawn has adapted her studio business with the same creativity and flexibility she relies on when teaching her students. She has been featured on the Piano Parent Podcast and the Creative Piano Teaching Podcast. 
View Author Page
Want More? Don't miss a beat!
We're passionate about providing music educators with teaching solutions. Sign up to get inspiration delivered to your inbox!
Stay Updated
Want to get the latest updates and special offers from Alfred Music?