Blog Menu
Free Music Activity: Roll a Composition
May 8, 2019
Perfect for the classroom or home instruction, this free "Roll a Composition" activity will help you and your students spark creativity and get started on an original composition based purely on chance! Read the instructions below, access the free print-out, and start composing!
How to Play:
Click below to access and print out the PDF and have a dice on hand. 
Begin the activity by electing one player to roll the dice once for the first column to determine the time signature and tempo marking of the composition.
Pass the dice to the next player to roll twice, determining the first rhythmic value and first pitch of the melodic composition.
Continue passing the dice, giving each player two rolls per turn: once for rhythm (column two), and once for pitch (column three).
If a student rolls for the the quarter rest, their turn is over and the dice goes to the next player.
Have each student practice their music notation by transcribing each rhythm and pitch on a piece of manuscript paper.
Create Your Own Version
The second page of the printable PDF allows for you to set your own criteria for each roll. Fill in each empty square with styles, key signatures, lyric ideas, chord qualities, and more. Enjoy!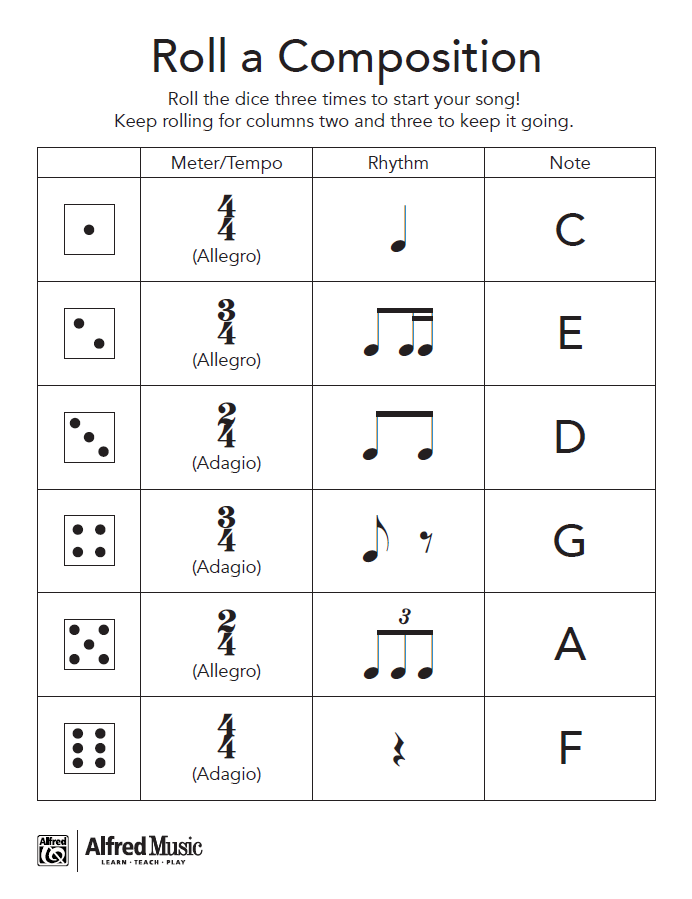 ---
Want More? Don't miss a beat!
We're passionate about providing music educators with teaching solutions. Sign up to get inspiration delivered to your inbox!
Stay Updated
Want to get the latest updates and special offers from Alfred Music?