Blog Menu
Black Hole Literature: What It Is, and Why Your Piano Students Need It
By Jane Magrath | January 19, 2018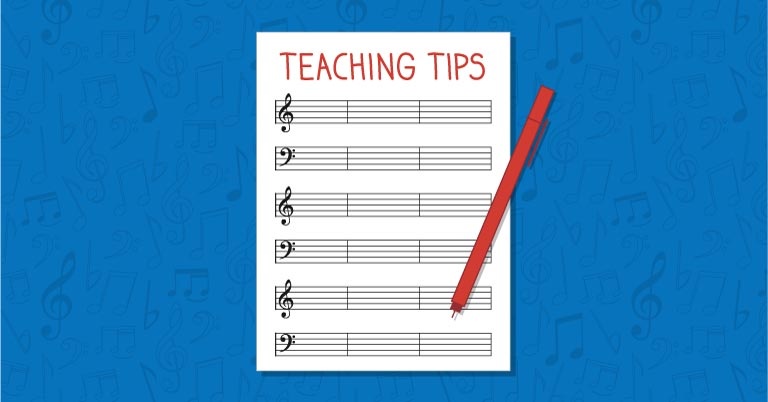 I have a confession to make:
Choosing repertoire for students hasn't always been easy for me. 
I was a young teacher in the mid-1970's, fresh out of school with my masters' degree, and starting my first studio in Raleigh, NC. I always saw the importance of teaching classical pieces to help build a student's playing, so I put my enthusiasm to work with a group of elementary and junior high students. 
One particular girl was a model student. I eagerly anticipated her lessons each week. Well, this newly promoted seventh grader hit a snag that one fall term. This was totally unexpected! She had been a model student and done well in competitions for the North Carolina Music Teachers.
What's the Problem?
Things began to unravel at the beginning of the seventh grade. She slowed drastically in her progress, skills took longer for her to master, and she seemed to be less engaged. This was happening, I believed, in her lesson prep during the week as well. My "perfect" student had hit some kind of snag. Was it caused by a new-found interest in the opposite sex? Was it because she was also playing in the band and thus busier? Has this ever happened to you? Were and are you tempted to blame yourself? Yikes! Could I have been partly, or even mostly, to blame for this change in progress?
Some of you may remember Rita Fuszek, author of the scholarly Piano Music in Collections, published in the early 1980s, and an amazing teacher and scholar. She coined the phrase "black hole literature." "Black hole literature" refers to easier classical piano works, approximately Levels 3–9, that often correspond to a period of time in a student's study when he or she may seem to be remaining static in terms of progression. They are not quite ready for the more advanced repertoire, so they need new challenges at the same level to motivate them, and to solidify their understanding of concepts and skills. 
She explained that many students did well in the early levels of traditional piano methods but as they progressed to the intermediate level, they were dropped into the big black hole of all classical literature. They would bounce around those pieces, playing harder ones, then very easy ones, then a hard one, then a moderate one, and so on. They did not have a smooth progression of difficulty, or the solid foundation and reinforcement of concepts & skills that they needed to be able to play the harder literature. Hopefully they would come out of the black hole at some point, still able to enjoy piano, and ready to move into advanced pieces, but there was no guarantee.
What's the Solution?
I gradually came to realize that I was to blame… not the contest lists, not the accelerated or unevenly leveled literature series. I had skipped my student from playing Level 3 repertoire (as in Masterwork Classics, Level 3) to Level 6 literature. She had done so well that I thought, "Well, she's ready for Clementi sonatinas. Let's try Clementi's Sonatina in C Major, Op. 36, No. 3, first movement."
Naturally, she had more trouble with these harder pieces, taking much longer to learn them. Even when pieces were learned and up to tempo, the technique wasn't as polished as I would have liked, and it seemed like work for her. My enthusiasm changed to dismay as I tried to figure out what had happened to my previously "perfect" student?"
So how did it end? Well, gradually I began to recognize the need to sequence repertoire progressively from level to level, so that the student doesn't suddenly jump to significantly harder repertoire. Even the very best students still need to study literature at levels 4 and 5 as they move toward the "sonatina level," which I commonly equate with Level 6. It's not wise to skip levels of literature, although you can move more quickly through some with a student if they seem ready.
Let's look at a few pieces from Levels 5–7 that are sequenced smoothly (see The Pianist's Guide to Standard Teaching and Performance Literature and the Masterwork Classics series). Perhaps we can see which important skills or concepts would be missed by skipping these levels.
Level 5: Approaching the Black Hole
An example of a typical romantic period piece at Level 5 is The Orphan, Op. 64, No. 4, from Masterwork Classics, Level 5. Why did my student need to master this, even if she didn't necessarily perform it? I probably would not have asked myself this question before my student's problems!
The Orphan looks easy enough to sight-read at first glance. See the example below.

The right hand primarily plays single notes against left hand broken chords. "Easy enough," you might say. "I'm sure my student can sight read this."
But now I ask, "What might be difficult for a typical student in this piece?" Here are some potential problems:
The right hand melody has some rather unexpected skips and steps in it, throughout the entire piece. The student will need to carefully phrase the melody to make sure it sounds musical, and project the melody so that it sounds full and lyrical, and is not overpowered by the left hand accompaniment. Playing this well requires finesse, consistent listening, and making adjustments as the student plays to keep it musical at all times.
Do you want it played with two beats in a measure or with a larger pulse to unify the melody? Perhaps one beat per measure will work better? Or, the student might count bars such as in this example posted. It might need a slightly faster pulse than first imagined.
The broken chords look easy enough in the left hand, but can the student maintain fluency, speed, and evenness in playing that left hand? This needs careful practice and listening for most students working on this piece.
What about a subtle shaping in the left hand? Is that important here? Without a doubt! I call it "inflection" and use the term to refer to the slight nuance within a small pianistic figure or pattern. I tell students to let their fingers do the talking as they play the accompaniment, meaning "Let your fingers speak with slight inflection and shaping."
Level 6: Navigating the Black Hole
Sometimes I surprise my pedagogy students by telling them that Level 6 literature is the landmark—the crux—of the black hole literature. If you can get your student to that level, have them develop reading skills, and play confidently, musically, and up to tempo, then chances are that you'll keep them as a student for many years to come. Level 6 is a key level in pacing a student's musical and technical growth.
For example, look at the Masterwork Classics, Level 6 piece Etude in G Minor, Op. 47, No. 14 by Stephen Heller. Look at the example below of the first page.

This is a piece that may look fairly easy to read. But again, we have to ask, "What might be hard for a typical student in this piece?" Look at the piece through a student's eyes to identify any tricky elements. What are the challenges in Heller's Etude in G Minor?
The double notes (two pitches or more played at the same time in one hand) throughout the right hand are a red flag to me as a teacher. The presence or absence of passages with double notes is always a sign post for me in determining the level of difficulty for almost any piece. It's more difficult to cultivate the smooth playing of double notes in one hand than single note writing. Liszt really taught us that at the advanced level too! It takes real finesse to voice the melody in double note passages. It also takes developing strong fingers to be able to play musically and control the sound. When you see double notes in the literature, look carefully as you navigate through the Black Hole!
Inflection of short motives is required here. Notice here the short groups of notes and even the two-note slurs that need control of tone! These are additional challenges to be mastered in this piece.
The chords starting at measure 21 creating a thicker texture and need careful attention to voice it properly, bringing out the top note. This occurs in additional measures throughout the etude.
Level 7: Surviving the Black Hole
What else rears its ugly head in Romantic piano pieces and makes them increasingly difficult? Well, double notes are here to stay in future levels. But as the levels increase in difficulty, you also encounter thicker textures, more dense chords, and a wider melodic range. In addition, you need to use an expanded hand to play the music. The extreme registers of the keyboard are now featured, and the pianist must scurry between registers and around the keyboard.

This Song Without Words (Consolation) is just barely in the range of Level 7, but already we see that happening. The performer in Level 7 probably has worked on her sight-reading so she can read thicker textures and chords in the pieces. The act of sight-reading several times a week, just for fun, has hopefully become a habit and that skill makes it easier to navigate pieces like this one. What exactly renders this Level 7 piece even more challenging than the ones before?
In this piece, the pianist's hand frequently expands and contracts. Notice this expansion and contraction in the introduction to Mendelssohn's Consolation. This is true for much of the romantic period piano music.
Chordal harmonies are fuller, and the chords expand upward and downward. Notice the thicker chords throughout the piece, particularly in measures 11–13. Yes, thicker textures and more dense chords increase as the music becomes more difficult. Sometimes the chords are even broken or arpeggiated.
A wider range of the keyboard is used as the difficulty increases. Notice how the introduction begins on a low E and ends on a high B. That happens in the postlude too. In measures 11–13, the left hand virtually growls as it descends until the fifth finger plays a low F below low C! Listen for the richness of tone from the piano, and allow these extreme sounds to resonate.
The Black Hole Demystified
It appears that, yes, in my earliest teaching days, a few of my students were skipping levels to dive into what became a blurry black hole. I moved them through levels of literature too fast without reinforcing concepts and skills. Or sometimes I had even skipped levels all together. That meant that they were deprived of smooth progress and development in their playing in terms of overall difficulty. Instead, they might have been faced with sudden thick textures, big broken or blocked chords, double notes in one hand, and other challenges, without knowing what hit them.
Alas, piano music was suddenly too hard. Even for a very talented student, just a bit more time spent with literature sequenced smoothly between levels 3 and 9 would make a world of difference in their success in studying piano.
I figured it out in good time—and you can too. We want to make progress easy and smooth for our students, not jagged. In my experience, it is worth the journey and the time it takes to figure it out!
---
Jane Magrath is well known as an author, clinician, and pianist. Dr. Magrath's work in the area of the standard classical teaching literature has been central to the revival of interest in this music throughout the country. She currently has more than 50 volumes published with Alfred Music, and her music editions are used widely throughout the U.S. and abroad.
View Author Page
Want More? Don't miss a beat!
We're passionate about providing music educators with teaching solutions. Sign up to get inspiration delivered to your inbox!
Stay Updated
Want to get the latest updates and special offers from Alfred Music?