Blog Menu
Big Band Drumming: What (and What Not) to Play
By Joe McCarthy | May 11, 2018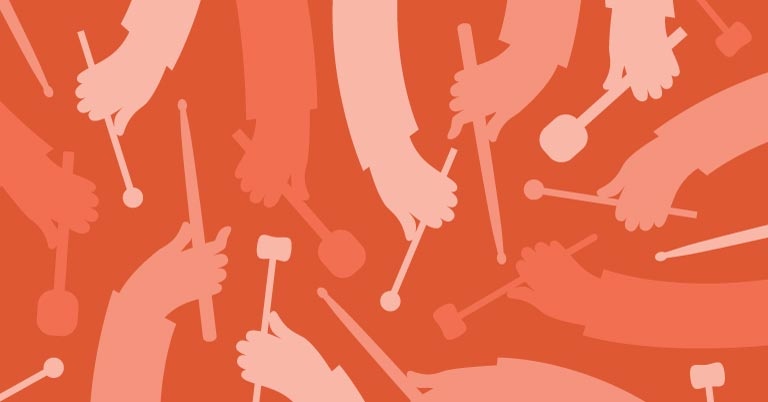 When drummers are presented with a big band drum chart, what should the process be for developing a solid drum part? Drummers are constantly dealing with varying degrees of musical direction in their written parts, so the decision of what to play or what not to play must be based upon an informed process. I've broken this process down into four categories: groove, figures, time/solo—meaning, whether to interpret these figures within the groove or in a soloistic fashion—and vocabulary.
1. Groove 
The drummer must have knowledge of a variety of styles in order to function in a modern day big band. The proper groove is paramount to any tune's success. Some charts have a suggested groove which is notated (for better or worse); some have verbal direction, such as, "loose Elvin feel," "samba," "2 feel," etc.; and some have no indication whatsoever. Further options would be to look at the score, and if that isn't available, check out the other parts in the band to get an idea of the style and rhythmic concept of the tune.
Find a quality recording, if one exists. If the drummer has had experience in a big band setting, simply listening to the arrangement while analyzing the chart is often the best course of action. A less experienced drummer would seek counsel from the director and/or private instructor to find the proper groove through instruction and the study of recordings. In many cases there is no time to prepare, which is why the ability to stylistically sight-read at a high level is imperative as well as having a working knowledge of many different styles of music. These skills will put you in a different league of musicians and increase your chance of success in the music business as a performer.
2. Figures
There are basically two types of figures to deal with—section and ensemble. How we approach these figures is also based upon process. Section figures are often supporting a soloist or vocalist, requiring different treatment than ensemble figures, which are often the primary musical thought and may require more dynamic support or color. Articulation is something every drummer should be familiar with, as we need to be able to support the attack of the different sections of the band (rhythm section, woodwinds, and brass) with the proper sound from the drumset.
When we speak of articulation, we deal primarily with long and short notes. Through experimentation and careful study of the masters, we find certain sounds on the drums work very well with certain sections or combinations of sections within the band. Some of the obvious conclusions with short sounds would be the snare drum or a tight open and closed tone on the hi-hat. Long sounds could be voiced on the cymbals, supported by the bass drum, snare drum, or one of the toms. Constant attention to the band's note lengths will continually refine our approach to supporting the written figures in the most musical way.
Our process also includes recognition of the rhythmic framework of the tune. Triplet based? Straight eighth? Both? How we approach the setups of these figures, as well as the actual figures themselves, must conform to the rhythmic integrity of the tune. Becoming familiar with common big band figures requires the ability to interpret the rhythm, which could mean swinging the eighth notes, reading in cut time, or adding inflection to the rhythm. Another very important aspect of articulation is tempo. The length of any sound on the drumset can change depending on the rate of time.
3. Time or Solo?
There are many ways to approach playing and setting up figures. I like to think of them in two general categories: time figures and soloistic figures. Time figures are accentuated within the groove, maintaining momentum and flow, approached as if the figures were part of the comping in the rhythm section. Soloistic figures could break away from the time, focusing all the attention on that particular phrase through the use of different colors on the kit presented through rhythmic and dynamic variation.
4. Vocabulary
The depth of your musical vocabulary defines your sound. Take the time to develop control of your instrument and become intimate with every sound capable of being produced on your drumset. When you think of technique, think of music first. This means you are using your physical capabilities to make the music sound great as a member of the ensemble, not as an individual showing everyone how fast you can (or maybe cannot…) play.
Stickings are extremely important, as they allow you to phrase, injecting life into combinations through accents, orchestration, and dynamics. As you digest the sound of stickings, you will begin to hear them in other drummers because they are the foundation of our drumming language. In-depth study of the masters will be your greatest resource to truly understand how and what to play for any style of music, whether groove or solo based ideas.
Listening is one of your most important skills. You have to develop your listening skills, just as you have to develop physical playing skills. Find a good teacher who will point you in the proper direction as to who and what you should be listening to. Listening also includes paying attention to the musicians around you when making music. Become very aware of what everyone else is doing in the band, not just the drums. The only way to contribute musically is to have an understanding of what to offer.
Playing an instrument well is a life-long journey. Equip yourself with the proper tools, be patient, curious, and resilient. If being a successful musician were easy, there would be more of them!
---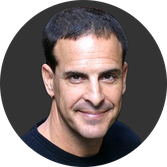 GRAMMY Award-winning drummer, producer, and bandleader Joe McCarthy has lead a diverse career which has taken him from Symphony Orchestra and Big Band, to Afro Cuban, Bebop, and beyond. Joe is the leader/founder of Afro Bop Alliance, an Afro Cuban Jazz Ensemble based in the Washington DC area.
View Author Page
Want More? Don't miss a beat!
We're passionate about providing music educators with teaching solutions. Sign up to get inspiration delivered to your inbox!
Stay Updated
Want to get the latest updates and special offers from Alfred Music?