Blog Menu
Alfred's Drum Method Celebrates 30 Years of Instruction
By Dave Black | May 11, 2017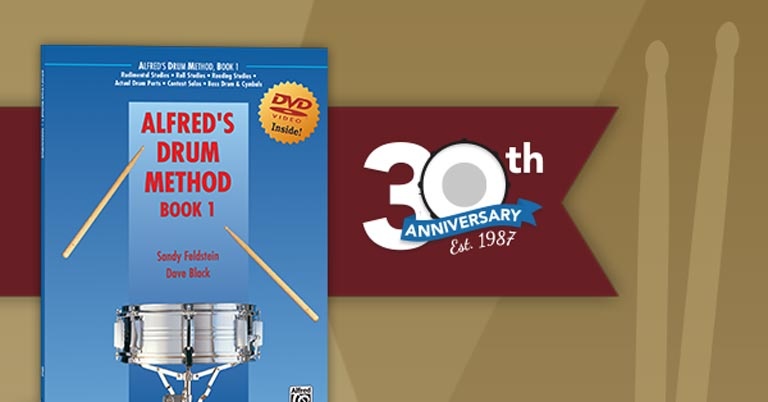 It's hard to believe that 30 years have now passed since the release of Alfred's Drum Method, Book 1. At the time, my co-author Sandy Feldstein and I were simply trying to write what we hoped would be a comprehensive method that would inspire young drummers to continue studying music. I hope we succeeded on some level.
Over the years, many people have asked why I think the book is still so relevant, and why teachers and students have continued to use it as their first drum method. Aside from a certain amount of luck, and the fact the timing was right for a new approach, there are a number of factors I feel made this book different. I'd like to share some of them with you.
Dotted Notes
Prior to Alfred's Drum Method, many of the books on the market didn't teach dotted notes until the end of the book. As a result, there was very little opportunity to reinforce the dotted-note concept in the exercises and solos that followed. Because we introduced dotted-notes early on (Lesson 6), we were able to continue reinforcing them throughout the book.

3/4 Time
Although 3/4 time was used frequently in concert band literature, many drum books taught 3/4 as if it hardly existed in music. We introduced it in a logical sequence, right after 4/4 and 2/4 time, and were able to utilize it throughout the book.
Rolls
Unique to our method was the fact that we introduce the seven-stroke roll right after triplets. We felt it provided a logical extension of the rhythmic concepts taught in the triplet lessons, and over the years we've had many teachers tell us it was the most sensible way to approach seven-stroke rolls.

Also of note was the development of sustaining note values on the snare drum, which has the student working on a double bounce approach first (not multiple bounces), to develop short- and long-measured rolls.

Stickings
At the time we wrote the method, sticking notation was printed in black. We thought this was a distraction, as students tend to focus on the stickings rather than concentrating on reading note values. As a result, the stickings in Alfred's Drum Method were printed in gray.
Contest Solos
We included 23 solos throughout the method and made sure each was able to stand on its own as a complete musical composition suitable for solo and contest purposes. Each solo reinforced the concepts taught in the previous lesson. Alfred's Drum Method was also the first book to include the drum parts to famous Sousa marches, so students could see how rudiments, such as the five-stroke roll and flams, were used in actual drum parts.
Video
I think the most innovative aspect of our drum method was the inclusion of a VHS video that correlated with each page of the book. Our product was one of the first to offer that element, and included a "first lesson" with a beginning drum student live on camera. And keeping up with the change in technology, the video was later released on DVD and is now available digitally for the iPad and on SmartMusic.
30 Years Later
In closing, I'd like to say that no matter how good a book may be or what tools are included, it doesn't take the place of a good teacher.  In order to achieve any kind of success, we all have to start with the basics in order to build a good foundation, and that's only going to be achieved by focused practice, determination, listening and patience. We are thankful for the opportunity to have played a small part in the development of so many young drummers, and hope we can continue for the next 30 years.
---
As one of the biggest selling percussion authors in the world, Dave Black is the author and/or co-author of over 30 books, including Sound Innovations for Concert Band, Books 1 & 2, and Alfred's Drum Method.
View Author Page
Want More? Don't miss a beat!
We're passionate about providing music educators with teaching solutions. Sign up to get inspiration delivered to your inbox!
Stay Updated
Want to get the latest updates and special offers from Alfred Music?