Blog Menu
Activity: Make Percussion Instruments Using Household Items
March 22, 2020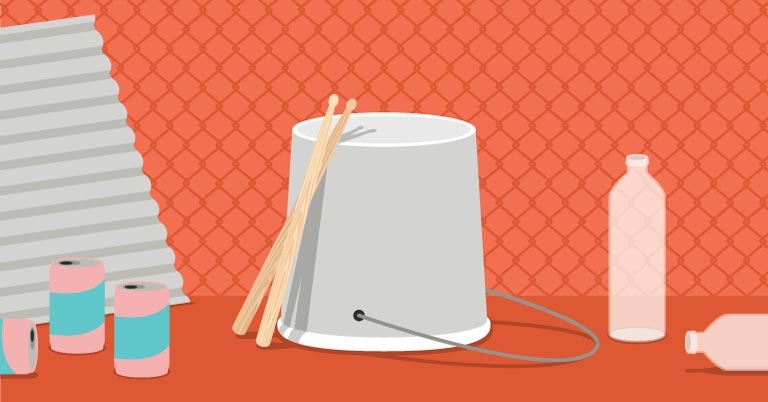 Students are spending a lot more time at home these days. Some may be inclined to anticipate that this extra time—when coupled with mandates for various degrees of social distancing—would result in more practice time! While this may be true for some, the reality is that many students don't even have access to instruments at home, and may need a more creative approach for staying engaged and musical.
One solution? Building percussion instruments out of everyday household items. For elementary-aged students, building an instrument at home can be a fun, engaging art project in itself, but it also presents a unique opportunity for teachers to lean on assigning rhythm exercises to keep students musical as well.
Below are a few "recipes" for creating some of these homemade instruments, using objects from your surroundings as the ingredients. Of course, if some of these items are unavailable and not easy to obtain (shopping is not easy these days!), challenge your students to find creative replacements that are available to them. Don't have colored beads for the Ocean Drum? Saving the rice and beans as quarantine food? What else would make for a good "shaker" ingredient?
Make an Ocean Drum
What You Need:
Clear plastic round food container with a lid (with ridges, preferably)—the larger the container, the better
Small colored beads, rice, tiny shells, small beans, or seeds
Colorful electrical or masking tape
Paper and paint or markers
Glue or tape 2
Pencils or chopsticks for mallets
Directions:
Cut the paper the same size and shape as the bottom of the container.
Paint or color a design or picture on the paper.
Glue or tape the paper to the inside bottom of the container.
Fill with ¼ cup of tiny beads, rice, seeds, or beans.
Place the lid on the container.
Tape the container shut using the colorful tape.
Ways to Play
Ocean sounds: Slowly tip drum from side to side.
Shaker: Move the ocean drum up and down or side to side, or any combination of these.
Drum: Use two chopsticks or pencils to play on the top of the lid.
Guiro (Spanish pronunciation: [??wi?o]): Use a chopstick or pencil to play the ridges on the side of the lid.
Build A Bucket Drum
As described in David Birrow's book, The Bucket Book, buckets are versatile, nearly indestructible instruments. They're also logical instruments: inexpensive, (usually) readily available, and durable. In a way, the bucket is to rhythm training what the recorder is to tonal training. Both are hardy, simple, and fun to play.
Musically, the bucket can provide a steady beat, articulate unison rhythms, or create a foundation for a group groove. Functioning like a hand drum in a world drumming ensemble, the bucket is versatile and can be played with hands, sticks, or mallets. Using buckets, a great percussion ensemble can be built for a fraction of the cost of other percussion ensembles.
If your household doesn't have a bucket handy, consider using a large coffee can, popcorn tin, or another large cylindrical container. Buckets will often have plastic or aluminum handles that should be removed (with help from a parent) with a simple, wedge-like lever (try using a wooden doorstop), screwdriver, or just elbow grease.
Have students wrap the drum in construction paper with their own fun, unique design and decorations.
Constructing Drumsticks and Mallets
Sticks can be made out of pencils, wooden dowels, or any drumstick-shaped wooden object. Make sure to sand any rough edges to avoid splinters. Prevent damage and injury by wrapping the sticks with duct tape or electrical tape. Start at one end, and gradually wrap the tape around the stick, slightly overlapping each edge. To increase durability and prevent shards from flying off the stick, add a second layer of tape, or decorate with colored tape.
Mallets can be used to create a different timbre and can be made in several different ways. Wrap several layers of electrical or duct tape around the end of the stick until it is thick enough to create a low, bass tone. Alternatively, layer in folded paper towels with the duct tape to create a slightly softer mallet. Lastly, a cylindrical piece of foam, can be duct-taped to the end of a stick. Avoid using masking tape, as it will easily break and tear.
The goal is to gather intriguing sounds that create great music. When any object can be considered an instrument, finding a place to begin can be overwhelming.
The following instruments can also work well as a core ensemble:
Shaker: Plastic bottles, soup or soda cans, and cardboard tubes and fill with uncooked beans: navy, split peas, and pinto; soup mix; rice, beads, and pebbles
Scratcher: A scratcher can be built out of any sturdy object that has ridges. Aluminum cans with deep ridges work especially well. You will need an aluminum can, a wooden craft stick or dowel, and duct or electrical tape
Glass bottle: Almost any empty glass bottle will do. Glass juice or soda bottles are preferable because they are light and easy for smaller hands to hold. Wine bottles work as well, and square olive oil bottles provide a different sound and feel. Glass bottles rarely break when played appropriately with a wooden stick. However, glass can break easily if it's dropped—reinforce the bottle by wrapping several layers of duct tape around it.
Have ideas for other instruments you can make from recycled materials? Share with us in the comments below!
---
Want More? Don't miss a beat!
We're passionate about providing music educators with teaching solutions. Sign up to get inspiration delivered to your inbox!
Stay Updated
Want to get the latest updates and special offers from Alfred Music?