Blog Menu
7 Steps to Create a Virtual Performance with Your Students
October 23, 2020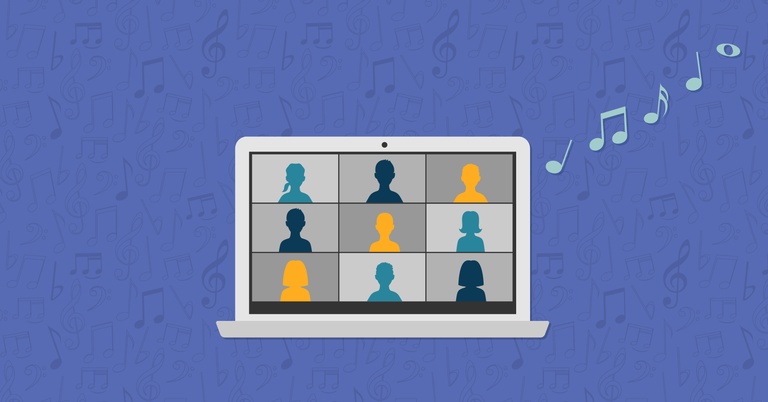 1. Start with a single, short performance.
Choose a piece (or excerpted portion of a piece, whatever you determine and are comfortable with!) that you students may already know or be familiar with and have each of your students record themselves playing and send it to you (see some suggested guidelines in #4 below).
2. Prep your guide track.
If you and your students have SmartMusic subscriptions, students can play along with accompaniment parts, record and submit their parts, and teachers can download each student's recording—all from within the platform. If you choose to engrave your piece(s) you could add your own click track, similar to what would be used in a studio session, so that students can hear the subdivision of the beat during transitions and tempo changes.
3. Plan your performance.
What will your students wear? Should they be standing or sitting? Should they position themselves in front of a plain background? You might not care about this for your first trial performance, but eventually you'll want to set some performance standards, just as you would for an in-person concert.
4. Set clear recordings guidelines for your students.
What is obvious to you may not be obvious to them! Here are some suggested guidelines you could send your students:
Record with your cell phone. There's no need to buy fancy equipment.
You must absolutely use an accompaniment track, to ensure that everyone is playing at the same tempo.
Cleary count directly in front of the camera on the specified beat before beginning to play. This will serve as an audio and visual marker when lining up the videos. THIS IS VERY IMPORTANT!
Position the camera horizontally and keep your head in the middle of the video. You don't have to stare directly into the camera the entire time, but you should remain facing forward.
Listen to the track with headphones in just one ear, so that you can hear both the track and yourself, but only your instrument is recorded.
Make the highest quality video you can. Then put the file in your Google Drive and then share the link with me. Don't email or text it, as that may compress the file.
5. Edit and mix your audio and video separately.
This will give you the highest quality result. There are many, many programs that can be used to do this. Don't overthink it. Try to narrow it down and choose the two that you are most comfortable with and start there. You could mix your audio with Soundtrap and try iMovie, ClipChamp, or the app PicPlayPost to combine videos together in different ways. ProTools is another popular tool.
6. Plan your layout.
The classic grid is a great place to start. The app PicPlayPost will allow you to make a grid fairly easily, but will limit you to nine videos at a time. To include more, just make several grids, save them to your device, and then combine those saved grids together in one master grid as your final product. Once you have a finished video, you'll need to upload your audio and make sure everything is lined up. This is where the clap will help you. It may be best to keep the clap in until the very end, and then trim the beginning of the video to remove it.
7. Post the performance.
Your kids will want to see the results of their hard work and share it with the world! It's important to note that before posting the video online and sharing publicly to seek permission from the publisher or copyright holder for sync rights, in addition to students and their parents. With permission, upload your video to YouTube, post it on your school's social media accounts, email the link out to parents and school staff, etc. Or consider doing a "premiere event" where you post it at a designated time on YouTube so students, parents, administrators, other teachers, and relatives can tune in from anywhere.
8. Venture into larger territory.
Once you make a few attempts and feel more comfortable, you may be ready to try and create a longer concert. Virtual performances will never fully take the place of how amazing an in-person concert can be, but during these unprecedented times, they can come close! If you have the desire to make an attempt at replacing the irreplaceable—the magic of making music with other people—it's definitely possible.
---
Want More? Don't miss a beat!
We're passionate about providing music educators with teaching solutions. Sign up to get inspiration delivered to your inbox!
Stay Updated
Want to get the latest updates and special offers from Alfred Music?